First-Class OCR for a Price
At a Glance
ScanSoft OmniPage 15 Professional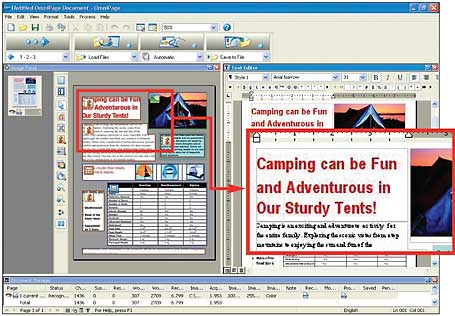 ScanSoft's latest iteration of its optical character recognition package, OmniPage Professional 15, packs in advanced workflow and batch management capabilities, too. Predictably, its price reflects these features: At $450 (street), OmniPage Pro 15 will appeal primarily to users in workgroups and other professional environments who need regular access to OCR tools tailored for offices that have to convert stacks of pages. (The scaled-down version, OmniPage 15, lacks some of the advanced features and sells for $150.)
OmniPage Pro does an excellent job of accurately converting paper documents or image files that contain words into editable text or otherwise viewable files. When I tested a shipping version of OmniPage Pro 15 with scanned documents of varying complexity, the tool made its conversions with pleasing proficiency.
Its workflow capabilities are similarly impressive. Using the program's wizard-driven Workflow Assistant, for instance, I easily set up a document conversion process that could later be applied to additional batches of documents. Those results, in turn, were automatically postable via Microsoft SharePoint, e-mail, or FTP. Another new feature: OmniPage can turn any digital document format into a searchable and secure PDF file for sharing and archiving. Separate bundled PDF utilities make it easy for you to create and convert PDF files while using other programs.
Time-saving automated features enable OmniPage Pro 15 to boost productivity easily.
Richard Jantz
ScanSoft OmniPage Professional 15
Pricey OCR processor has batch-management and workflow tools well suited for business use.
Street: $450
Current prices (if available)
At a Glance
ScanSoft OmniPage 15 Professional
Shop Tech Products at Amazon