Flexible, Cheap Network Storage
At a Glance
Netgear SC101 Storage Central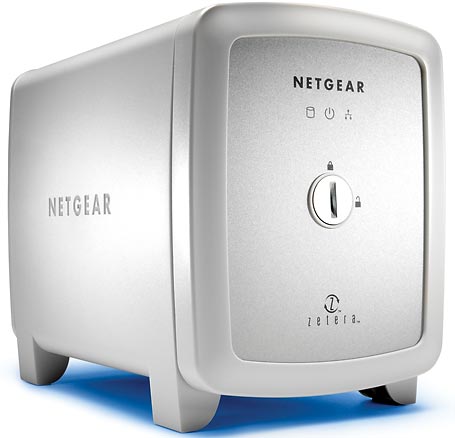 Many products let you add hard-drive storage to a network, but few are as flexible and as affordable as Netgear's $130 Storage Central SC101.
I tried a shipping version of the compact unit, which has slots inside for two parallel ATA drives (not included). Outside, its integrated heat sink pulls heat away from the drives. Installing my two hard drives was a snap: I used a coin to release the front cover; then I popped the drives in, connected the power and IDE cables, closed the SC101, and linked it to my network's router with the bundled RJ-45 cable (regrettably, the unit supports only 10/100 ethernet).
The wizard accompanying the friendly, easy-to-use Storage Central Manager software assigned an IP address to each drive in the device. I could then make up a name for the selected drive and set aside part of that physical drive's capacity for storage. For example, you can effectively split a single 300GB drive into two 150GB volumes, each of which receives its own drive letter.
The software allowed me to share the SC101 with other systems on the network, but I first had to install the Storage Central Manager on those PCs. As the SC101 finished its installation, Windows XP found the drive automatically and assigned it a drive letter. Windows Explorer shows the drive as just another hard drive, so you can drag and drop files to it or use it with your favorite backup package (the unit ships with SmartSync Software's SmartSync Pro 2.1).
You can repurpose a drive from an older system to serve with the SC101 as a bring-your-own-drive device; or purchase two 300GB hard drives for about $200 and get 600GB of storage for a total of only $330--well under the $500 you'd pay for a single 500GB network-connected drive.
Netgear Storage Central SC101
PCW Rating

Low-cost hard-drive enclosure provides painless, highly flexible network storage.
Price when reviewed: $130
Current prices (if available)
At a Glance
Netgear SC101 Storage Central
Shop Tech Products at Amazon