Kris Munford had just started her shift as a 911 dispatcher for the Ogden, Utah, police department last February, when she felt a burning sensation from something in her fleece-jacket pocket. As she stood up, her Motorola V300 cell phone burned a hole through the pocket and fell to the floor, where it exploded on impact. She suffered minor burns. Though her phone was genuine, its battery was a fake.
WireFly.com, where Munford bought the battery, "looked reputable," she says. "I checked several other sites, and the prices were comparable. So I went with it." The site is an authorized Motorola reseller. WireFly spokesperson Tripp Donnelly says that company officials had no idea they had ever sold counterfeit goods. According to Donnelly, WireFly obtained the phone directly from T-Mobile.
Though unable to confirm that WireFly got the handset from it, T-Mobile issued the following statement: "This was an isolated incident, and T-Mobile has cooperated with the manufacturer to help determine the cause." T-Mobile also supplied Munford with another wireless phone.
Bogus cell phone batteries, shoddily made and potentially unsafe, are a specialty of counterfeiters. "It's one thing to buy a fake $30 Louis Vuitton bag on Canal Street in New York City. It's an entirely different matter when you buy a fake cell phone battery and it blows up," says Arch Ahern, Motorola's senior counsel for trademark and marketing. He says Motorola works with authorities around the world to seize millions of dollars' worth of counterfeit Motorola batteries each year. (See "Countering the Counterfeiters," for tips on avoiding fake goods.)
Besides endangering users, counterfeit products may perform poorly, corrupt a computer's data, or just plain not work.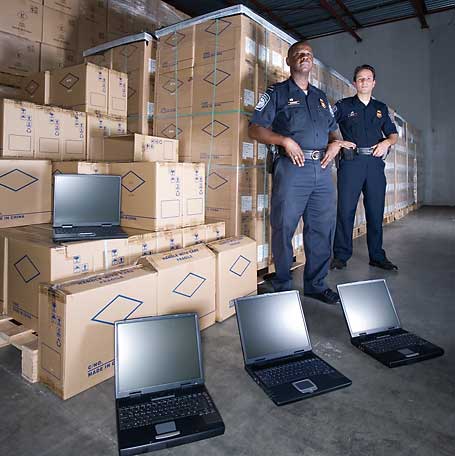 And batteries aren't the only tech item that counterfeiters love. In October 2004, U.S. Customs and Border Protection officials in Anchorage, Alaska, seized 20,000 suspected fake Memorex USB memory key thumb drives from Asia. And last year, Miami officials seized 900 allegedly phony laptops valued at $700,000.
"Maybe it's a laptop, an MP3 player, or a component like a DVD drive--anything in the digital world can be counterfeited," says Therese Randazzo, a U.S. Customs Service counterfeiting expert. Fake software is rampant, too: As much as a third of the money spent on packaged software globally may go for counterfeits, say analysts. For more on this issue, see "Pirates Menace the Software Seas."
In This Article: