At a Glance
Linksys by Cisco WirelessG Broadband Router with SRX200

Belkin BELKIN F5D92304 Wireless G Plus MIMO Router

Buffalo Technologies Turbo G High Power Wireless Smart Router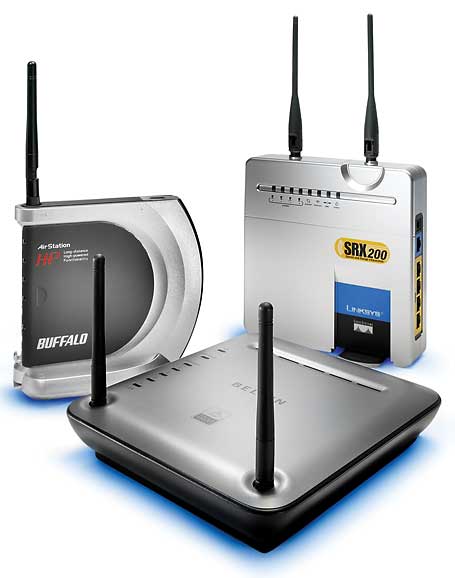 The trickle-down effect has hit the Wi-Fi world: New, moderately priced routers and notebook cards now promise and deliver some or most of the speed and range improvements first seen last year in costlier products. In our tests of shipping products from three lines--Belkin's Wireless G-Plus MIMO, Buffalo Technology's AirStation Turbo G High Power Wireless, and Linksys's Wireless-G with SRX200--all performed creditably, even at distances that older, standard 802.11g equipment can't cover. However, the Belkin and Linksys products generally outperformed the Buffalo gear.
Both Linksys's $115 Wireless-G with SRX200 and Belkin's $90 Wireless G-Plus MIMO routers use second-generation chips from Airgo Networks, whose first MIMO (multiple-in, multiple-out) chips powered several of the high-performance lines in our last Wi-Fi roundup.
Buffalo's $89 AirStation Turbo G High Power Wireless router and $59 notebook card (the least-expensive products in this group) don't depend on MIMO technology; they use older high-speed 802.11g chips and owe their enhanced performance mainly to high-powered amplification of the radio signal.
Varied Results
For comparison purposes, we tested the original Linksys SRX router (which is being discontinued) along with the newer products and found that the Linksys SRX200 router with the SRX card--the priciest setup-fell only a bit short of it (see the features comparison chart, "Belkin Leads the Budget Wi-Fi Pack"). Belkin's less expensive G-Plus MIMO products were noticeably slower, especially at close range, where they were only a little faster than routers in Buffalo's line. The new Buffalo model's performance fell off significantly in our long-range test, but many older Wi-Fi setups that we've seen couldn't even connect at that distance. And when we tested the three new routers with a standard 802.11g card on the network, their performance differences shrank.
If price has been a barrier preventing you from installing a wireless network or upgrading older equipment to improve its range, consider these products; alternatively, you might watch for markdowns on the older and faster technology. If low cost is key, I'd go with the Belkin G-Plus MIMO gear: It costs a little bit more than Buffalo's High Power products, but at long range it's nearly twice as fast.
Yardena Arar
At a Glance
Linksys by Cisco WirelessG Broadband Router with SRX200

Belkin BELKIN F5D92304 Wireless G Plus MIMO Router

Buffalo Technologies Turbo G High Power Wireless Smart Router
Shop Tech Products at Amazon