Add Two Displays to Your Notebook PC
At a Glance
Matrox DUALHEAD2GO - DUAL ANALOG EDITION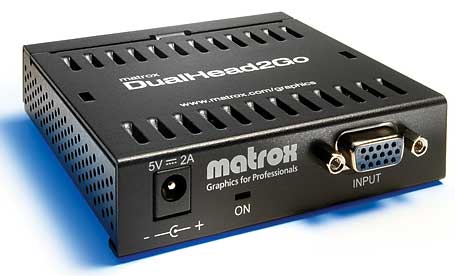 I'm so used to working on dual displays with my office desktop PC that I long for the extra screen real estate when I switch over to my notebook at home. Unfortunately, most notebooks can support only a single external monitor. But thanks to Matrox's new DualHead2Go, using my notebook with two displays is no longer just a productivity dream.
I tested a shipping version of the 3-by-3.5-inch device, which is designed to trick a notebook's graphics chip into thinking that it's connected to a single external monitor, when in fact it's connected to two. An included cable links the DualHead2Go to the VGA port on your laptop, and then you attach your two displays to the device's two VGA outputs. Plug in the unit's AC power adapter and the hardware is ready to go.
Next you install the included software on your laptop (Matrox's Web site offers a preapproved list of laptops), then you follow a quick setup routine to configure the displays so images will stretch across the two screens. I ran into a small setup glitch (the included quick setup guide didn't warn me to check the box in the display settings to extend my Windows desktop onto the second monitor); but after I ironed out that minor wrinkle, setup was painless.
Images on the connected displays looked vivid and exceptionally sharp.
The DualHead2Go's flexibility and its fairly straightforward setup make the product a great choice for people who rely on a notebook as their main computer but who want the option of using multiple displays. And for $155, it's a pretty good deal.
Matrox's DualHead2Go

Small device lets you easily drive two displays from a notebook.
Price when reviewed: $155
Current prices (if available)
Kalpana Ettenson
At a Glance
Matrox DUALHEAD2GO - DUAL ANALOG EDITION
Shop Tech Products at Amazon