Pricey 512MB Graphics Card Is Fastest Ever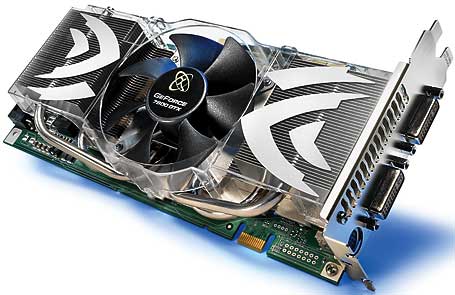 PC gamers booed the $600 price tag of graphics cards with nVidia's original 7800 GTX chip---and then drooled as the cards broke graphics benchmarking records. People's reaction to XFX's new GeForce 7800 GTX 512MB DDR3 XXX Edition won't be any less vociferous and Pavlovian.
This shipping PCI Express card features a revved-up 7800 GTX chip, plus 512MB of DDR3 memory (up from 256MB), at a jaw-dropping price of $749. And in our tests, it blew away everything, including our favorite 256MB 7800 GTX board (the $570 EVGA e-Force 7800 GTX KO) and ATI's 512MB Radeon X1800XT ($599).
In our Quake 4 and Doom 3 tests, run at 1600 by 1200 resolution with antialiasing turned on, this XFX dominated. It cranked out frame rates of 72 frames per second and 70 fps, respectively, as compared to the EVGA's 54 fps and 55 fps, and the ATI's 56 fps and 58 fps.
The new XFX ruled in our Battlefront 2 tests (performed at the same settings), too. It generated 76 fps, versus 56 fps for the EVGA card and 69 fps for the ATI board. Predictably, the XFX's high price hurt its overall PCW Rating, despite the awesome performance. One additional knock against the XFX: Its massive (albeit remarkably quiet) cooling system causes the card to occupy two slots.
So is it worth the money? For 98 percent of PC users the answer is no. But if top-notch graphics performance is what you seek, this is the fastest you can get---for now.
Tom Mainelli
XFX GeForce 7800 GTX 512MB DDR3 XXX Edition

Oversize card is powerful, but price is not for the weak of heart.
Price when reviewed: $749
Current price (if available)
At a Glance
Oversize card is powerful, but its price is not for the weak of heart.

Cons

Oversized card, oversized price
Shop Tech Products at Amazon