Boston Acoustics HD Radio Has Sweet Sound
At a Glance
Boston Acoustics Receptor Radio HD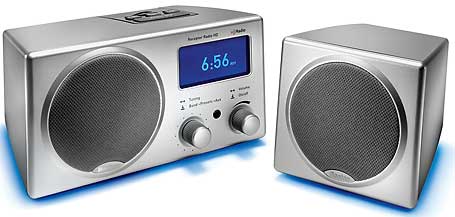 Boston Acoustics' Receptor Radio HD is the first tabletop AM/FM radio product to also deliver digital radio, the broadcast industry's answer to satellite. If your area receives digital stations--and you don't mind spending $299 on what is, in the end, just a radio--then you'll like Boston's stylish unit.
The most compelling feature of digital radio (called, officially, HD Radio), is multicasting, in which a station divides its frequency into multiple channels. To move through channels, you adjust the tuning knob or press the up/down buttons on the remote control (about the size of a pack of chewing gum).
This shipping radio handily locked on to both FM and HD stations (AM is spotty in my area), though it exhibited a slight delay in tuning to a station's second multicasting channel. Digital stations, marked with an HD Radio logo on the device's display, sounded subtly better than their analog FM counterparts. Digital broadcasts lacked the hissing and crackling you can get with analog, and the bass sounded warmer and fuller. Audio gets a boost from the quality speakers. The second speaker is a separate piece for wider stereo sound.
The design of the Receptor Radio HD is impeccable. The display's blue text is bright, albeit a bit small for reading song metadata (such as the title and artist information) from across the room. You can store up to 20 presets, as well as connect an MP3 player through the auxiliary input. Other perks include a headphone jack and dual alarm clocks. If you can stomach the price, this unit will put you on the cutting edge of radio.
Boston Acoustics Receptor Radio HD

This well-designed though pricey radio is a great way to bring digital and analog broadcasts into your home.
Price when reviewed: $299
Current prices (if available)
At a Glance
Boston Acoustics Receptor Radio HD
Shop Tech Products at Amazon