Apple's Sleek Intel-Based Laptop
At a Glance
Generic Company Place Holder Apple MacBook Pro Notebook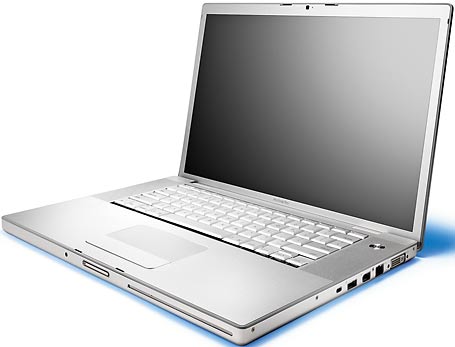 Equipped with a 2-GHz Intel Core Duo Processor, Apple's MacBook Pro looks great, runs great, and has some fine new capabilities. But it lacks several features, and it has the same performance issues as the Intel-Based iMac.
The MacBook Pro is a joy to use. At 1440 by 900 pixels, the screen is sharp and bright. It comes with a built-in Webcam, Front Row media-playing software, and an infrared remote control. The unit handles basic productivity tasks with aplomb, and Apple applications run very fast.
That said, our $2499 shipping unit lacks standard PC notebook options such as an S-Video port, a modem, and a PC Card slot (its ExpressCard slot isn't PC Card-compatible). Its DVD write speed is only 4X, and it can't yet burn double-layer media. The laptop also lacks a FireWire 800 port.
In benchmark tests conducted by our sibling publication Macworld, the MacBook Pro underperformed the 2-GHz iMac Core Duo in some tests and outperformed the G4-based 15-inch PowerBook in most tests; notable exceptions were tests of Microsoft Word and Adobe Photoshop. The next versions of these apps will be Intel-optimized, but for now they run through the Rosetta translation software. Macworld found that a single battery charge lasted for more than 3.5 hours with normal use. See additional details on Macworld's tests.
This laptop runs very well, but it lacks a few features and will benefit as more software is optimized for Intel.
Apple's MacBook Pro

Apple's stylish laptop is fast enough for most uses but performs best with Apple's own Intel-optimized software.
Price when reviewed: $2499
Current prices (if available)
At a Glance
Generic Company Place Holder Apple MacBook Pro Notebook

Pros

Classic design
Runs Universal applications quickly
Integrated iSight camera
Bright screen
Improved wireless range
Comes with Front Row application and remote
Innovative MagSafe power connector

Cons

Optical drive inferior to PowerBook G4
Non-native apps can run slowly
Intermittent processor noise on some systems
No FireWire 800 port
Screen slightly shorter than PowerBook
Shop Tech Products at Amazon