HANOVER, GERMANY -- The buzz on Thursday at Germany's CeBIT show is all about Samsung Electronics' Q1. The device is based on the Origami platform from Microsoft and is the first of a new class of machine dubbed the "ultramobile PC." I had a chance to play with the device as soon as the show opened on Thursday, and here are my impressions.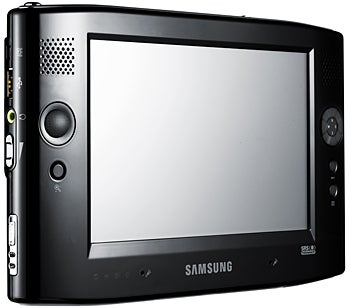 The Q1 is finished with the same sort of shiny black plastic that is used for the PlayStation Portable, and the few devices on show were already collecting fingerprints. It's going to be one of those products that requires lots of polishing.
In my hands it didn't feel too bad. It's quite light at just under 28 ounces and wasn't too thick to hold easily. It measures about 10.5 by 9 by 5.5 inches.
The Q1 is based on an Intel Celeron M processor running at 900 MHz. It has 512MB of memory and a 40GB hard drive. There are wired and wireless LAN adapters, Bluetooth networking, and a Compact Flash card slot that could be used for other types of modems.
Button and Touch-Screen Control
Buttons take up both sides of the display and can be operated by thumb. The right side has Enter and Menu buttons, plus a user-defined four-way button; the left side has a joystick and a button for the auto-scaler. This latter function automatically scales content to match the Q1's 800-by-480-resolution (Widescreen VGA) display.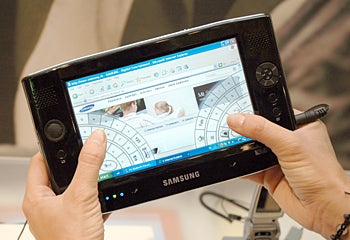 Along with the buttons, the touch screen display can be used to interact with the Q1. There's a conventional QWERTY keyboard that can be brought up on screen, but much more interesting is the dial keyboard. This appears as two quarter-circles in the bottom right and left corners of the screen that are operated with one's thumbs while holding the Q1. It's going to take users a little bit of getting used to but it's certainly a good option for such devices.
There isn't much too much to report about what's on screen. The Windows XP version running on the Q1 looks just like Windows XP on your desktop, so it immediately feels very comfortable to operate.
Instant On for Multimedia Via Second OS
One of the nicer features of the Q1 is instant-on for multimedia files. This involves booting up a second operating system--Samsung wouldn't say what it is--and in about 10 seconds you can play videos, listen to music, or look at pictures.

On the negative side, the screen resolution is perhaps a little low. Browsing the Web at WVGA resolution means that lots of scrolling is involved. Battery life could also be better. When watching a DVD using an external drive, the battery life is given as 1.7 hours by Samsung. That works out to about 1 hour and 40 minutes--so you'd better carefully check the running time of DVDs.
Priced Over $1000
Perhaps more important in determining whether the Q1 stands a chance of success is its price. It looks quite expensive. Samsung said the Q1 will go on sale in Europe for $1190, which is slightly over the $500 to $1000 price range we first heard about when Microsoft began talking about Origami.
For more coverage from the world's largest technology show, go to our CeBIT News page.