HANOVER, GERMANY--Now that Microsoft has officially unveiled its Origami project, the big question is what sort of market acceptance will greet devices based on the ultramobile platform.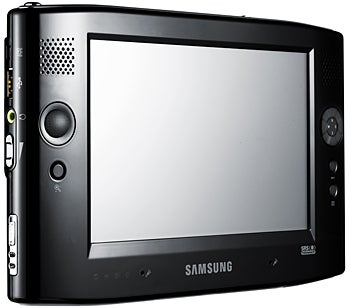 Microsoft and Intel teamed up to debut the mobile platform here at CeBIT on Thursday. Samsung Electronics showed the first device designed around the Origami reference design (the Q1), with Asustek not far behind. The executive behind the Origami project, William Mitchell, Microsoft's corporate vice president of the Mobile Platforms Division, said the company gave careful consideration to customers' willingness to accept yet another mobile computing device before deciding to launch the product.
Microsoft built the reference design for Origami last year, and began shopping it around to customers to see if there was interest, Mitchell said.
Going Beyond the PDA Experience
When customer reception was generally positive, the company felt it was time to come out with what it calls a third "design center" for the Windows OS, he said. The result, Origami, is closer to the interactive yet not completely engrossing experience that people have when they use PDAs, Mitchell said. It also differs from the immersive experience of using a PC and the more relaxed experience of watching media on a Windows Media Center PC, he said.
Mitchell acknowledged that enthusiasts who typically purchase the latest and greatest gadgets will buy the first Origami devices. Customers who currently use either PCs or PDAs as mobile computing devices, and find the experience lacking, will be the second wave of Origami adopters in the next 18 months, he said.
For instance, Mitchell said laptops are often too cumbersome for casual users to lug around, especially if they just want to access the Internet or download photos from a flash storage card while on vacation. On the other hand, a PDA is too small for a satisfying Internet-browsing experience.
Does What Several Devices Do Now
Origami represents the kind of middle-ground device that could do all of these things, as well as have the benefit of playing media, enabling gaming and allowing people to store personal information, he said. And since Origami devices will combine all of these features, such a device could end up being the one that customers use in favor of the several gadgets they currently use--such as portable music players, PDAs, and portable media players, Mitchell said.
Michael Gartenberg, analyst with Jupiter Research, sees Origami in a slightly different way. He agrees there is a market for the devices, but doesn't think they will necessarily replace existing products like Apple Computer's iPod or the PDAs and PCs people already use.
But other portable media and game-playing devices that cost between $500 to $1000--the price range that Microsoft is targeting for Origami products--and lack the computing power or functionality of the Windows OS may be in danger of obsolescence, he said in remarks sent via e-mail.
"The fact that Origami is a PC-based platform means that there's a lot of functionality that it's going to be capable of and, like the PC, be able to offer a no-compromise solution for most of these applications," Gartenberg wrote.
For more coverage from the world's largest technology show, go to our CeBIT News page.