First Look: Lenovo ThinkPad Z60t Wide-Screen Laptop
At a Glance
Lenovo ThinkPad Z60t Notebook (2GHz Pentium M, 1GB DDR2, 100GB, DVD/CD-RW, Windows XP Pro, 14" TFT)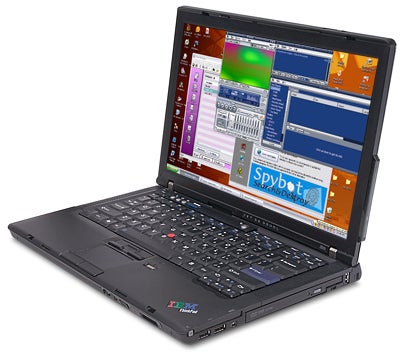 The Lenovo Z60t presents an odd compromise for notebook buyers looking at wide-screen models. This 14-inch wide-screen unit has a smaller display, lower resolution, and weaker graphics compared with its larger, heavier sibling, the 15.4-inch Z60m--yet at $1999, it's safe to say that the 14-inch model costs a few hundred dollars more than a comparable 15.4-inch model. True, many notebooks cost more the smaller they get, but not when the difference is this minimal.
Though you can get the Z60t in ThinkPad-traditional basic black, some models come with a titanium-toned lid. (You have to pick a configuration that sports this type of lid, however. You can't add it, and Lenovo doesn't allow you to build this model to suit.) The lid, which still carries the "IBM ThinkPad" logo, doesn't do much for the Z60t's appearance--it just makes the notebook look like a Dell.
The case is moderately thick at 1.4 inches, but the machine weighs only 5.5 pounds (with a seven-cell battery and the optical drive installed). Ports for a microphone and headphones stick out the front--right where their mini-jacks would jab me in the belly if I were to set the notebook on an airline tray table. But it's nice to finally find a hardware switch for the wireless antenna; other ThinkPad models require you to use a keyboard command to turn it on or off.
Two Pointing Options
Like the ThinkPad T series, the Z60 models have both an eraserhead and a touchpad, but the Z60t's shorter deck scrunches them a bit. Five buttons and the two pointing devices are squished into a 3-by-3-inch area. The eraserhead buttons are mushy, small, and placed too far forward, for my thumb, at least; even the eraserhead buttons on the ultralight ThinkPad X40 are larger and better placed. Though it's nice to have options, I think most people will end up using one pointing device or the other. I've become accustomed to using an eraserhead, so the touchpad just got in my way and caused pointing errors (you can turn one or the other off if you like). On the other hand, the keyboard is great: big, wide, and offering firm keys.
The speakers, located on the left and right of the keyboard, produce moderate volume; music sounded pretty clear, but with little bass authority. The Z60t has the usual ThinkPad features, too, such as the ThinkLight, a small LED you can turn on to illuminate the keyboard; a shock-detection system that parks the hard drive when it senses that the notebook is falling; and a rescue partition hidden on the hard drive that you can summon by pressing a button just forward of the keyboard. That partition has network drivers, as well, so if your operating system is hosed, you can still download patches and possibly resurrect it.
Specs and WorldBench 5 Score
Our test unit, which came with a 2-GHz Pentium M processor and 1GB of RAM, earned a WorldBench 5 mark of 84, a few points below the average for notebooks using that combination. The top-scoring model with that processor and amount of RAM, the Acer TravelMate 8100, scored 94, but that's probably not enough of a difference for most users to notice. At the time of this review, Lenovo offered only Pentium M processors in this line, not the faster, newer Intel Core Duo processors.
Part of the performance difference could be a result of our test unit's use of integrated graphics, as the otherwise similarly configured models we tested all had discrete graphics. The Z60t comes with only Intel integrated graphics, and its resolution is limited to 1280 by 768; the screen did not seem very bright, either. If you opt for the 15.4-inch Z60m, you can get discrete graphics with either 1280 by 800 or 1680 by 1050 resolution, as well as a "MaxBright" option that is supposed to make your screen 50 percent brighter.
The seven-cell battery that accompanied our test configuration gave us great battery life--nearly 4.5 hours in our tests--but it sticks out about an inch from the back. A four-cell version comes with other configurations, but we did not test it.
The Z60t has a lot going for it, including relatively light weight for a wide-screen model, a great keyboard, and Lenovo's highly rated support. But the laptop would be even better if the company offered some of the features on this model that it does on the Z60m.
Lenovo ThinkPad Z60t
Great keyboard, good battery life, and light weight almost make up for small workspace and details that don't feel well designed.
Street: $1999
www.ibm.com
(if available)
At a Glance
Lenovo ThinkPad Z60t Notebook (2GHz Pentium M, 1GB DDR2, 100GB, DVD/CD-RW, Windows XP Pro, 14" TFT)

This lightweight model turned in great battery life, but leaves off features found on its cheaper sibling, the ThinkPad Z60m.

Pros

Lightweight; great battery life
Shop Tech Products at Amazon