On May 1, Samsung Electronics will start selling its Q1 ultra-mobile PC (UMPC), the first of a new breed of handheld device that Microsoft and Intel hope will change the way people use computers.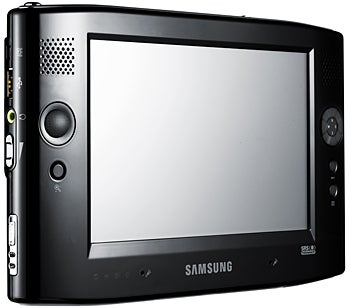 However, don't look for a revolution to happen overnight. "The opportunities are big but I think the turning point is still in the future, not tomorrow," said Dadi Perlmutter, senior vice president and general manager of Intel's Mobility Group.
"We are now playing with the first wave of something," he said.
Based on the Origami platform developed by Microsoft and Intel, Samsung's Q1 runs the Tablet PC version of Windows XP and boasts a seven-inch touch-screen LCD panel and a 900-MHz Celeron M processor. With a price tag of around $1200, Samsung expects to sell 400,000 of the devices over the next year.
For UMPCs to be a success, they must be more than a slimmed-down notebook or large PDA. "If it is going to end up that way, I don't think it will succeed. It has to be something beyond just an 'in-between,'" Perlmutter said.
Samsung's version of the UMPC, which measures about 10.5 by 9 by 5.5 inches and weighs in at 1.7 pounds, is generally typical of what first-generation UMPCs will look like.
Room for Improvement
As with any new type of device, these designs will inevitably go through several rounds of revision and improvement, Perlmutter said. "We ultimately want to get [the UMPC] lighter, smaller," he said, noting that these versions of the device will likely be available in two years.
Eight hours of battery life and Wimax connectivity will also be important features of future UMPCs, providing a constant high-speed Internet connection, Perlmutter said. This combination of high-speed connectivity and the relatively large LCD screen, will allow users to access information on the Web that's not viewable on the small screen of a cell phone or PDA, he said.
Combined with technology that can tailor this information to a user's location, future UMPCs offer the prospect of interesting new applications, Perlmutter said. "I have a restaurant chain. You log into my Web site and I know your location. You get the map on top of Google Earth, you could even get my menu," he said.
Of course, this can also be done using a notebook PC. "But it's not realistic that I'm going to take my notebook out of my bag each time I want to look for something," Perlmutter said. "But if I have device like [the UMPC] with instant-on, it's useful."