Big, Beautiful Gaming Notebook From Toshiba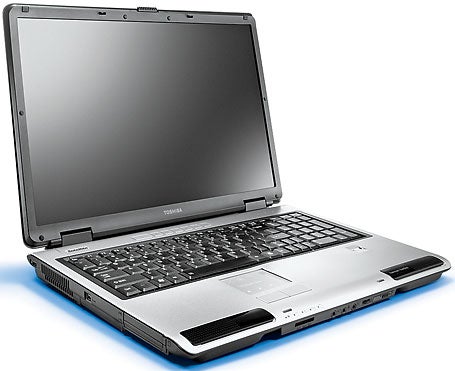 A terrific screen, rich sound, and superior performance make the Satellite P105-S921 Gaming notebook from Toshiba really stand out. The system's $1999 price--quite reasonable considering what you get for it--only sweetens the deal.
The P105-S921 is a hefty beast--there's no getting around that. The unit weighs 9.2 pounds ready for travel, and measures 15.5 by 10.8 by nearly 2 inches. But that hulking package comes fully loaded. The laptop has a beautiful 17-inch, glossy, wide-screen (1440-by-900-pixel) LCD, a built-in multiformat rewritable DVD drive, 160GB of storage, gigabit ethernet, 802.11 a/b/g Wi-Fi, 1GB of DDR2 SDRAM, and an Intel 1.83-GHz Core Duo T2400 processor for some high-performance kick.
The Satellite soundly delivered that kick on our WorldBench 5 tests, earning a score of 95--which shows that it's plenty fast for most purposes. You also get good graphics performance from the unit's nVidia GeForce Go 7900 GS graphics with 256MB of dedicated GDDR3 memory. This isn't nVidia's top-of-the-line chip (that's the 7900 GTX), and the 7900 GS doesn't quite match the power of the 7900 GTX, but you should still get excellent game play out of it. And movie playback looked smooth, with great colors.
The pair of Harman/Kardon speakers provide full, rich sound for music, video, or games (the set does not include a subwoofer).
The P105-S921 has a good keyboard and a full numeric keypad next to it. One gripe: Because the <Backspace> key is next to the numeric keypad, I accidentally bumped into the keypad several times while getting used to the layout.
The Satellite P105-S921 packs a lot of power and does so at a price that makes it worth a very close look.
Toshiba Satellite P105-S921
This full-featured gaming system offers a great screen and very good speakers, at a fair price.
Price when reviewed: $1999 (street)
Current prices (if available)
At a Glance
This full-featured gaming system offers a great a screen, very good speakers, and a fair price.

Pros

Terrific screen
Rich sound
Shop Tech Products at Amazon