Download This: Improve Web Video, Send Windows for a Loop
Today's Best Tech Deals
Picked by PCWorld's Editors
Top Deals On Great Products
Picked by Techconnect's Editors
Video may not have killed the radio star, but online it's becoming a killer app. Internet video, once infamous for why-bother image quality, now offers good resolution and decent image quality. This month, we check out an Internet video download service that uses its own software, and a greatly improved old favorite for live video messaging. While we're at it, let's peek at a new way to show and use the Windows XP desktop. Each maker offers at least a taste of its utility for free.
An Instant Media Darling?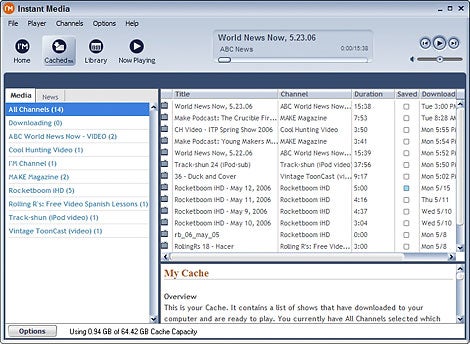 Just because you like podcasts and Internet TV doesn't mean you want to channel-surf the entire Web. A free service called Instant Media lets you download the channels you choose--including a few in high-definition format--to your PC. With Instant Media's download-and-viewing software, you can watch your shows on windows of the size you prefer.
The selection of over 350 videocasts and audiocasts available from I'M (as the company likes to call itself) includes everything from obscure vintage cartoons to Spanish lessons to ABC's World News Tonight. High-def pickings are slim: Currently, I'M offers only Buy.com's BuyTV (it's described as "a mix of product reviews, technology news, and more," but it sounds like an infomercial) and quirky newscast Rocketboom. By the time you read this, a Yoga Today channel should be available as well.
All of Instant Media's high-def offerings are included in its proprietary new iHD format, which is specced out at 1280 by 720 resolution, a data rate of 2 megabits per second, and 192 kilobits-per-second audio. The content I sampled looked clean and crisp.
Most of the channels that Instant Media offers are free; a few premium-content channels carry a charge. The software is completely free.
A Clearer View in Video Messaging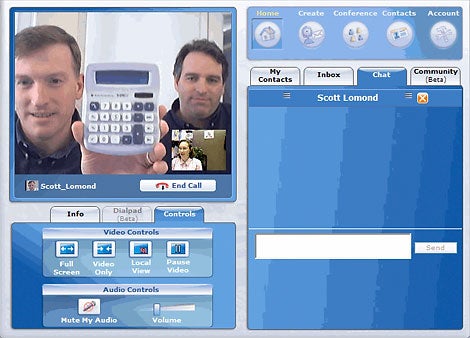 SightSpeed's natural-looking voice-to-motion syncing has long set it apart from other video communication services. With version 4.6, SightSpeed raises the bar again with improved video quality and (for a fee) the ability to call any phone.
The improved video codec is actually a beta feature; to use it, you select it in the Optional Settings menu. When the SightSpeed demo team and I enabled the new video codec, we saw each other far more clearly than before--so clearly that we could make out the numbers on a calculator held up to the camera. The lip sync stayed spot-on, too.
To test the new phone-anywhere feature, I called my husband at his work number. "Where are you calling from?" he asked. "You sound clearer than usual." We were able to carry on our conversation even when I dropped my voice to a whisper; usually, he asks me to repeat myself when I speak into the phone quietly. The only odd things about the call were that I couldn't hear ringing when I dialed his number, and occasionally he heard a short crackle or buzz that I couldn't hear. Calls to any destination in the world cost a competitive 2 cents a minute; you prepurchase phone time, much as you do with a calling card.
Looping Around to the Point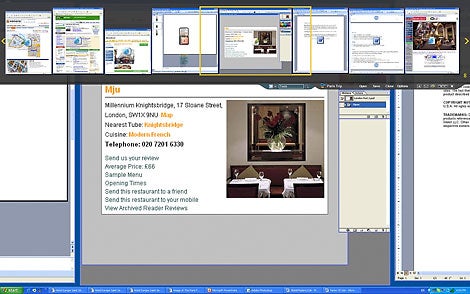 Imagine having to work with a huge pile of papers on a tiny schoolroom desktop. That's what we XP-using multitaskers do now, with our stacks of desktop windows. But if you could move to a sprawling, L-shaped desk, you'd have room to spread everything out so you can see all your windows and grab the one you need. That's the approach of Deskloops, a beta freebie that adds a new dimension to the XP desktop.
When you have Deskloops running, every window you open takes center stage, pushing other open windows to the wings. When you want to look at another window, simply move the cursor to the side of the screen: All of the open windows on your desktop will scroll in a loop (hence the product's name).
To see what's on the desktop without scrolling, move the cursor to the top of the screen, and the Deskloops "strip" will drop down to show you thumbnails of the open windows. You can scroll through the strip, too.
I found Deskloops very easy to use, thanks in part to the short tutorial by Mr. Loopster, an animated character based on the Deskloops icon. The Options menu lets you delve deeper into customizing the program--choosing scrolling speed and so forth.
Once I got used to Deskloops, I found it a quick and comfortable way to navigate between windows. I spent a lot less time clicking the taskbar to open and close windows; instead, I just scrolled to the window I needed.
My only caution about Deskloops is that it's still a beta product; as such, it's not completely bug-free. The folks at Xilokit, makers of Deskloops, invite feedback and make it easy to report issues from within the program.
What do you think of these files? Do you have a favorite that isn't in PC World's Downloads library? E-mail your comments to Laura Blackwell. Messages containing attached files will be deleted unread. Vendors seeking coverage for their software should submit the files with PC World's file submission tool before writing.
Shop Tech Products at Amazon