Manage Collaboration With Alexsys Team 2
At a Glance
Alexsys Corporation Alexsys Team 2 Standard 2.8.4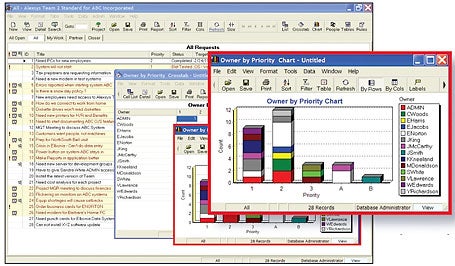 Alexsys Team 2, a client-server-based software package, assists businesses in organizing customer-service-oriented project teams such as help desks. This relatively inexpensive software provides an easy-to-set-up framework for managing collaboration, but also offers depth and versatility if you need them.
I reviewed the newly released version 2.8, which runs on the included Paradox database. The single-user offering costs $155; a 20-user package is $2400. Team 2's unique project management and collaboration tools include the oddly named but versatile crosstab capability, which lets you quickly develop reports and charts to assess the status of project tasks. Version 2.8 also has drag-and-drop support for attachments, a password expiration policy for improved security, and support for additional SQL databases. The software also comes with customizable templates for creating assorted customer-service forms; for example, a corporate help desk could design an e-mail support ticket that lets an administrator assign a technician or set the response priority. Alexsys says that Team 2 is so versatile that a prison uses it to manage the monitoring of inmate mail, and that a golf course uses it to schedule greens maintenance.
Alexsys has crafted a well-designed interface, although I wish the company would spice up the program's rather dull-looking screen displays. Most small businesses will be up and running within an hour or two, while businesses with complex workflows that must pass through several people at various stages may require many more hours to set things up. The collaboration tools within Team 2 are more powerful than most small organizations will need, but the extra headroom will come in handy should a business add to its ranks down the line.
The company offers several other editions of Team 2, which differ mainly in their back-end server databases. Alexsys Team 2 Pro works with Microsoft SQL, Oracle, or MySQL servers and is suitable for larger installations. Unfortunately the app currently does not support remote access on the popular Apache Web server, but Alexsys says that it is working to add the feature.
Team 2 has the best printed manual I've seen in years, a hefty 554 pages chock-full of information, complete with index. It includes examples and mini-case studies that show which option is best under different circumstances. It's a delightful throwback to the 1990s, when a program manual actually showed you how to use the software.
Team 2 has no direct competitors. A close rival is Cerberus Helpdesk, which efficiently organizes help desk response but can't easily adapt to other collaborative applications. If your business is struggling to keep teams of employees on track, Alexsys Team 2 could be just the thing to focus their efforts on top-priority tasks.
Alexsys Team 2 Standard 2.8.4
Affordable application offers good task-tracking and team-management tools.
Price when reviewed: $155, single-user package (multilicense discounts available)
Current prices (if available)
At a Glance
Alexsys Corporation Alexsys Team 2 Standard 2.8.4
Shop Tech Products at Amazon