Welcome to the next generation of PC World--the most sweeping and ambitious upgrade we've ever made to our Web site. What's new? Dozens of things, all designed to give you even more useful, timely tools for researching, buying, and using technology products for work and home.
The site's makeover starts with a bold new look and feel, courtesy of our design partner MetaDesign. But the changes we made go deep below the surface. And all across PCWorld.com, they let you:
1. Find stuff faster.
If you're like most people who come to PCWorld.com, you usually arrive with a specific goal in mind. On our home page (and on every PCWorld.com page), you'll find a new navigation system designed to get you where you want to go as swiftly as possible.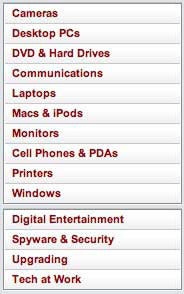 Along the left-hand side of the page (shown here on the left), you'll find links to our Info Centers--one-stop resources on an array of popular topics. Each one offers news, reviews, research tools, and a lot more.

Meanwhile, links across the top of the page take you to types of content, such as reviews, news, and how-to stories, as well as features such as our downloads library and new forums.

We've also upgraded our search engine, which you'll find right below the PC World logo on every page. The new 'Show only' option at the top of the search results list lets you filter your query to a content subcategory, such as News, Reviews, or How-To, with one click.
2. Make your PC World more personal.
No two PCWorld.com visitors have quite the same needs and interests. So we've made the new site a more customizable place than its predecessor.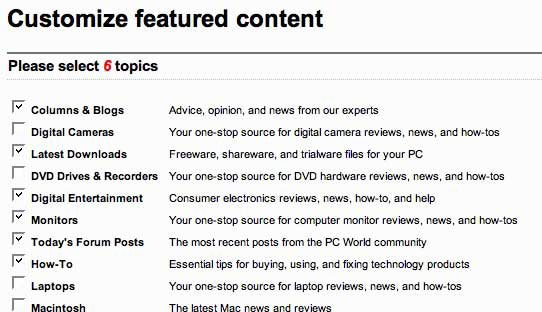 For instance, you can edit Featured Content--the block of highlights from around the site that sits right below Today's Top Stories on our home page--to match your interests. Just click Customize this content, and you can select from feeds on more than 20 topics, such as Hardware Reviews, Columns & Blogs, Digital Cameras, Spyware & Security, and Tech at Work. (You'll need to be a registered PC World member to customize this block.)

Home-page customization is only one way in which the new site lets you personalize your PC World experience. All over the site, you'll find the 'Add to My Pages' icon (shown here at the left), which is a small plus sign and page.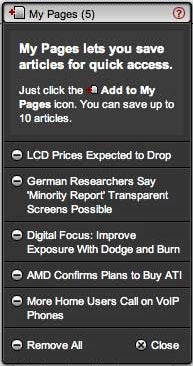 Click it, and the article or other item you're viewing will get tucked away in your My Pages library. Click My Pages at the top of the left-hand navigation links to see the pages you've filed away--you can save up to ten at any one time. Click the minus sign to the left of each article link in your library to remove that article and make room for another.
3. Get more out of reviews.
As always, product reviews are among the most popular content on PCWorld.com. On the new site, we've worked hard to make them even more useful.

Want to research hardware products in a major category such as Cameras, Desktop PCs, Printers, or Televisions? In our new Hardware review section, as well as elsewhere on the site, you'll see a 'Find a review' link near the top of the page.

Click Find a review (shown here on the right), and the new Review Finder appears. Choose a product category, and you'll get more choices that let you focus your search; click Get reviews to see a list of every product we've reviewed that matches your criteria. Click on a product's name or photo to go to the full review.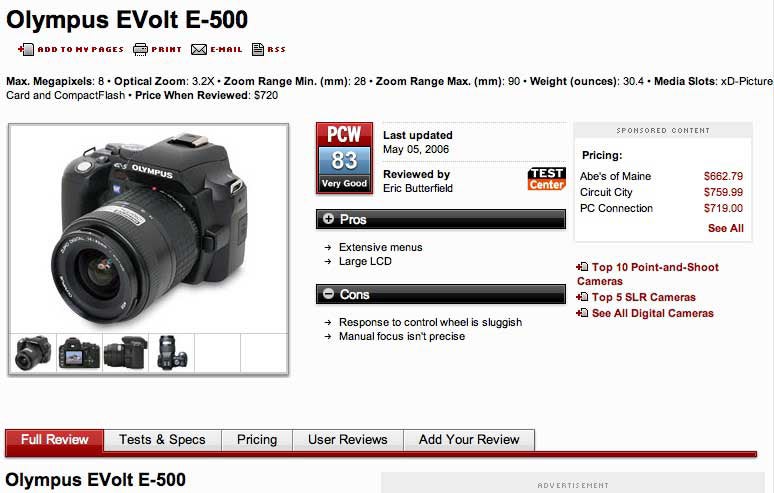 Once you've arrived at a specific review, you'll find a new, more informative format. At the top of the review, we give you top-level information, including specs, pros and cons, our PC World Rating, and links to merchants. Photos are now larger, and you can hover the mouse pointer over thumbnails to see multiple views of a product. And new tabs let you read user reviews or add your own evaluation. (More on those features in a moment.)