Download This: Sync Firefox Bookmarks, Build Personal Podcasts
These days, many of us work in several locations and suffer through long commutes. The right software can help us put the scattered pieces of our lives back in place. This month, we look at a powerful browser sync program for Firefox and a personalized podcast program, both free.
Swimmingly Sync Firefox Bookmarks
Few of us work at just one PC these days. It's frustrating to bookmark an interesting site on one PC, only to realize that you're on a different one when you have time to explore the site properly. Google Browser Sync makes your Firefox browser settings--bookmarks, cookies, passwords and all--available on any Firefox-equipped, Internet-connected PC that has Browser Sync installed on it.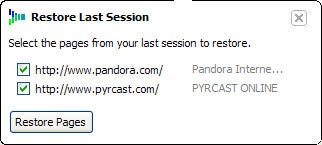 Google Browser Sync does most of its work quietly, but it lets you decide which pages you actually want to see again. Whenever you open Firefox, Google Browser Sync asks you whether you'd like to restore any pages from your previous session. The pages you select will automatically open in their own tabs. The program takes a few minutes to set up, and it requires a few seconds to load whenever you open Firefox, but those minor inconveniences are offset by the savings in time and brain wracking you reap by not having to try to remember the name and URL of some key Web page you were planning to use for work research.
Google Browser Sync is free, but it does require a Google account. In addition, you must create and remember a PIN that you'll use the first time you sync your bookmarks on another computer.
Podcast From Pandora
Unlike the character in Greek mythology, personal Internet radio site Pandora doesn't open a box of afflictions; rather, it presents you with the gift of music stations tailored to your tastes.
Pandora harnesses the power of the Music Genome Project in service of the tunes you choose--you can start with just one song if you like--to introduce you to other songs that share the qualities you enjoy. The only trouble with Pandora is that you can't take it with you; at least, you couldn't until Pyrrha came along.

Pyrrha, named after the daughter of the mythological figure, is a desktop program that builds podcasts based on your Pandora stations. Once you've installed and launched Pyrrha, you log in with the same e-mail and password you use for Pandora. Pyrrha then accesses your Pandora account and lets you choose which of your stations you'd like to receive as podcasts. The program builds a personal MP3 file in a matter of minutes, giving you hours (up to five of them) of musical discovery. These personalized podcasts, called pyrcasts, will work on any MP3 player.
Pyrrha is free. Its maker, Pyrcast Online, stresses that this program is meant only to make Pandora portable, not to infringe on copyrights.
The Envelope, Please...
At the recent Shareware Industry Conference, PC users' favorite shareware (as determined by a poll) receive People's Choice awards from the Shareware Industry Award Foundation. PC World has gathered the winners into a file collection. A look at the winners reveals that a previous Download This pick, WindowBlinds, is as popular with the public as it is with PCW editors.
PC World Associate Editor Erik Larkin contributed to this story.
Would you vote for any of these files next award season? Is your favorite file missing from PC World's Downloads library? E-mail your comments to Laura Blackwell. Messages containing attached files will be deleted unread. Vendors seeking coverage for their software should submit the files with PC World's file submission tool before writing.
Shop Tech Products at Amazon