Tech at Work: Solve Your Data Growing Pains
One thing that business accounting and customer relationship management applications have in common: They keep track of your business activities in large and growing databases. What do you do when you track so much data that your PC hard drives are virtually busting at the seams, running out of storage capacity?
You could, of course, upgrade to new machines with larger hard drives and faster processors, but that would be pricey. If the PC is just two or three years old, simply upgrading to a hard drive with more storage would be a more cost-effective solution.
But how would you smoothly transfer programs and applications data to another, larger hard drive? That's where the new, ultra-portable version of Disk Jockey ($349) from Diskology rides to the rescue. This compact device is an all-purpose tool loaded with useful capabilities that make it easy to copy data from one drive to another, wipe data from drives you are retiring from use, and more.
Hands on With Disk Jockey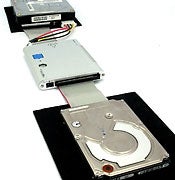 Disk Jockey is a little box with connections and cables to attach up to two hard drives. Controls are simple: a blue Power button and a dial to select one of eight operating modes (identified only by number on the dial). These modes include copy, compare, disk check, and two methods of disk erase: single and triple pass.
The other three modes involve connecting the device to a PC's USB 2.0 or FireWire port with the included cables. Standard mode lets you mount a drive to your PC as though it were in an external USB or FireWire case. You can also mount two drives in mirror mode (RAID-1), in which data is copied to both drives simultaneously, or spanning mode, in which two physical drives appear as one large logical volume.
If you know how to use a screwdriver to remove a hard drive from your PC, you can operate Disk Jockey. For copying, you attach the drive you wish to copy to one port on the Disk Jockey and the destination drive to another port. Select the Disk Jockey's Copy mode, then press the Power button twice: first to power up the drives, the second time to begin copying.
Small Drawbacks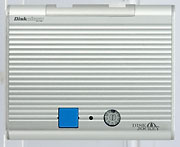 Disk Jockey isn't perfect. For example, the numbers that represent operating modes on the rotary selection dial are a little too small for my aging eyes to easily read. The interface needs some work, too: Disk Jockey shows progress in disk copying and some other tasks through an arcane system of flashing LEDs and a beep at completion. It would be oh-so-simpler if the device had a display on which it could indicate percentage progress.
Disk Jockey comes complete with cables and connectors that can be used for most UltraDMA drives (both 2.5-inch notebook and 3.5-inch desktop), along with two electrostatic mats to rest your drives on. Disk Jockey does not currently work with SCSI drives. The $429 Disk Jockey Forensic Kit bundles the device with longer cables and a Serial ATA adapter, and also adds a write-block mode that lets you examine a hard drive with no risk of changing its data--a feature that could help criminal investigators.
If you need to upgrade only one PC, Disk Jockey might be too costly an investment. Instead, consider software alternatives such as Symantec's Norton Ghost, which can clone files on a hard drive. And the freebie Eraser application can wipe all traces of data from retired drives.
But Disk Jockey's hardware-based approach to copying is relatively fast, and certainly faster than most software--about 2GB per minute on drives I tested. Since it performs a bit-by-bit copy, it can make an exact image of everything on the drive. It copies all drive partitions at once, unlike Norton Ghost, which copies only one partition at a time. The device operates independently in most operational modes, so you can perform other tasks on your PC while using Disk Jockey.
If you want to upgrade drives in half a dozen notebooks used by your sales staff, Disk Jockey's speed and ease of use makes it a good choice to get data from the old drives to the new ones.
Diskology Disk Jockey
Useful multipurpose hardware device to clone, wipe, and otherwise manage hard drives.
$349
Current prices (if available)
Shop Tech Products at Amazon