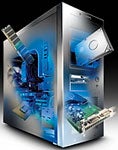 With a little know-how and some good advice, making the right upgrade can keep your hot-rod PC blazing or extend the life of your wheezing workhorse system. We have the information you need for either goal, in sections that bring you up-to-date on all the major components and offer comprehensive, step-by-step guides to upgrading.
CPU Upgrades: Intel's hot new Core 2 Duo processors are the latest and greatest CPUs here. For an older PC bump-up, we show you what you can expect from a Pentium 4 upgrade in an older computer, as well as providing a step-by-step upgrade guide.
Graphics Board Upgrades: SLI and Crossfire are the new technologies for our video card section. We run through four different upgrade scenarios--two for an older AGP system and two for a new system with on-board graphics--along with our step-by-step guide.
Memory Upgrades: DDR3 memory is coming, and we let you know what to expect. Also, learn the benefits of an easy, inexpensive memory upgrade, and check out our step-by-step guide.
Hard-Drive Upgrades: Perpendicular recording and hybrid hard drives get the spotlight in the hard-drive section. Once again we offer a step-by-step guide--this one focuses on adding a new drive and discusses SATA.
Optical Drive Upgrades: Are the new Blu-ray optical drives worth the hefty price tag? Probably not--but much more reasonable DVD upgrade options are available.
Upgrade, Build, or Buy: To wrap up our coverage, we help you answer two critical questions: Is it time to get a new system instead of upgrading, and are you better off buying a new system or building it?
And don't miss our handy extra tips and guides: