The online advertising industry's latest offerings can be annoying, hard to get rid of, and nearly impossible to avoid.
No, I'm not talking pop-up ads or adware. I'm talking about ads that flash, blink, vibrate, and sommersault around your browser window. Others expand, pop open a window (even if you have a pop-up blocker), and play sounds or video. These ads seem to come alive with no warning or invitation. Some are triggered merely by your visiting a Web page, while others spring into action when you move your mouse or cursor over them--even if you never had any intention of "playing" the ad.
These "Rich media" ads are behind the online advertising boom: The industry will earn $16 billion in online ad sales in 2006, according to research firm Gartner. That's up 30 percent a year for each of the past three years.
The companies helping to fuel this boom include PointRoll, Vibrant Media, and Unicast, all of whom are behind these types of ads.
Chris Saridakis, CEO of PointRoll, says business is booming. Some of his dancing-ad campaigns are clicked on by as many as one out of ten people who come across them, he says. That's compared to the average static banner ad, which is clicked on by one tenth of 1 percent of people who come across it. And these rich-media ads are on the rise: Two years ago his company served up 200 million such ads monthly; today that number is up to 8 billion monthly.
Shooting Myself in the Foot
I do need to be careful in my criticism. As annoying as Web ads are to me, they help make online content free. Without them we'd be paying a nickel every time we wanted to look up an NFL player's statistics or a weather forecast. In fact, a good chunk of online ads help to pay, well, me, and also keep the lights on here at PC World.
But nonetheless, I don't think I'm alone in thinking that enough is enough. I've been taking notes on some of the ads I'd like to send packing. Let me know if you agree or disagree--or if you'd like to share the pain of an annoying ad with me.
Sounding Off

One of the ad types I particularly dislike is the one that incorporates sound. These ads keep quiet until you roll your mouse over them. Then out of nowhere they start calling out to you. A voice caught me off guard when I visited a page on About.com's Web site. It turns out it was emanating from an ad for SitePal. Another ad for Smileys emoticons called out "hello" when I ran my mouse across a banner ad. My reaction? Not so nice.
Mouse Traps
Another ad I liken to a mouse trap--it comes in the form of highlighted words in articles you're reading online. Run your mouse cursor over the highlighted word, and a little pop-up window appears. These in-line ads come in a variety of types, ranging from simple text to images to postage stamp-size videos, complete with sound.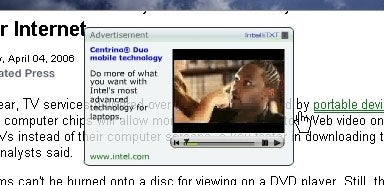 The only redeeming feature of these ads is that as soon as your mouse moves off of the pop-up window, that window instantly vanishes. I ran across one such ad at the gaming news site Punch Jump. But you can find the in-line ads at many other sites as well. To see an example of these ads in action, you can visit Vibrant Media's demo page.
Page Takeover
The industry jargon for another type online ad is the "page takeover." As the name suggests, these ads take over your Web browser window with Flash animation and make viewing content temporarily impossible. These types of ads are not to be confused with an ad that displays before a content page you've requested. Page takeovers are Flash-based animation ads that load on top of the Web page containing the desired content.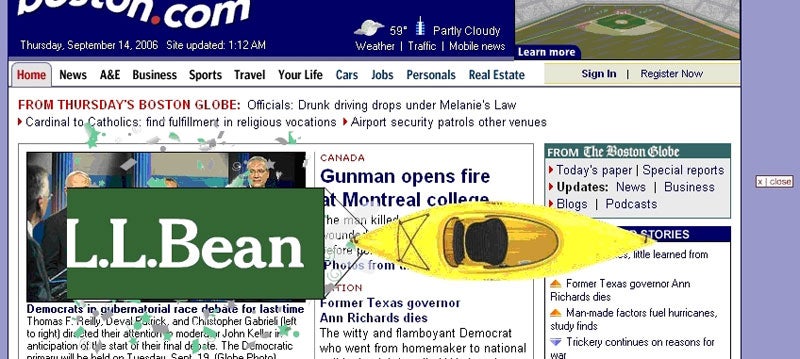 In fairness, most of these ads come with a "close" button for jettisoning the ad should it irritate you. However, some page takeovers are nearly impossible to shut down. Recently I was visiting one of my favorite destinations, Boston.com, and along came a yellow kayak drifting across my browser window pulling an L.L. Bean advertisement. A "close" button existing, but it was easy to overlook as the animation swept across my screen.
To browse examples of this and other ad types, visit PointRoll's site, where the company showcases its ad technology.
Driven to Distraction
Another type of ad that's growing in popularity looks like a regular static ad that runs on the side and top of Web pages. Yet these ads are anything but ordinary. If you happen to mouse over them, they spread like a virus across your screen, taking over your browser window. When you move you mouse away, they slither back to their original, unassuming size.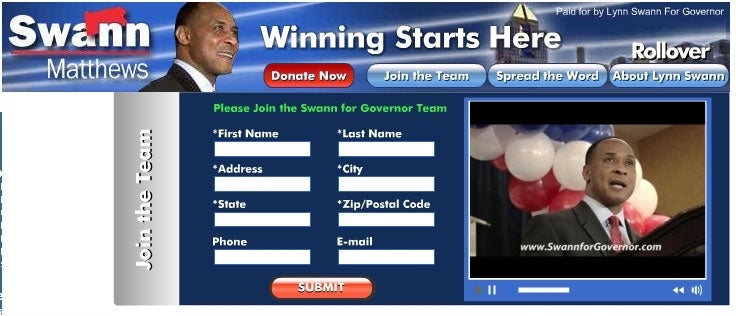 One such ad that's appearing on a number of Pennsylvania-based Web sites touts Jim Matthews, a candidate for lieutenant governor in that state. The ad expands when you roll over it, growing to cover almost half of your Web browser window. It also loads up a video of a stump speech where Matthews discusses education and economic reform.
To preview a number of video based ads, visit Unicast's Web site.
Don't Like These Ads? Tough Bologna
Pop-up blockers may have turned the roar of pop-up ads into a whimper, but there's no clear way to block these new forms of advertising.
This new breed of online ad is so fused with the browser that it's almost impossible, at this point, to tell the difference between commercial and noncommercial content, experts say. That's why it's so difficult to stop these ads. Firefox has a nifty add-on called FlashBlock. Unfortunately, the Firefox extension blocks not only the Flash ads, but also a lot of content and Web features that make Web sites valuable in the first place.
It's true that many of these ads are as creative as they are annoying, and that's not likely to change. And an obnoxious ad can be effective at getting you to remember a brand, says Emily Riley, an advertising expert with Jupiter Research.
Online ads are also growing more interactive, says Andrew Frank, Gartner analyst. With online ads today you can already order products, upload images, or contact a company all through a Web ad while reading the morning news online.
PointRoll's Saridakis says his company is careful not to cross a line and irritate consumers. He says he is in the business of displaying ads and selling things, not annoying people.
I don't know about you, but I'm already annoyed.