First Look: AOL's OpenRide Hits a Few Bumps
AOL tries to keep things simple with OpenRide, a free, all-in-one software client that fuses a Web browser, an e-mail client, an instant messenger, and a media center into one product. AOL says OpenRide is designed for two groups: AOL users looking to move beyond the company's monolithic AOL software client, and non-AOL members looking for easy access to common Internet applications. Both groups, however, may feel let down. OpenRide's settings are too hard to find and tweak for average users, and non-AOLers will be turned off by OpenRide's many commercial hooks back to AOL.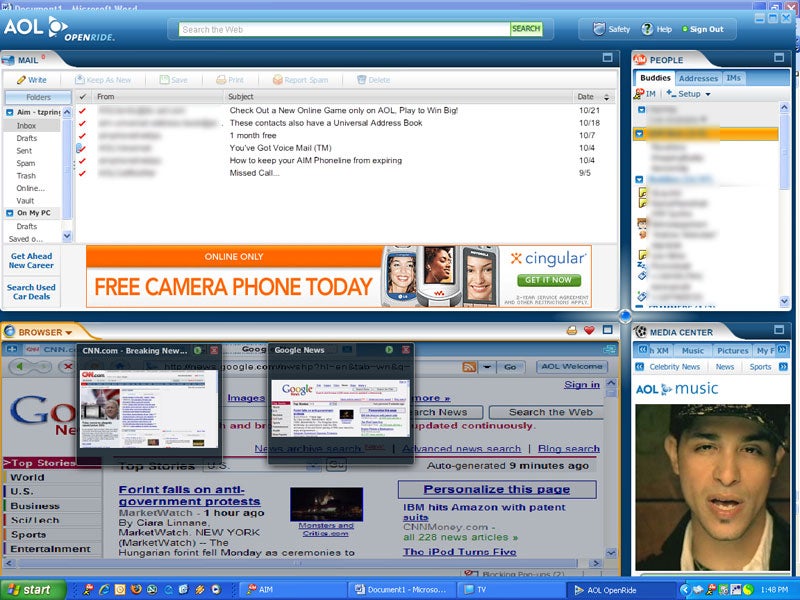 OpenRide's four programs live in four framed windows; each of these quadrants resizes dynamically as you access that particular application. The windows are locked into place; for example, the browser always sits at the lower left side of your screen, and the IM window is always parked in the upper right window. You can minimize and maximize each window using a blue icon located where the windows intersect. You can also maximize one window and choose to hide the other three.
OpenRide's browser is AOL Explorer, which under the hood is the Microsoft's Internet Explorer 6 browser with AOL customization and commercial AOL hooks added. I disliked being unable to change the start page from AOL.com, but I found the built-in antiphishing tools and optional parental controls a plus.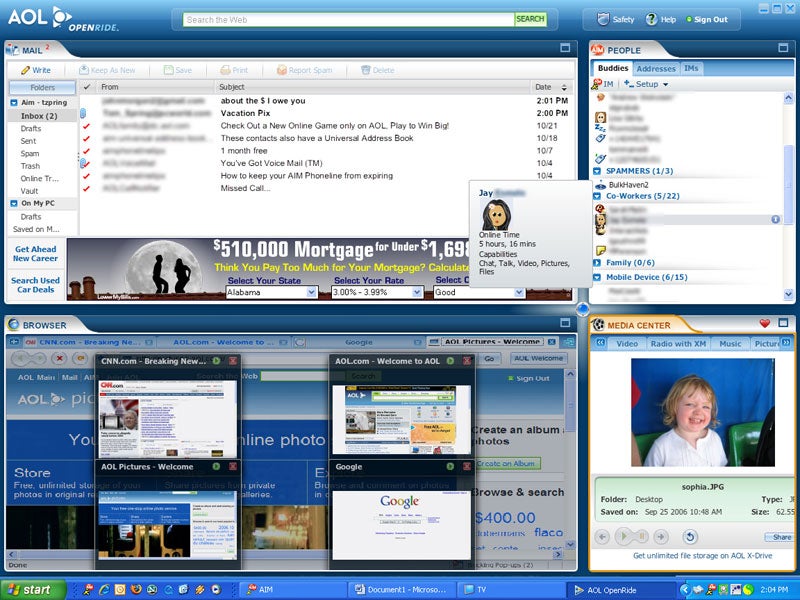 MailPane, OpenRide's e-mail app, sits above the browser window. By default it checks AOL e-mail accounts, but it can be configured to work with POP3 e-mail accounts as well. Herein lies OpenRide's biggest disappointment: Though AOL accounts take advantage of AOL's excellent in-house spam-blocking technology, OpenRide offers no spam filter for POP3 e-mail accounts. This lack of total protection is a significant oversight. Another downside is that the address book, which is tied to OpenRide's instant messaging client, is inaccessible if you're not signed on to AIM.
OpenRide's IM window--called the People Pane--uses the AOL Triton instant messaging client. Triton connects only to the AOL IM network, so users of competing IM networks will have to rely on third-party chat software. Worse, to have an address book for OpenRide's e-mail software, users must sign up for an AIM screen name.
OpenRide's Media Center includes a media player and a menu of shortcuts to AOL's online video and streaming music services. It limits you to playing online or stored video and audio files, or to displaying pictures. Notably missing is a playlist editor for customizing selections of music for playback.
AOL earns kudos for OpenRide's innovative interface and its unique rethinking of multitasking software. Unfortunately, OpenRide seems more geared toward pushing people to AOL products and services than to creating a streamlined Internet experience.
Tom Spring
AOL OpenRide
AOL's software offers easy access to some common Internet applications, but it lacks many key features.
Price: Free
AOL OpenRide
Shop Tech Products at Amazon