Everything You Need to Know About Windows Vista
Today's Best Tech Deals
Picked by PCWorld's Editors
Top Deals On Great Products
Picked by Techconnect's Editors
Networking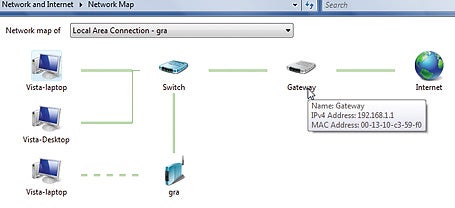 Up to now, Microsoft had never done a stellar job of integrating networking capabilities into Windows. Just try synchronizing Offline Folders in Windows XP, for example--I dare you.
Windows Vista, however, presents your network as a natural extension of your PC. The OS helps you configure a network, share files, manage multiple networks, and more--all with a minimum of fuss. Vista supports all the usual network technologies, including ethernet, Wi-Fi, and Bluetooth.
The new Network and Sharing Center puts network tools and information right at hand. Click View Full Map, for example, and you'll see a diagram showing all PCs and devices on your network, including printers, switches, and gateways. Click or hover over a device icon to get more details, such as IP and MAC addresses.
Vista handles wireless network connections deftly: Simply click the network icon in the system tray, click Connect or disconnect, and you'll see a list of nearby wireless networks. Hover your cursor over any one to see details such as Wi-Fi type (802.11b or g, say) and security protocol, if any.
Vista saves settings for networks you use frequently so you can automatically connect to them when you're in range. You can even specify which take precedence if more than one is available.
Not all networking features are hunky-dory. Windows Meeting Space is supposed to let you hold virtual meetings over an ad-hoc network--but has a well-nigh worthless chat module, no voice capabilities, and no whiteboard tools. Doesn't sound like any virtual meeting I want to attend.
The Sync Center, designed to help you sync files and folders between networked PCs and devices, is a bit of a mess as well. If you want to do anything other than perform basic syncs, you may throw up your hands and walk away.
Shop Tech Products at Amazon