GeekTech: The Geek's Holiday Hardware Wish List
This year's annual GeekTech holiday wish list takes an aural bent, as sound--both at the PC and away from it--is my geek obsession du jour. Even if the techies in your life don't spend sleepless nights wondering which lossless codec to use when ripping their CD collection (again), they're bound to love something on this list.
Better Home Audio
In my last column I talked about the joys of using a USB DAC and headphones for top-notch audio bliss. But this month I'm generating sound from my PC the old-fashioned way, with a PCI-based sound card.
Creative introduced its X-Fi line of sound cards back in August 2005, and while they received generally favorable reviews, I always balked at buying them--mostly because of their high prices. The top-of-the-line Sound Blaster X-Fi Elite Pro carried a whopping $400 price tag, while the entry-level X-Fi XtremeMusic card was a more reasonable (but still pricey) $130.
Those prices have come down some over time, but I really wasn't too interested in X-Fi until Creative recently launched several new budget cards. I picked up the SoundBlaster X-Fi Extreme Audio for about $60, and I very much liked what I heard.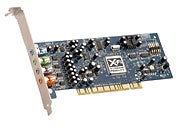 The card produced a noticeable improvement in audio quality over that from my integrated audio chip. When listing to my lossless music rips, I turned off all of the processing bells and whistles in Creative's drivers, and the audio was sharp and crisp. Then I fired up Rhapsody to listen to some lossy streams, which sounded--as one might expect--a little bit thin. So I turned on Creative's X-Fi Crystalizer feature, which the company says "enhances music dynamics." I don't usually buy into that sort of marketing speak, but I have to say, the X-Fi Crystalizer did make the music sound better.
The Extreme Audio card doesn't have all the features of Creative's other X-Fi cards (its jack selection is particularly anemic). But if you're looking for a good, budget-priced audio upgrade gift, it's a great pick.
Your favorite geek can have the best sound card in the world, but if they're pumping the audio through a lousy set of speakers it's not going to sound very good. I tend to favor 2.1s over surround setups (where, exactly, does everybody put those rear speakers anyway?). My favorites aren't exactly new--they've been around for some time--but they're still in production, they sound fantastic, and they're reasonably priced. The Klipsch ProMedia 2.1 package goes for $150, and as long as you can find space for the giant-size subwoofer, it won't disappoint you.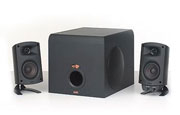 The ProMedia 2.1's will handle just about anything you throw at them, but they take a little fine tuning. For example, I like some booming bass for games and movies, but when I listen to music I'd rather it be more subtle, so I adjust the subwoofer level right there on the right speaker. That's also where you'll find the volume knob, the headphone jack, and even an input jack (so you can plug in an MP3 player). I like this setup better than the separate control pod. I've been listening to everything from classical to blues, rock to techno, and the Klipsch handled it all with aplomb. Oh, and I don't think I've ever turned the volume control more than a quarter turn (these suckers can go loud).
Of course, sometimes it's nice to move to another part of the house--you know, not in front of the PC--to listen to some tunes. A number of streaming audio devices out there let you access music on your hard drive and play it through your stereo, but Slim Devices' elegant Squeezebox remains my favorite.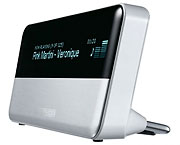 I've been testing the $299 wireless version (there's also a $249 ethernet-based unit), and it has consistently turned in a stellar performance. It supports numerous codecs (including lossless formats such as FLAC and Apple Lossless), and it delivers top-notch audio quality when paired with a good stereo rig.
Setup is simple, the free downloadable SlimServer software is straightforward to use, and the unit's slick design and bright screen look great in the entertainment center. The remote control is a little generic, but it does the job. (As we prepared to post this story SlimDevices announced a new remote.) And the whole setup is compatible with Rhapsody (sweeeet). Oh, and if you're looking to satisfy a true audiophile, and you have seriously deep pockets, you should check out the company's new $1999 Transporter.
Shop Tech Products at Amazon