Create Keyboard Shortcuts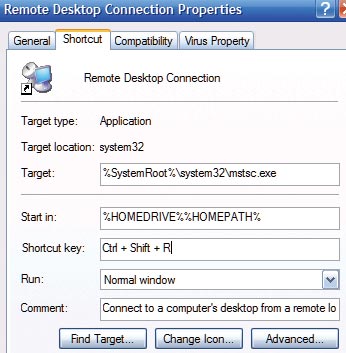 You can automate just about any point-and-click operation you perform with the mouse. Here's a variety of ways to make keyboard shortcuts.
Windows lets you assign a keyboard command to any shortcut icon. (Note, though, that it has to be a shortcut; you can't assign a keyboard shortcut to any file you want.) Just right-click the icon in question, click Properties, and click in the 'Shortcut key' field. Press the keyboard combo you want to assign to launch the shortcut; it must include one standard character plus two or three of <Ctrl>, <Shift>, or <Alt>. (<Ctrl>-<Shift>-R in the example shown.)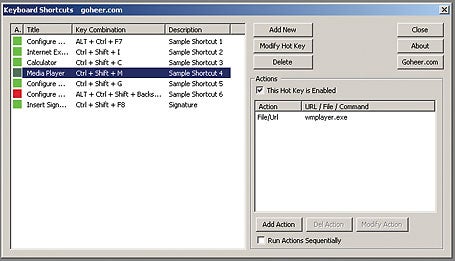 To make more robust shortcuts, try the appropriately named freeware app Keyboard Shortcuts. With such shortcuts you can launch any file, perform system commands (such as logging off and shutting down), or open any URL in a browser. One shortcut can even perform several of these actions, simultaneously or in sequence.
For even more complex shortcuts, get a macro recorder that can capture detailed steps and repeat them on command. The Workspace Macro program ($25) can capture anything you type, as well as mouse movements and clicks. Just click New to record a macro, and click Stop after you've done all your typing and mousing. If you want to assign keyboard shortcuts to your macros, you'll need a separate program, Launch-N-Go ($25).
Keyboard Shortcuts You Should Know
Shortcut
Action
<F2>
Rename selected file (in Windows) or edit selected cell (in Excel).
<Shift>-<F3>
For any highlighted text, cycle among all-caps, lowercase, and title case. Click Format, Change Case for more options.
<F5>
Refresh your page in Explorer and Web browser windows.
<Ctrl>-<Esc>
Open the Start menu (useful if your mouse won't respond).
<Ctrl>-<Space>
Reset the highlighted text to the default font (in Word).
<Ctrl>-mouse wheel
Zoom in and out.
<Windows>-L
Password-lock the computer.
<Windows>-R
Open the Run dialog box.
<Windows>-M or <Windows>-D
Minimize all windows.
<Ctrl>-+ (on numeric keypad)
Resize a column to fit its comments (in Excel).
<Windows>-E
Launch Windows Explorer.