Smart Phones Get Smarter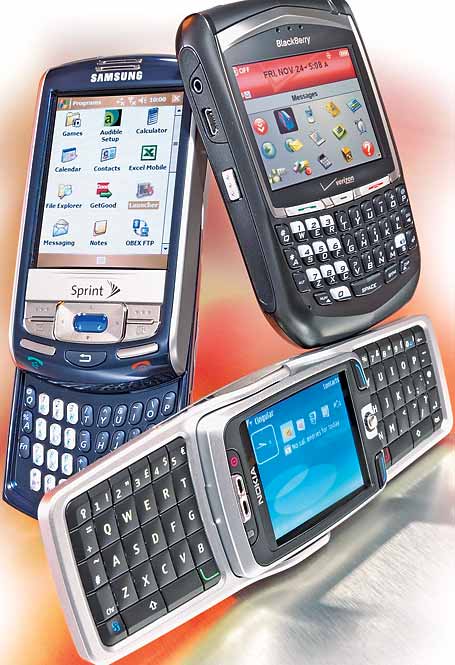 Just about every cell phone maker now offers a PDA phone--and my, how they've grown. No longer just workhorses for high-powered professionals, PDA phones offer more versatility than ever, with many models boasting a high-quality camera, media players, and full-color Web browsing capabilities.
We looked at the latest crop of PDA phones to see which ones were at the top of their game. But what separates a regular cell phone from a PDA phone, anyway? Many cell phone vendors claim that their offerings are "smart phones," meaning phones that can access e-mail. For our review, however, we set out some basic criteria that each phone had to meet. First, it had to come with a full QWERTY keyboard (which meant that some impressive devices such as the BlackBerry Pearl failed to make the cut); second, it had to run an operating system capable of supporting at least some basic productivity applications.
PDA phones have a huge range of capabilities, and selecting a handset means weighing the features you care about most. First consider how well the device handles calls. PDA phones are bigger and bulkier than standard cell phones, but they should still be comfortable to hold against your ear. Also look for a device that meets your needs. If you want to edit documents, don't buy a BlackBerry; it lets you view documents, but its OS has no editing applications. And don't forget that some QWERTY keyboards are roomier than others.
High-speed data access, commonly known as third-generation or 3G service, is yet another important issue to weigh. The technology can provide transfer rates of 350 kilobits per second or more, approaching wired-broadband speeds. This kind of performance can be crucial if you send large files via e-mail or spend a lot of time browsing the Web on your phone. Sprint's and Verizon's 3G network is called EvDO, while Cingular's is known as HSDPA. Both Cingular and T-Mobile offer EDGE service--a 2.5G data network (not a true 3G service) that commonly reaches about 100 kbps.
Put simply, some phones are built for work, and others for play. Be sure to choose accordingly.
Shop Tech Products at Amazon