Exclusive: First Vista PC Tests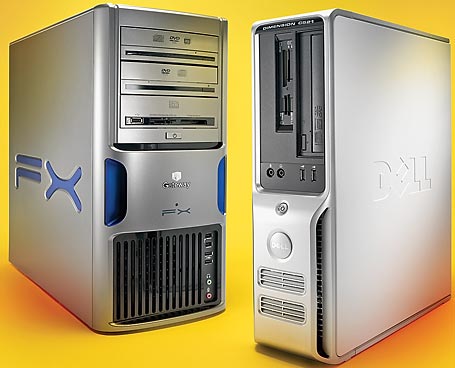 It's been a long wait, but Windows Vista PCs are here. We evaluated the first batch of desktop systems preloaded with Microsoft's new operating system--and the results of our exclusive benchmark performance tests show that even sub-$1000 systems can ably handle Vista. But some of the new OS's highly touted features aren't present in these first Vista desktop systems. (See our exclusive test results.)
Before going further, here are links to other informative PC World Windows Vista stories and video.
Vista by Default?
If you're planning on buying a PC after January 30, you may be destined to get Vista on your machine whether you want it or not. Of the four vendors whose systems we tested, each is taking a different approach to integrating Vista. Once the new OS ships, Dell and Gateway are switching exclusively to Vista for consumer desktops and notebooks. (Update: Dell says that it will continue to offer XP on its XPS 710 series of gaming PCs.) These two companies will also continue to sell systems running Windows XP, but only through their respective business divisions. Meanwhile, CyberPower and Shuttle will continue to offer XP as an option on their consumer systems.
We found a similar schism among some other PC vendors that we've spoken with (but whose systems were not included in this story). Polywell will be sticking with XP as the default option, installing Vista only if the customer requests it. And even then, the company will install both Vista and XP, allowing the user to choose which OS they want to boot the system into. At this writing--before Vista's retail store launch, but after manufacturers had received the final version of the operating system--Polywell CEO Sam Chu claims that Vista is still having compatibility problems with many applications and drivers.
Chu is not the only vendor we talked to who expressed concern over the state of readiness--or lack thereof--of Vista's drivers. "Right now, we're seeing some issues on the R&D side," according to Marc Diana, product marketing manager for Alienware.
The issues, he says, are related to things like graphics card drivers (our test systems with both ATI and nVidia used beta drivers during testing for this story), and software, such as that used for Blu-ray Disc playback. "If this continues post-launch, we will give our customers the option of XP. Most likely, though, [these problems] will get sorted out before launch."
Barring ongoing driver issues, Alienware plans to offer only Vista Home Premium on its consumer desktops and notebooks. However, says Diana, "We will have XP available on our workstation line, because those customers are more sensitive to the idea of switching, and some of their applications may not work on Vista. We wanted to leave the option for them."
Hewlett-Packard, on the other hand, is taking a route similar to Dell's and Gateway's. In its online store for consumer systems, HP will switch to Vista at launch. At retail, the company will let existing stock run its course; Vista will be the OS thereafter. HP will continue to offer business desktop and laptop PCs with XP Professional and Vista as options, through the end of 2007. By early 2008, though, HP expects to offer only Vista on business PCs.
Velocity Micro will switch to Vista at launch, both at retail and via its online store.
What's Missing
As mentioned, these first-generation Vista desktops lack some of the components that take advantage of the interesting features in Windows Vista. For example, they don't include the ReadyDrive hybrid hard drives that will speed up disk access (see "Hard Drive Rivals Promote New Hybrid Technology" for more information); notebooks with these hybrid drives will be available first, and they're not arriving until about midyear, maybe sooner. Furthermore, the desktops we looked at also lack the secondary SideShow displays that can access and show you system information. These displays may be integrated into peripherals, such as a keyboard or a remote control, or potentially even the PC's chassis itself.
Shop Tech Products at Amazon