HP reached for the consumer market Monday with two new PCs that allow customers to control Microsoft's Windows Vista OS with a touch-screen interface instead of a mouse.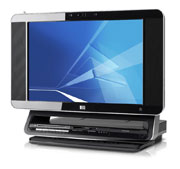 The TouchSmart IQ770 PC is a desktop computer with a 19-inch screen intended for the tech-savvy mom, while the Pavilion tx1000, with a 12.1-inch screen, is an entertainment-focused notebook for students.
While HP has made tablet PCs and handheld iPaq devices before, the company has never used touch screens in desktop or notebook PCs, said Kevin Wentzel, technical marketing manager for HP's mobility global business unit, at the CES trade show in Las Vegas. A finger touch has no effect on most tablet PCs, since their screens use digitized panels that react only to an active stylus.
Users of handhelds and PDAs will find the Pavilion tx1000's touch-screen interface familiar, Wentzel said. HP built the notebook with a hinged screen, so the display rotates to face away from the keyboard for a sleek movie-playing appearance, and it folds completely over the keyboard to become a tablet PC.
To accommodate media-hungry users, the notebook comes with 1GB of RAM and uses a dual-core Turion 64 X2 processor from AMD, Wentzel said. One downside of running Vista on a notebook is the high battery power required to support the necessary graphics card, memory, and processor. The tx1000 can play DVDs for 2.5 hours on a single battery charge, he said.
Future versions of the product will include an integrated wireless WAN card, as well as a Sling Media player that allows users to reach content remotely through a Slingbox device in their home.
Family-Focused PC
The TouchSmart desktop PC takes the touch-screen experience even further by running HP's SmartCenter software as the primary interface for Windows Vista. With large icons, an integrated TV tuner, and shortcuts to other media, the PC is built to be the hub of a range of family activities, according to Garret Gargan, North American product marketing manager for PCs.
Users can write virtual sticky notes for other family members and then touch and drag the notes onto an on-screen calendar or bulletin board. Likewise, photographers can crop or rotate pictures by manipulating them on screen. The large monitor completely obscures the computer and optional printer built behind it. Like the notebook, the desktop uses AMD's Turion 64 X2 processor.
HP will begin selling the Pavilion tx1000 on February 28 through its online store for $1299, and will sell the TouchSmart PC by the end of January for $1799. The company also plans to launch the desktop in the UK by February, and then roll it out to other countries throughout 2007.