From the PC World team members who spent the week on Show Patrol in Las Vegas, here is our report on the great, the good, the bad, and the horrible. We saw sensational servers, delicate e-dragonflies, combo HD players (at last!), odd wrist cameras, tech for your car, tech for your teeth, and more at the 2007 International Consumer Electronics Show.
Putting It All Together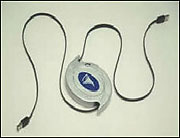 Supereasy PC-to-PC Transfers: I got home, and my wireless network was down--and I don't mean just a little depressed. I had to move files and images from my notebook to my desktop. But no wireless fiddling for me: I connected the two computers with The Tornado--a CD-size gadget with a retractable USB cable. In 3 seconds, I was transferring files with no software, device drivers, or hassles. It costs $60 and is available now. --Steve Bass
Welcome to the Social: Imagine a salad of MySpace, YouTube, Digg, and Amazon's Marketplace tossed lightly in a vinaigrette, and you have eSnips.com. Here people can share in their mutual obsessions while posting and/or selling their art, music, photos, or what-have-you. The interface is terrific and the integration among different communities (pets, poetry, the paranormal) is very well done. Best of all, spammers and scammers have yet to discover the Israel-based eSnips--though if it continues to grow (now at 1.2 million users and climbing, according to CEO Yael Elish), they surely will. --Dan Tynan
Your Content, Everywhere: Multiple paths to networking your content--this was an underlying theme of the show. Be it Microsoft's Windows Home Server, HP's MediaSmart Server, or any of a slew of networkable hard drives and multidisk arrays, this was, clearly, the year of the server. --Melissa J. Perenson
Best of Both Worlds, Part 1: LG Electronics' Super Multi Blue initiative debuted this week. Lest we forget this is the company that led the way to getting the rest of the industry behind the one-drive-does-them-all concept on the DVD side of the equation, LG's announcement of its BH100 player, due out in February, and its corresponding data drive, the GGW-H10N, due out in April, has changed the landscape of the Blu-ray/HD DVD turf war. --Melissa J. Perenson
Best of Both Worlds, Part 2: TiVo and Comcast, finally together. Fellow Comcast cable subscribers, need I say more? --Melissa J. Perenson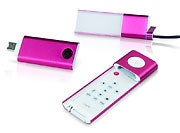 Simple Is Best: I love useful technology I can understand in 10 seconds, and SanDisk's USBTV fits that bill perfectly. This product will let you drag and drop video onto a USB drive and--with a very simple dock connected to the TV--play it without any other fuss. Great idea, simple execution. That's the ticket. --Ramon G. McLeod
Say Cheese: Based on the number of digital photo frames I saw at the show, I think the industry is forecasting this year to be a big one for people to integrate this gadget into their home decor. Pandigital's new line of photo frames looked particularly enticing; the ones I saw had sleek designs, great image quality, and a ton of functionality. --Melissa J. Perenson
Forget CES...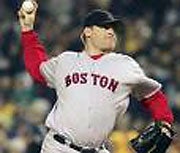 Gadgets Got Nothin' on This One: The best celebrity sighting of the week (for me, anyway) had little to do with CES, but it still made my week. Red Sox pitcher and World Series hero Curt Schilling was on my flight to Las Vegas from Boston. He sat in coach, picked up his own luggage at baggage claim, and was very friendly to all the folks who wanted to stop and shake his hand. His presence in Las Vegas likely had nothing to do with CES, but catching a glimpse of his World Series ring was a great start to the week for this Red Sox fan. --Liane Cassavoy