Extremely Geeky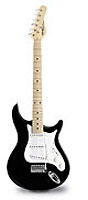 You may be a geek, but that doesn't mean you can't rock out. The iAXE full-size, USB-based professional electric guitar plugs into your computer and comes with its own software for simulating different pedals and effects. But even though everyone knows how hard you rock, you might want to plug in some headphones (not included) until you get the hang of it.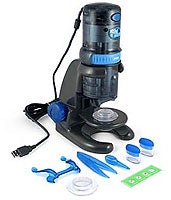 Microscopes aren't just for scientists. Even everyday nerds enjoy satisfying their curiosity and getting a close-up look at life on a tiny scale. The QX5 USB Microscope zooms up to 200X magnification and takes digital photos, video, and time-lapse movies. It comes with sample jars, slides, tweezers, an eye dropper, and a super-bright LED for lighting up your specimens.
Having trouble keeping pets and plants alive? Don't fret--there's a USB fix for that. Try out the Glowing Aquarium. When you plug it into your USB port, its LED will light up, and a small motor will generate a current inside, which causes the toy fish to swim. All you have to be responsible for is adding water. Easy!