Discover These Lesser-Known Web and E-Mail Tools
More E-Mail Programs
Here we look at a PIM/e-mail combo, a free Outlook substitute, and a powerful e-mail client with a funny name.
i.Scribe
i.Scribe is a small, fast, free, and feature-filled personal information manager that includes e-mail, spam detection, and a calendar.
This compact program packs a lot of PIM and e-mail power into a small, free package. It's hard to believe that i.Scribe's 803KB download includes POP3 and IMAP e-mail, rules for filtering incoming mail, Bayesian spam filtering, and a calendar module. i.Scribe supports plug-ins (maker MemeCode Software offers a handful, including spelling checking, on its Web site), lets you preview mail on the server before downloading, and runs without modification from removable drives.
A $20 commercial version, called InScribe, adds support for unlimited send and receive accounts (i.Scribe is limited to just one), expanded message filtering, and the ability to synchronize your mailbox with Outlook's. But the great thing about iScribe (besides the fact that it's free) is its small size--I run it on an older laptop where I need to use as little memory as possible.
Evolution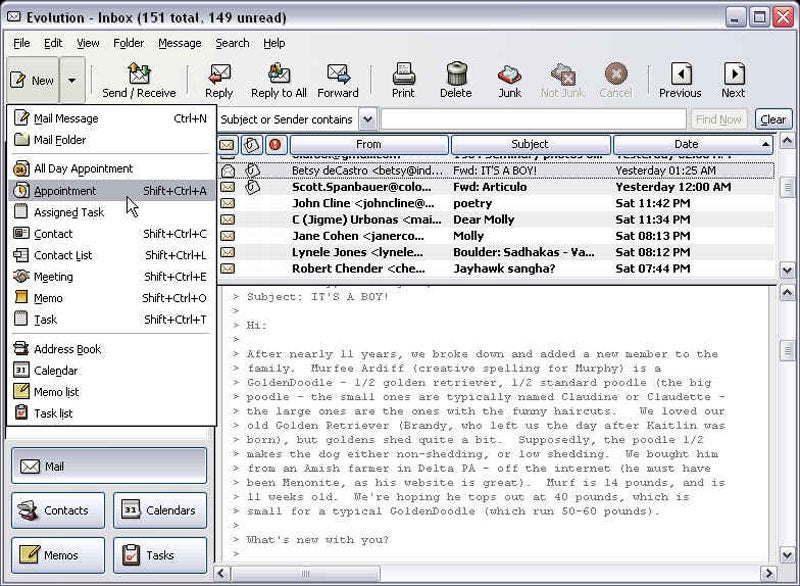 So far, no single program beats Microsoft Outlook's combination of e-mail features, calendaring, and contacts. But one program--Novell's free, open-source Evolution--comes close.
Evolution has been enjoyed mostly by Linux users as part of the Gnome window manager included with many distributions. Now Novell and some kind-hearted Evolution fans have created a Windows version as well.
Evolution is no Outlook clone, but it offers the same general PIM landscape, including mail, contact, calendar, note-making, and task modules. Features include must-haves like rule-based filtering and spam detection, HTML-format messages, and PGP signing and encryption, plus the ability to share calendars with others via the Web. For the most part, Evolution replicates my Outlook experience, and it lets me use the same free PIM program under both Linux and Windows.
The Bat!
The Bat! is a stand-alone e-mail client that lets you configure and customize your inbox.
Who knows what they were thinking at RITLabs when they were picking a name for their industrial-strength shareware e-mail client (the program costs $35)? Regardless, The Bat! gives power e-mailers not only basic e-mail features like filtering rules and POP3 and IMAP support, but also a highly customizable interface for sorting and viewing messages and managing multiple mail accounts.
Spelling dictionaries and antispam and antivirus plug-ins are all available as free downloads from the company's Web site. The Bat! will spell-check your outgoing messages for you automatically, and digitally sign and encrypt them with the included OpenPGP security module.
I like the program's clean interface and easy-to-understand icons, but I also like the tremendously detailed options lurking under the surface. The Sorting Office filtering dialog box, for example, gives you lots of control over how incoming messages are routed. A floating ticker widget that displays new mail is a slick and useful touch as well.
Shop Tech Products at Amazon