Dedicated to Storage
The easiest way to add NAS to your network is to buy a box designed for that task. I kicked the tires on two units: the $699 Maxtor Shared Storage II 1TB, and the $389 Iomega StorCenter 500.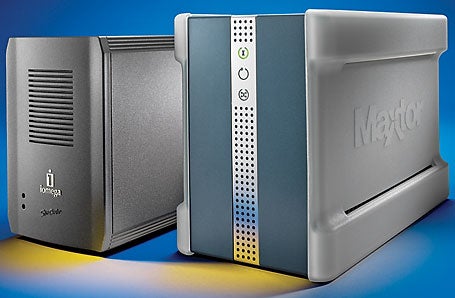 The quoted prices average about 70 and 78 cents, respectively, per gigabyte, versus 50 to 60 cents per gigabyte for general-purpose external hard drives.
Nearly every PC under four years old supports gigabit-per-second ethernet. If yours doesn't, spending $20 or so for a gigabit ethernet adapter is a good idea (see Shopping area for more about these products). With gigabit ethernet, a movie streamed from a PC or NAS box looks as smooth as silk, large files transfer at blazing speed, and backups are far faster than with older 10/100 ethernet cards, which are limited to 100 megabits per second (note that these are theoretical speed limits; real-world speeds are slower). That said, my old reliable 10/100 500GB Maxtor Shared Storage Drive still manages the small-scale backups for my office network.
Gigabit ethernet is not a perfect solution, however. Router vendors have been focusing on boosting the speed and reliability of their wireless networking gear. Only a few pricier wireless routers--such as the $150 D-Link DGL-4300 I've used for the past year, D-Link's $180 DIR-655, Netgear's $160 WNR854T, and Buffalo's $250 WZRAG300NH--include a gigabit-capable ethernet switch. Some NAS boxes can connect wirelessly, but they transfer data at a considerably slower pace than a cabled connection does.
Linksys's WRT350N pre-N wireless router (about $170 online) has a quartet of gigabit-ethernet ports, as well as other features that make it an alternative to a dedicated NAS box. The WRT350N sports a USB 2.0 port to which you can attach a normal USB hard drive, effectively turning the router itself into a NAS controller.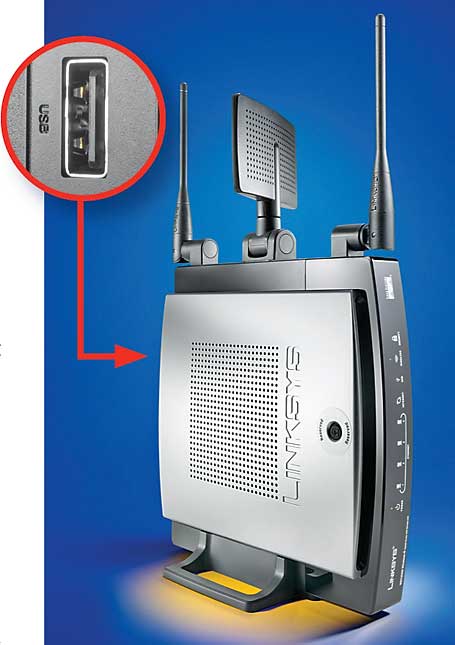 USB 2.0's real-world transfer rate of about 200 megabits per second can't match gigabit-ethernet speeds, but it's faster than standard ethernet and most wireless connections.
The WRT350N, like the Iomega StorCenter and Maxtor Shared Storage II, also functions as a Universal Plug and Play (UPnP) server to stream photos, MP3 files, and movies to your PC, TV, stereo, portable player, or other playback device equipped with a UPnP media adapter. Like gigabit ethernet, UPnP is an important feature to have if you're planning a home multimedia network.
For even more flexibility, get a NAS box with USB ports for attaching a printer that you can share across the network or for expanding the network's storage capacity via standard USB hard drives. With a high-end NAS box, you can back up your network storage by attaching a backup device directly to the box, rather than having to go through your PC. Most people, however, will store the backup of their NAS box on DVDs, or on a hard drive or tape drive attached to their computer.
Another option: Buy a NAS enclosure that lets you plug in your own hard drive to build a NAS box with as little or as much storage as you can get on a drive (or two, for enclosures that support multiple drives). Tritton's $100 TRI-NSS001 NAS Enclosure works with any 3.5-inch ATA drive and supports up to 400GB.