Is that summer downpour flooding your basement? Did Rover get into the garbage again? Is your 50-inch flat-panel TV still in place? Find out from anywhere by using your PC to create an affordable home surveillance system that you can access over the Internet, or even over your cell phone. A professionally installed surveillance system costs at least $2000, but you can set up an uncomplicated USB-connected Webcam such as Logitech's QuickCam Chat for $30, a wireless camera that can be placed almost anywhere for less than $200, or a complete PC-based monitoring system for under $1000.
A basic surveillance system requires three things: a camera; motion-sensing software to activate the camera and to store its video or still images; and software to send the images over the Internet. Adding a wired or wireless network expands your home-surveillance capabilities.
If you're on a tight budget or you don't want to deal with installing remote cameras, an inexpensive Webcam can serve as a bare-bones surveillance device. Many Webcams come with motion-sensing and remote-access software, but paying extra for a full-featured program may be worthwhile, especially if you want to use several Webcams of different makes (for two software recommendations, see "Cameras With Swivel").
The biggest drawback of a Webcam, of course, is that it's tethered by a USB cable to your PC. Powered USB hubs and USB active repeater cables allow you to double or triple USB's 5-meter length limit. Or you can wait for the convenience of wireless USB products, which should arrive soon. In fact, Belkin's CableFree wireless USB hub may be available by the time you read this.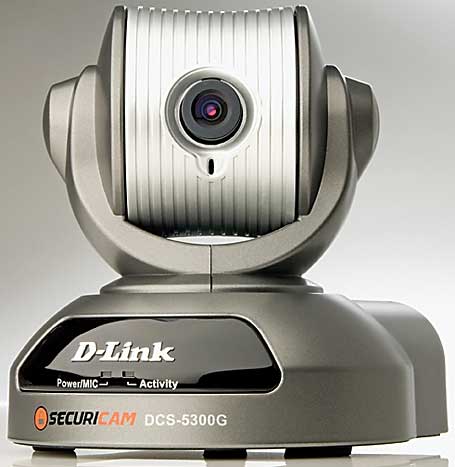 IP cameras, on the other hand, can be placed anywhere there's a network connection, making them ideal for homes or offices that already have a wireless network. Since they connect directly to your router rather than through your PC, you don't need to keep the machine on to view the camera's image in a browser. Prices for cameras with such features as night vision, remote-control positioning (pan-and-tilt controls, for instance), and zoom lenses can quickly escalate past $1000, but less expensive wireless cameras like D-Link's DCS-5300G (about $500 online), Linksys's Compact Wireless G Internet Video Camera (about $100 online) and 4XEM's WLPTG Wireless Pan/Tilt IP Network Camera (about $390 online) have many of these extra features.