Life-Saving Freebies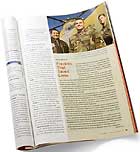 Regarding May's "Freebies That Saved Lives" [a section of "101 Fantastic Freebies" that reported how U.S. Air Force personnel used Craigslist and Google Earth to rescue Hurricane Katrina victims]: I have to say this is the only time an article in PC World made me cry.
Now I understand why, when I was out of state desperately watching every newscast for information and trying to catch any info on street names and locations, they were not providing any. Those reporters probably didn't have a clue where in the city they were. I sincerely hope the military branches and all other emergency responders have incorporated this idea into their planning for future disasters. I am sending a letter to our city planners about this article, as in the wake of the storm they were definitely caught unprepared with regard to technology.
As we here in Louisiana now know, with the unexpected loss of cellular towers and the inability to use cell phones to call out at a critical time, and with the loss of electricity that is normally expected after an event like Katrina, technology is not 100 percent reliable in times of emergency--but when it does work, as in this case, there is nothing better.
Patricia Maroney, Kenner, Louisiana
More Great Freebies
I enjoyed "101 Fantastic Freebies" [May], but I think you missed one of the best Web sites out there: Doodle. It is great for scheduling meetings. You create a meeting poll with a list of possible dates and times, and then you send a meeting invitation to colleagues or friends through e-mail. The recipients follow the link and select which days and times work for them, so you see which dates work for the most people.
Ari Shaw-Faber, Albuquerque, New Mexico
Kudos to Preston Gralla for his choice of winner in the "Notepad Replacement" category. I have used NoteTab Light for years for all my needs--HTML, PHP, JavaScript, C++, and more I can't remember--and have enjoyed ease of use and great features the whole way.
I was surprised, however, at his omission of a software RSS reader that over 1 million users already have installed on their machines. Firefox has great built-in support for RSS feeds. You add these feeds as you would any other bookmark, and after that they are simple and easy to use. I don't know why anyone would download a stand-alone RSS reader if they already have Firefox installed.
Ryan Stalets, Riverton, Illinois
I was rather disappointed to see that Yahoo's My Yahoo (beta) was not included in your article. In a recent beta upgrade of its service, Yahoo added enhanced RSS integration, made everything more Ajax-y, and updated the user interface to resemble Yahoo.com more.
Trevor Huxham, Plano, Texas