The Web's Best Mapping Sites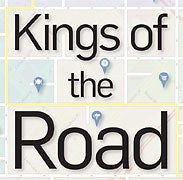 Sure, getting from point A to point B is still a big reason for using one of the Internet's many mapping sites, but these days there's a lot more to Web maps than just directions. I looked at the five biggest names in online maps--Ask City, Google Maps, MapQuest, Microsoft Live Search Maps, and Yahoo Maps--and found that annotation and other tools gave Microsoft Live and Ask City a slight edge over Yahoo Maps, and a substantial advantage over Google Maps and MapQuest. I also tried a slew of location-based services. And don't miss our guide to the top map mashups.
Chart a Course for the Best Mapping Sites
Traffic reports, 3D views, and the ability to add notes are among the new features that help take the bumps out of your travels. Click on the text link or the icon below to see our ranked chart of the five mapping services we tested.
Chart a Course for the Best Mapping Sites
Traffic reports, 3D views, and the ability to add notes are among the new features that help take the bumps out of your travels.
Rank
Service
PCW Rating
Shortest travel time
and shortest distance
Live traffic reports
Add waypoints to routes
Satellite views
3D views
Save routes
Annotations/
pushpins
Send to cell phone
Ads
Comments
1
Microsoft Live Search
95
Superior
Yes
Yes
No
Yes
Yes
Yes
Yes
Yes
Unobtrusive
Though neighborhoods aren't labeled on the maps at this feature-packed site, they appear after you conduct a search for businesses of a specific type.
2
Ask City
93 Superior
No
No
Yes
Yes
No
Yes
Yes
No
None
To see a satellite view only, you have to disable 'Labels.' Right-click a map to snap to the closest address; the ability to save map snapshots makes retrieval easy.
3
Yahoo Maps
89
Very good
No
Yes
Yes
Yes
No
Yes
No
Yes
Annoying
If you have a Yahoo account, the maps pick up your saved locations automatically; driving directions are available for 34 European countries.
4
Google
83
Very good
No
Yes
Yes
Yes
No
No
Yes
Yes
Unobtrusive
Neighborhoods are labeled on the maps, but they aren't highlighted; the mapping site's send-to-phone capability works with most phone service carriers.
5
MapQuest
80
Very good
Yes
No
No
Yes
No
Yes
No
Yes
Annoying
You can expand maps at each driving step, avoid highways and tolls, and reverse your route with one click; driving directions are available for 12 European countries.
Ask City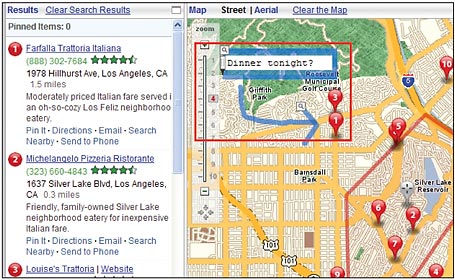 There are enough drawing tools on this site to keep you busy for hours gussying up your maps. You can add text notes or draw segmented lines, squares, circles, and polygons, in any of ten colors. It's easy to undo individual additions or to clear the map completely.
One great Ask City feature is that it lets you add a stickpin to any location and fill it with an image and notes. You can save snapshots of up to ten maps (including all your gaudy annotations). Click Permalink to save a link to the map, or send others the link via e-mail.
Options in the Search panel enable you to look for a local business, movie theater, concert, or other event, or generate maps and directions. In late July I searched for "Harry Potter" and "Pasadena," and Ask City's middle Results panel listed ten local theaters playing the movie, each pinned onto a map in the right-hand panel. The three windows let you dynamically view changes on custom maps. In the Results panel, for example, clicking the name of a business--say, a restaurant or hotel--usually brings up a Citysearch review.
Once you search for a specific type of business ("manicures," for example), Ask City supplies a list of businesses in the area, with the neighborhood highlighted on the map. Way cool.
Another appealing Ask City feature: Click any of the written directions in your route to have that area appear on the map, along with a second, smaller inset map corresponding to the specific route section. You can add up to ten stops to the map at a time.
If you'll be walking, click the Walking tab on a plotted route to see directions optimized for traveling by shank's mare. I was even able to create and save a walking tour in Paris, in case I ever travel there again. Right-click your map to add the location, or snap to the closest address, and stick in a location pin.
The service's directions and map panels have minimize and maximize icons for resizing the contents; however, on conventional 4:3 monitors, you might need to scroll to the right to see them.
Shop Tech Products at Amazon