At a glance
Expert's Rating
Pros
Large, bright, 240Hz display
Good webcam and microphone
Great processor performance
Solid battery life
Cons
Mediocre build quality
Strangely cramped keyboard layout
Port selection is limited, awkwardly placed
Our Verdict
Acer's Predator Triton 300 SE performs well and delivers solid battery life, though its performance is blunted by mediocre build quality.
Price When Reviewed
$2,199.99
Best Prices Today: Acer Predator Triton 300 SE
Gaming laptops and professional laptops are beginning to converge, and Acer's Predator Triton 300 SE is one example of this trend. It's a large, powerful laptop with a 16-inch screen, Intel Core i7-12700H processor, and Nvidia RTX 3070 Ti graphics. Yet it delivers this hardware in a relatively slim, elegant design that weighs 5.29 pounds and packs a huge 99 watt-hour battery. The result is a portable powerhouse, though a few mistakes leave it a step behind the best in this category.
Acer Predator Triton 300 SE specs and features
The Acer Predator Triton 300 SE I received for review was stacked with the best hardware currently listed for this model. It includes Intel's 14-core Core i7-12700H processor and Nvidia's speedy RTX 3070 Ti mobile graphics. The graphics chip is capped at a slim 115 watts of power, however, which has consequences in gaming tests.
CPU: Intel Core i7-12700H
Memory: 16GB DDR5
Graphics/GPU: Nvidia RTX 3070 Ti
Display: 2560 x 1600 IPS 240Hz non-touch
Storage: 1TB PCIe Gen4 M.2 solid state drive
Webcam: 1080p
Connectivity: 1x Thunderbolt 4/USB 3.2 Gen 2 Type-C with DisplayPort Alternate Mode and 65 watts Power Delivery, 2x USB 3.2 Gen 2 Type-A, 1x HDMI 2.1, 1x Ethernet
Networking: Wi-Fi 6E, Bluetooth 5.2
Biometrics: Fingerprint reader
Battery capacity: 99 watt-hour
Dimensions: 14.1 x 10.3 x 0.86 inches
Weight: 5.29 pounds
MSRP: $2,199.99
This mode retails at an MSRP $2,199.99, but is already available for less from a few online retailers. Its pricing, though not inexpensive, places it beneath competitors like the Razer Blade 15 and Alienware X15 R2. Acer sells a more modest alternative configuration, with an RTX 3060 GPU and just 512GB of storage, for $1,749.99.
Design and build quality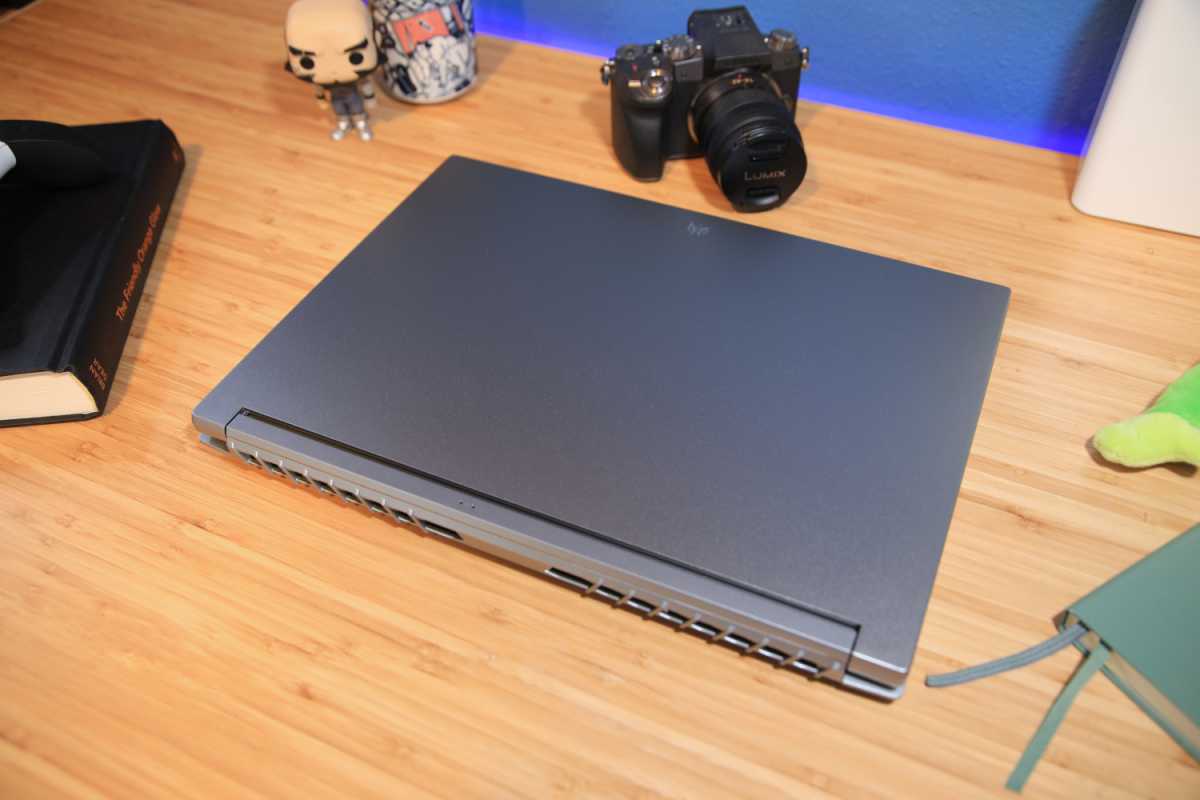 IDG / Matthew Smith
Acer's Predator Triton 300 SE 16-inch is a simple, unassuming laptop with a silver finish and almost zero badging. In fact, the Acer brand appears nowhere on the laptop (not including the model and serial number label on the laptop's bottom). This sleek, clean look is meant to lure in professionals and creatives who see gaming laptops as great all-in-one machines that can handle any task thrown at them.
Unfortunately, the Predator Triton 300 SE takes its pursuit of elegance and simplicity too far. It lacks the more distinctive display lid found on the smaller 14-inch Predator Triton 300 SE. The result is boring, unremarkable design that fails to stand out from competitors.
Build quality contributes to the problem. Laptops like the Razer Blade and Apple MacBook Pro make the most of simplicity with high-quality materials that look and feel premium. The Predator Triton 300 SE uses metal panels for most exterior elements, but feels thin and flimsy when touched. Both the display lid and lower chassis allow visible flex when handled.
Some might consider these acceptable trade-offs for a lower price, and the Predator Triton 300 SE does significantly undercut the price of the Razer Blade 15 and Blade 17. Still, anyone considering this laptop as a less expensive Blade alternative should be wary: it certainly feels built to a budget.
Keyboard and trackpad
IDG / Matthew Smith
The 16-inch version of the Acer Predator Triton 300 SE has plenty of space for a large keyboard. An absent numpad only improves the situation. However, the keyboard layout doesn't take advantage of the space. Individual keys are on the small side, leaving significant spaces between each key. Some keys on the left side, including Tab, Caps Lock, Shift, and Control, are noticeably downsized. It's an odd situation given the wealth of space available.
A keyboard backlight is included in the model I reviewed and can be customized across three zones through Acer's PredatorSense software. The software is attractive and easy to use. While the keyboard backlight supports pulsing, patterns, and other dynamic lighting, Acer wisely leaves this distracting feature off by default.
The touchpad is responsive and large, measuring about five inches across and three inches deep. This is smaller than the touchpad on Corsair's Voyager a1600 and Dell's XPS 17, but still a healthy size for a gaming laptop. There's plenty of space to use Windows' multi-touch gestures, which proved easy to execute in my testing.
Display, audio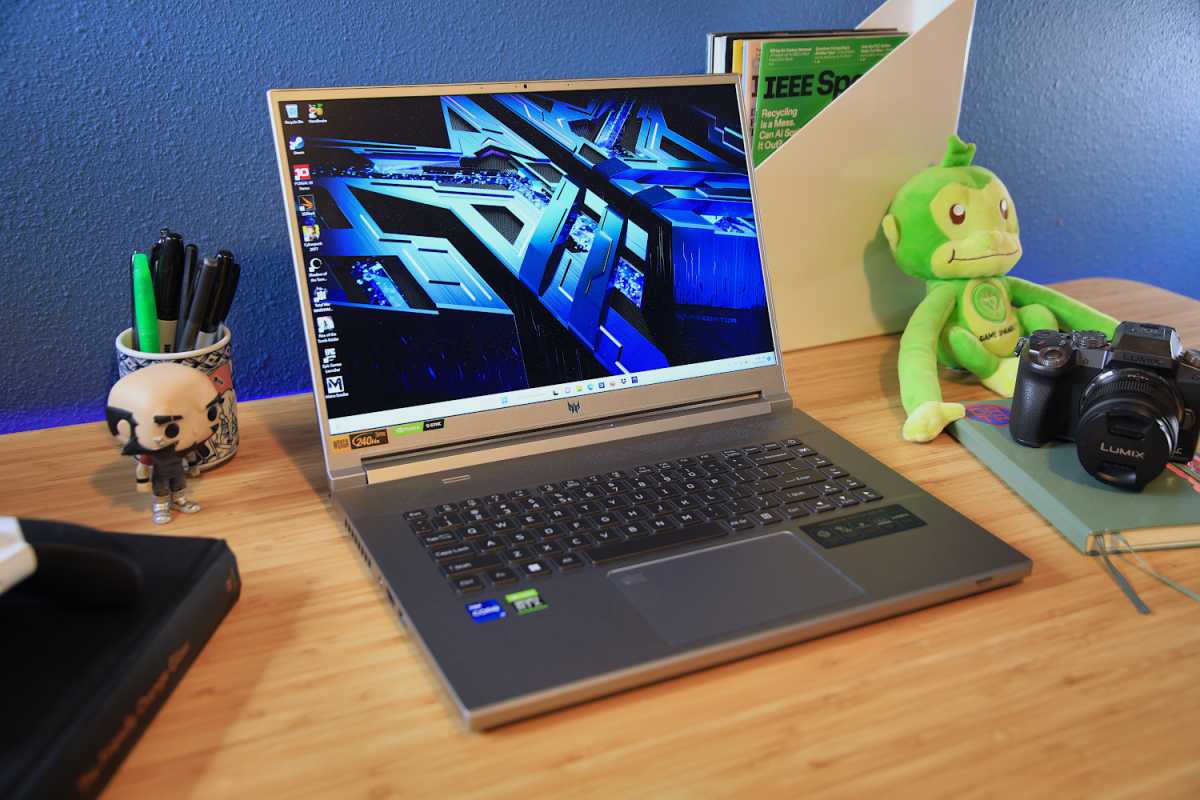 IDG / Matthew Smith
Acer opts for a 2560 x 1600 IPS non-touch display for the 16-inch Predator Triton 300 SE. It also packs a 240Hz refresh rate, a maximum brightness of 500 nits, and support for both Nvidia G-Sync and Nvidia Advanced Optimus.
The display's 16-inch size and 16:10 aspect ratio are excellent for productivity. This is a large, practical display with added vertical space that's handy when viewing documents, spreadsheets, or webpages. Many of Acer's competitors have also gone this route, so the 16:10 aspect ratio isn't necessarily an advantage. Still, it's a useful improvement over a 16:9 widescreen.
Gamers are sure to appreciate the display's 240Hz refresh rate. It offers great motion clarity when playing games with a framerate at or near 240 frames per second. Fast-moving text remains legible and interface details, like health bars, are usually distinct. Details are preserved when panning the camera, as well, making it possible to see distinct objects that would be obscured on run-of-the-mill 60Hz LCD screen.
And there's more to the display than the refresh rate. It also supports Nvidia G-Sync for smooth frame pacing and Nvidia Advanced Optimums for improved battery life. These features aren't uncommon but certainly not guaranteed, so it's great to see both make an appearance here.
Yet there is a downside to the display.
Image quality is merely fine. It's sharp, vivid, and colorful, but lacks the contrast and dark, detailed black levels available in OLED and Mini-LED displays. There's a big gap in quality between this 16-inch model, with its IPS LCD display, and its 14-inch sibling, which has an OLED screen with a maximum refresh rate of 90Hz.
Upward-facing speakers are found above the Predator Triton 300 SE's keyboard and provide strong, clear audio that won't be muffled by the surface the laptop is placed on. Audio is solid with crisp, clear dialogue and a hint of bass in music. Maximum volume is high, as well, so the laptop can easily fill a home office with tunes.
Webcam, microphone, biometrics
The 16-inch Acer Predator Triton 300 SE, like the 14-inch model, has a 1080p webcam. It provides a noticeable increase in quality over a typical 720p laptop webcam. Video looks sharper and more defined, especially in good lighting. It's nowhere near a "real" DSLR or mirrorless camera, of course, but solid for a webcam.
I can say the same of the microphone. It picks up good volume and crisp vocals. The tinny, hollow quality of most laptops microphones remains but I found my voice easy to hear, even when I reduced a recording's volume significantly. That's a good sign.
A fingerprint reader is included and integrated into the touchpad surface. I'm not a fan of this implementation, as it takes up a chunk of the touchpad's usable space in exchange for a mostly reliable, but sometimes inconvenient, means of biometric login. Fingerprint reading works in ideal circumstances but can't deal with wet, greasy, or moderately dirty fingers. I had to wipe the Cheeto dust off my fingers before I could log in.
Connectivity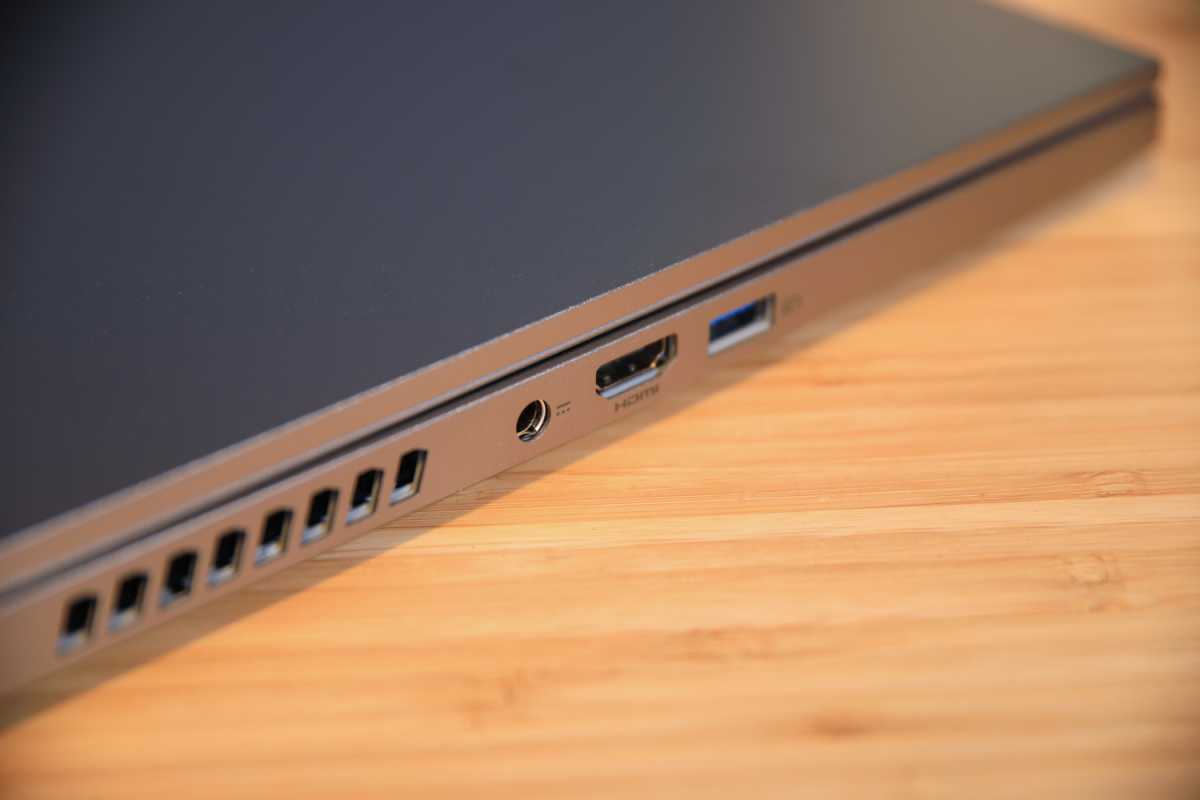 IDG / Matthew Smith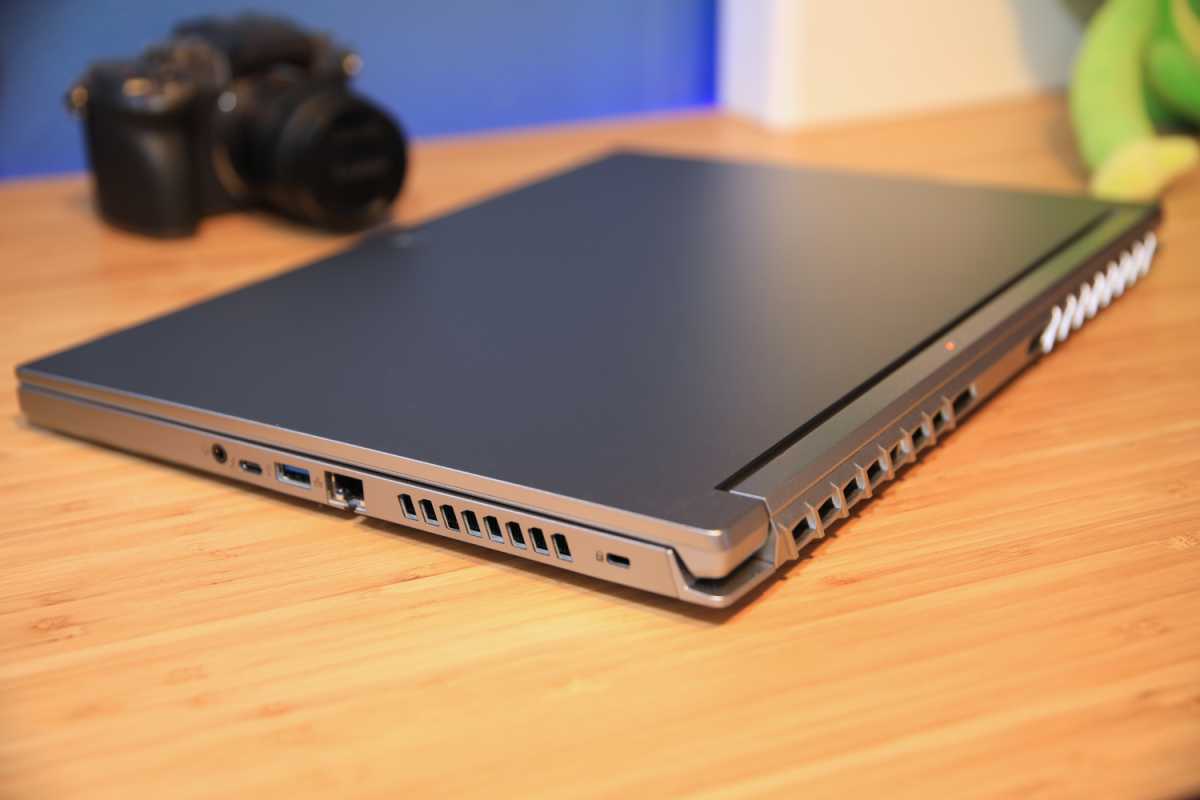 IDG / Matthew Smith
The 16-inch Acer Predator Triton 300 SE has a single Thunderbolt 4/USB-C port with DisplayPort Alternate Mode and 65 watts of Power Delivery. It's good to see use of Thunderbolt 4 but disappointing that Acer only provides one port. Most mid-range and high-end laptops provide a pair, at the least.
Older devices are served by a pair of USB-A ports. The laptop also provides HDMI 2.1, a 3.5mm audio jack, and Ethernet. This is a good range of connectivity but merely whelming for a laptop priced above $2,000. I particularly dislike the lack of an SDcard reader. This comes standard on the Corsair Voyager a1600 and Razer Blade 15, among others, and it would make sense for a laptop targeting gamers and professionals simultaneously.
Port location is a problem. Like the Predator Triton 300 SE 14-inch, the 16-inch places many ports near the front of the laptop. This means wired connections are obvious and take up significant desk space. Those who like a clean desk with few excess wires will find cable routing a chore.
Wireless connectivity offers some good news, as the laptop supports both Wi-Fi 6E and Bluetooth 5.2. This provides support for modern devices and excellent Wi-Fi speeds when connected to a Wi-Fi 6E router. Wi-Fi 6 performance also seemed great in my testing, with Steam downloads hitting up to 60 megabits per second. This is close to the maximum performance I experience over Wi-Fi 6 on my home network.
Performance
The 16-inch Acer Predator Triton 300 SE I tested was a top-end model with an Intel Core i7-12700H processor and Nvidia RTX 3070 Ti mobile graphics. It had 16GB of DDR5 RAM and a 1TB PCIe Gen 4 solid state drive. It's clearly a capable system on paper, but no more so than its competitors.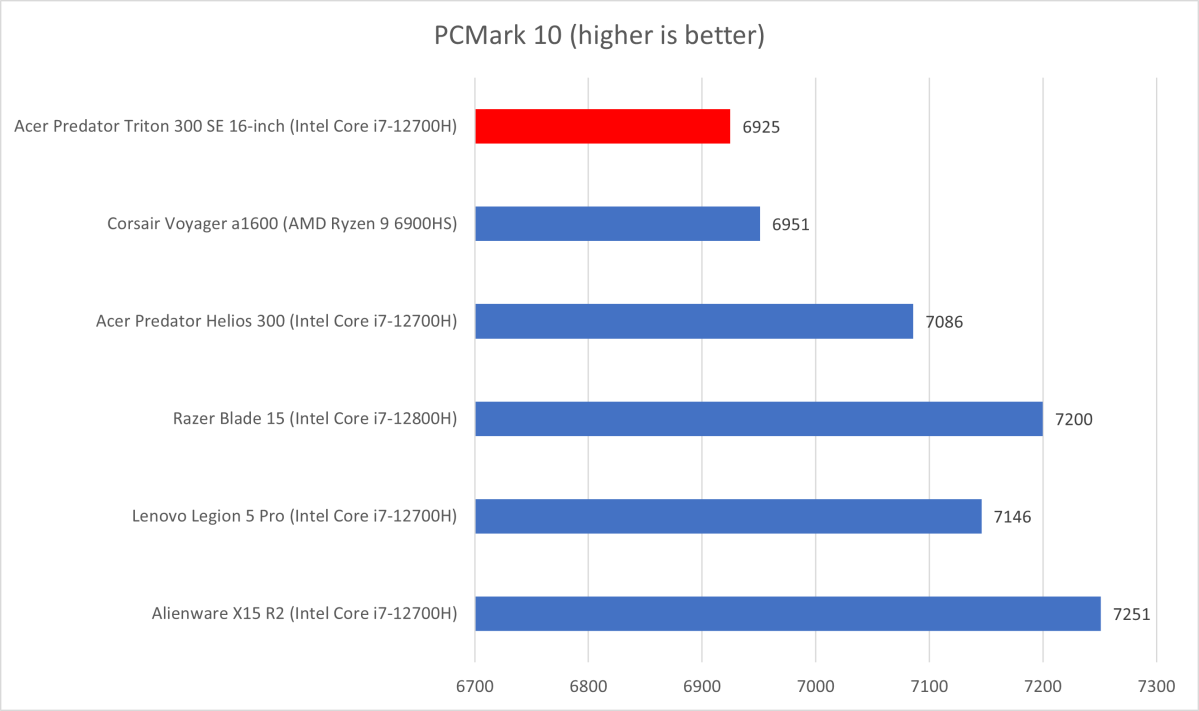 IDG / Matthew Smith
Acer turned in a disappointing score of 6,925 in PCMark 10. This is the lowest result out of a bundle of similar laptops, coming below even the Corsair Voyager a1600. On the bright side, however, the difference between the best and worst results is rather small. This gives hope that Acer could catch up in other benchmarks.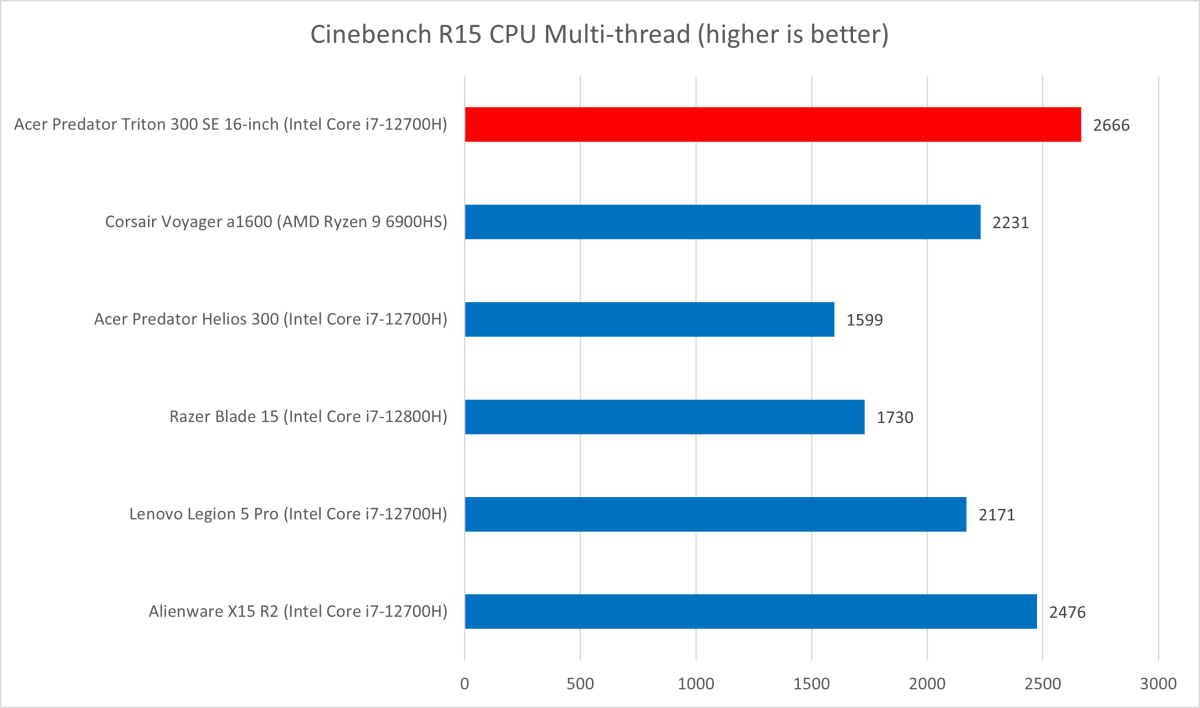 IDG / Matthew Smith
Cinebench R15 validates that hope, as the Predator Triton 300 SE turns in the highest score of all similar laptops recently tested. It manages this consistently, with surprisingly modest fan noise, and in spite of a thinner profile than many competitors. It's an impressive result.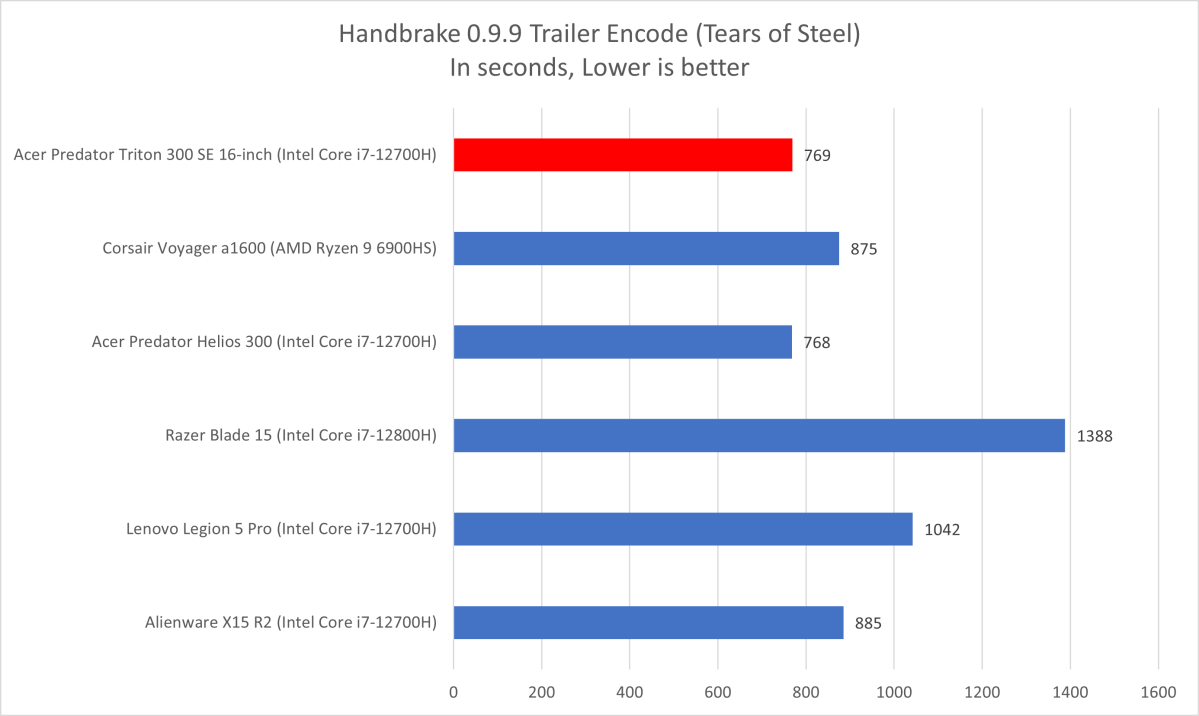 IDG / Matthew Smith
The good news continues in Handbrake, where the Predator Triton 300 SE comes within one second of achieving the top spot. It's beaten only by its larger, thicker cousin, the Acer Predator Helios 300. Acer must be doing something right with its cooling solution, as its laptops clearly deliver better performance in sustained workloads.
Now we pivot to graphics performance. There's reason to worry the Predator Triton 300 SE won't be up to par, as it provides only 115 watts of power to its RTX 3070 Ti. The Predator Helios 300 and Lenovo Legion 5 Pro, by contrast, deliver 150 watts. Does it make a difference?
IDG / Matthew Smith
The link between power delivery and performance isn't immediately clear in 3DMark Time Spy, as the Predator Triton 300 SE achieves a respectable 10,289. That's behind the Lenovo Legion 5 Pro and Alienware X15 R2, but ahead of the Acer Predator Helios 300 and Razer Blade 15.
IDG / Matthew Smith
Acer's Predator Triton 300 SE begins to show weakness in Shadow of the Tomb Raider, as it averaged just 126 frames per second at 1080p and Highest settings. That's an extremely playable result, of course, but noticeably behind several similar laptops. The Acer Predator Helios 300 and Lenovo Legion 5 Pro stand out most here, as both deliver great results at slightly lower price.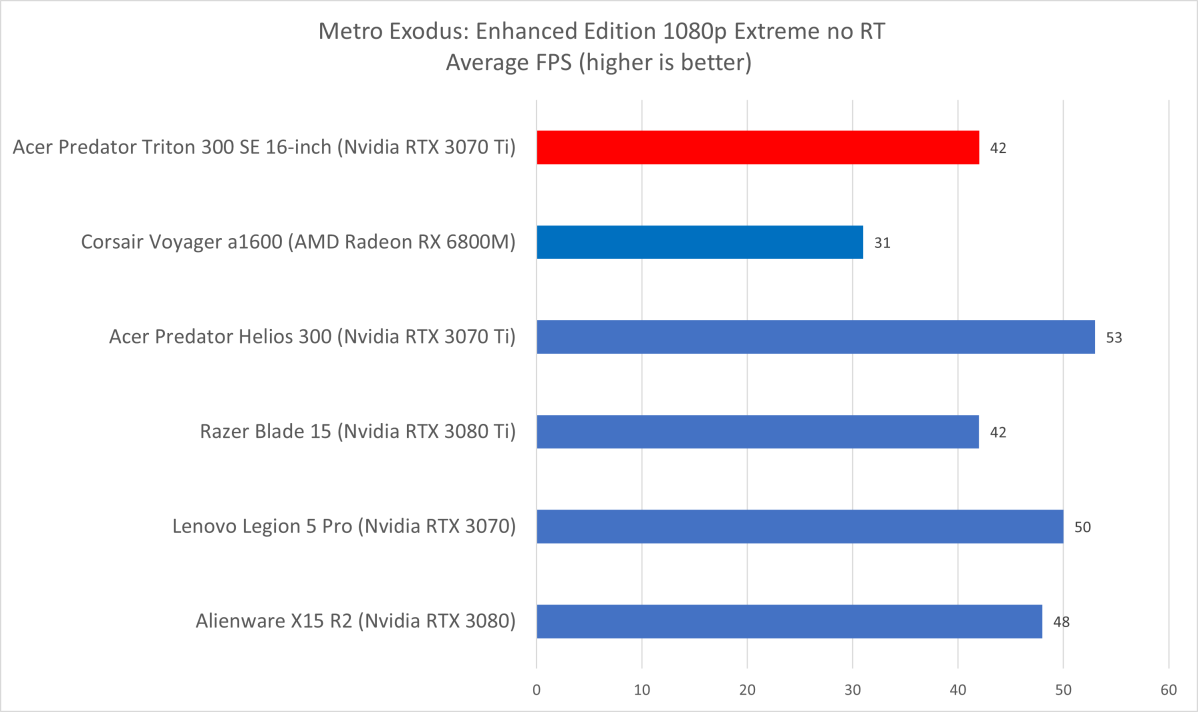 IDG / Matthew Smith
It's a similar story in Metro Exodus, where the Predator Triton 300 SE turns in an underwhelming average of 42 frames per second. This isn't too far off the pace of similar laptops, but clearly not the best possible in this price range.
I also put the Predator Triton 300 SE through a few personal favorites including Total War: Warhammer III and Cyberpunk 2077. It maintained its relative position in these tests, providing playable results just above 60 frames per second at 1080p resolution and Ultra settings, yet running a few frames per second behind value leaders such as the Acer Predator Helios 300 and Lenovo Legion 5 Pro.
The Predator Triton 300 SE's performance results are good overall. It performs well in heavily multithreaded processor tests but lags a bit in gaming benchmarks. This may be disappointing for gamers, but it makes sense if you want a laptop for both productivity and entertainment. The Predator Triton 300 SE can handle both video editing and demanding games without much issue.
I also must praise the laptop's thermal performance. The fans are readily audible in heavy loads but never become an ear-piercing whirr. Over-the-ear headphones make the fans unnoticeable.
Battery life
The 16-inch Acer Predator Triton 300 SE is crammed with a huge 99 watt-hour battery, the maximum typically found in a laptop due to the FAA's limitations on the size of lithium-ion batteries allowed in carry-on luggage.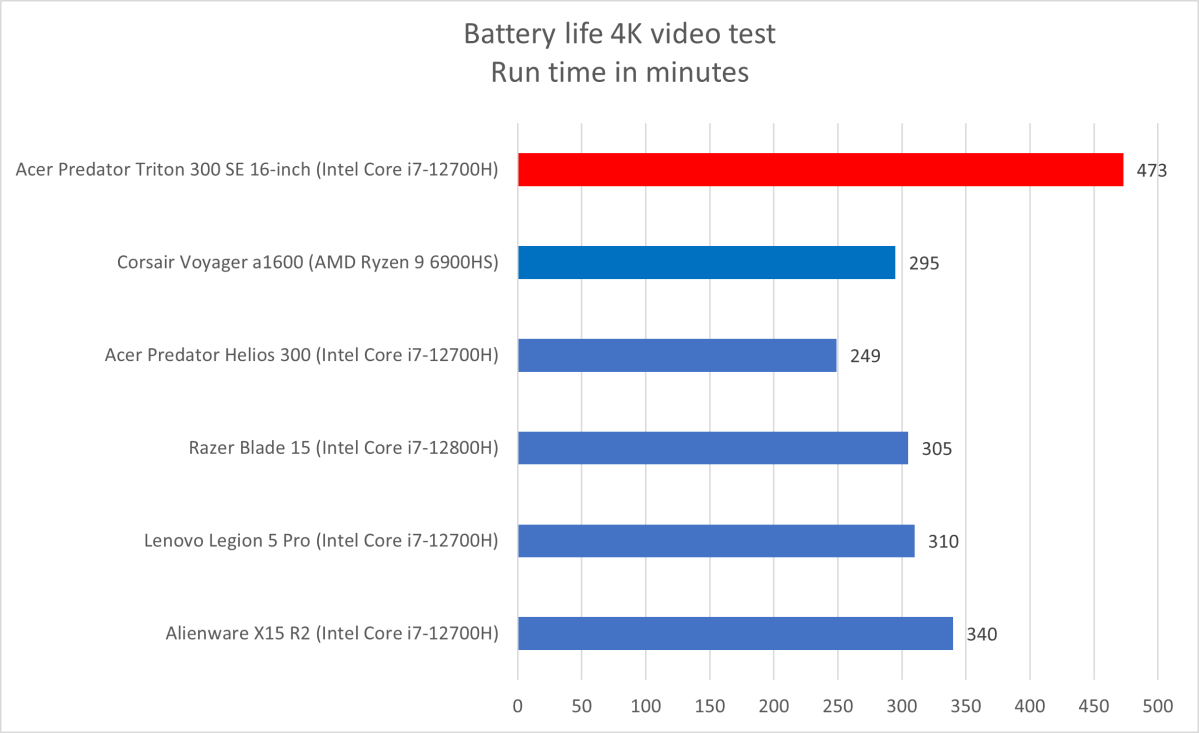 IDG / Matthew Smith
Going delivers an obvious advantage for the Predator Triton 300 SE, as it lasts nearly eight hours in our standard battery test. Most gaming laptops last between four and six hours. Corsair's similar Voyager a1600, which also has a 99 watt-hour battery, endured less than five hours of use, while the Razer Blade 15 achieved a hair more than five hours.
This is an important win for Acer. Gaming laptops that also target professionals and creatives often provide good performance, but it's too often paired with truly awful battery life. The Predator Triton 300 SE's battery life isn't amazing, but it's good, and that's enough to provide an edge.
Conclusion
Acer's 16-inch Predator Triton 300 SE ultimately delivers the same strengths and weaknesses found in many Acer gaming laptops. It's reasonably priced for the hardware on offer, scores well in most benchmarks, and delivers good battery life (for this category). It's a laptop that, if scored by benchmark results alone, would be easy to recommend.
Build quality and design is where the Predator Triton 300 SE falters. It tries to strike a professional look but lacks the material quality and rigidity of some competitors. The keyboard is a miss, with an oddly cramped layout given the laptop's size.
Still, there's no denying the Predator Triton 300 SE's overall performance and value. Gamers, professionals, and creators who want a beefy and capable machine at a more reasonable price should put it on their short list.
Best Prices Today: Acer Predator Triton 300 SE