How to Clean Your New PC

As irritating as the idea may seem, one of the best ways to rid a new PC of junkware is to reinstall the operating system right away, using the vendor-supplied recovery discs or partition. Unfortunately, a reinstall won't work with every PC--the Fujitsu, HP, and Toshiba laptops we tested integrated the junkware into the OS install.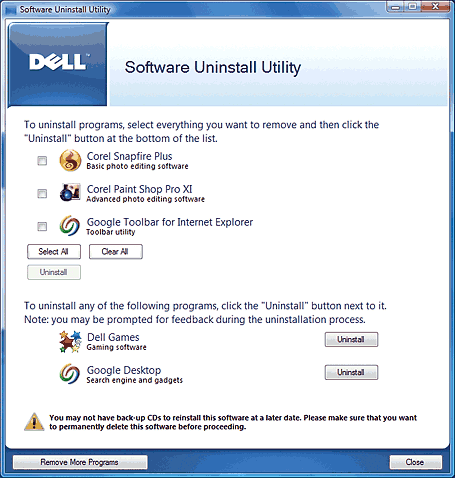 In June, Dell started shipping a third-party software removal utility with its Dimension and Inspiron PCs. But it's buried in Start/All Programs/Dell/Dell Software & Utilities/Product Documentation2, and it doesn't touch Dell-branded apps.
If an OS reinstall doesn't help, download PC Decrapifier. This dandy little utility automatically scans your PC for useless software and startup items, and then lets you choose from a list the ones you want to remove. PC Decrapifier makes some judgment calls, and it can't distinguish between trial and paid versions of some software. But anything that you might conceivably need is deselected by default, so it's safe even for neophytes.
Still got junk? Open Control Panel and select Programs and Features (in Windows Vista) or Add/Remove Programs (Windows XP). For most applications, you'll see an entry here for uninstalling the program and its accompanying files. In addition, suites such as Microsoft Office permit you to remove any components you don't need. Scan the folders in Start/All Programs for uninstall utilities that might not appear in the Control Panel list.
Hobbling the Helper Apps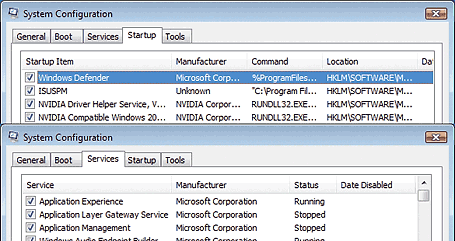 Some vendors try to make their applications appear faster by preloading portions of them (via the Start menu or the Registry) when you boot up Windows. They may also run a background service to check for updates or connecting devices, or they may create a system-tray applet to offer access to functions available elsewhere. These items are rarely necessary, and they all take a toll on boot times and performance.
To weed out this less obvious stuff, use the Windows System Configuration Utility (msconfig.exe), which lets you disable startup items and background services, and--more importantly--reenable them should you make a mistake.
Before you start pruning, fire up your Web browser so you can research anything you don't recognize. A general search on the program or file name usually turns up good info, but www.bleepingcomputer.com and www.file.net are good places to find unbiased information.
To start trimming the bloatware, type msconfig in Vista's Start menu search pane or in XP's Run command and press Enter. Select the Startup tab and prepare for a surprise--there will be quite a few entries. We don't have space to describe every startup item you might uncover, or tell you which you'll want to disable, but applets such as automatic updaters and audio trays are likely candidates.
Next, switch to the Services tab. Services are Windows background programs that generally are invisible to the user. Check the box that says 'Hide Microsoft Services', and see what you have left. You'll probably find fewer unnecessary services than useless startup items, but you might discover the occasional updater or helper that you can ditch. For more-granular information on a particular service, right-click My Computer (Computer under Vista), select Manage, expand the Services and Applications tree, select Services, and look for the service that you're investigating.
When you close the System Configuration Utility, Windows will offer to restart your computer. You don't have to say yes, as the changes will take effect the next time you start Windows--assuming you don't crash. This doesn't happen often, but if disabling something does interfere with some vital Windows process, reboot, press F8 as the BIOS info disappears, choose Safe Mode, and then use the same Msconfig utility to reenable the items you disabled.