First Look: Palm Centro Smart Phone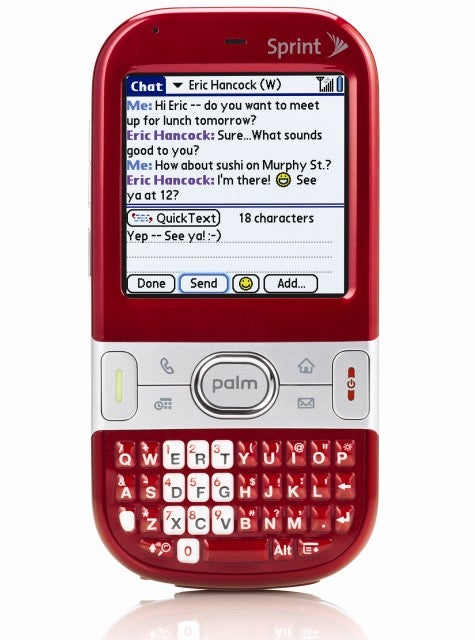 If, like me, you own an aging and increasingly bulky-looking Palm Treo but are reluctant to abandon the Palm OS, the Centro may be the interim smart phone you've been waiting for.
I say "interim" because the shipping unit I received today still lacks features that are routinely available on competing Windows Mobile and BlackBerry devices--most notably Wi-Fi and GPS support. But to get a Palm-like package equipped with those amenities, we'll probably have to wait for the Linux-based successor to the Palm OS, which isn't expected to appear before 2008.
And given what the Centro does deliver--Palm OS in its most contemporary and petite package yet, plus good mobile broadband support via Sprint's EvDO network--it's very attractively priced, at least for new users who sign up for a two-year Sprint contract and an all-you-can-eat data plan. The rebates associated with those contracts bring the device's nominal $400 price down to a palatable $100.
Slimmed-Down Hardware
The Centro is significantly tinier (4.2 by 2.1 by 0.7 inches) and lighter (4.2 ounces) than its Treo kinfolk, and its smooth plastic case feels comfortable in the hand.
But it's definitely made of cheaper stuff than the Treo. I found the removable battery cover a bit fragile and somewhat difficult to remove and replace. As I struggled to snap it into place, I worried that the cover might break. Similarly, the skinny black plastic stylus feels as though it might snap in two if you looked at it cross-eyed.
I was confused by the small plastic door on the side labeled 'Micro SD': You can pull out the door with a fingernail, but the only way to insert the card is after you've first opened the battery cover. It would have made more sense if Palm had designed the door not to open at all unless the user removes the battery cover. As matters stand, the door is one more thing that might break if handled roughly.
Because the device is so small, its keyboard keys are proportionately diminutive, and I feared that typing would be an unpleasant experience. But Palm has done a good job here. The keys are coated in a squishy plastic that keeps your fingertips from slipping, and the keyboard's smaller size didn't slow me down much.
The transflective 2.4-inch 320-by-320 color touch screen looks good, though it's smallish. The navigation controls--an oval pad; buttons for the phone interface, the main Palm OS menu, the calendar, and e-mail; a red on/off button; and a green Send button--were responsive and easy to use.
A Decent Phone, Too
To test the Centro's performance as a cell phone, I made several phone calls--with excellent results. The people at the other end sounded as good as on a landline, and they reported that I sounded great, too.
The phone supports Bluetooth, but I didn't have a chance to try it out with a Bluetooth headset (none was included in the package we received for testing).
Web browsing with the Blazer browser over Sprint's EvDO network was a sheer delight, especially since I'm used to the rather pokey speeds of AT&T Wireless's EDGE network on the Treo. Pages seemed to leap onto the screen, especially from sites that have been optimized for mobile browsers. Even nonoptimized sites appeared quickly.
E-mail setup went smoothly, but to use the Centro with my Windows Vista PC, I had to install new Palm desktop software that doesn't support e-mail sync over the USB sync cable.
One plus is that the Centro supports concurrent instant messaging sessions with the three supported IM services (AOL, MSN and Yahoo--a welcome development for anyone who has friends on more than one of these services.
Shop Tech Products at Amazon