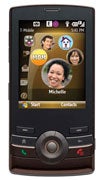 Let's face it: Windows Mobile 6 Smartphone devices often aren't . . . smart. The buttons and navigation controls can be confounding, and I won't even broach the subject of the Smartphone OS's cluttered home screen. T-Mobile drives deep to center field, though, with its well-designed T-Mobile Shadow ($150 with a two-year contract for voice and data services; the latter runs $20 a month). The phone benefits from its completely retooled Windows Mobile home screen; its middling audio quality keeps this phone from being a home run, though.
(The Shadow's rating is pending; we'll update this review once our battery tests are complete.)
Impressive Design
At first glance, the elegant Shadow doesn't even look like a Windows Mobile Smartphone. When you first power up the Shadow, you'll be forgiven for being confused: After the Windows Mobile logo comes up, the home screen that greets you looks absolutely nothing like Windows Mobile, save for the familiar Start icon in the lower left corner. Its keypad with 20-key keyboard (a la Research in Motion's design with the BlackBerry Pearl) is hidden beneath the slide-up screen.
T-Mobile worked with Microsoft and HTC, which manufactured the phone, to refresh the primary interface to complement the phone's physical attributes. The result is a phone that's organic and easy to use together with the device's controls, which include a back arrow to easily move back screen-by-screen no matter where you are in the phone, and a masterful jog-wheel that doubles as a five-way navigation button. Unlike other recent wheel designs I've seen from LG's Chocolate phone and the Samsung u470 Juke (Verizon), this jog-wheel is a joy to operate: It's fast, smooth, and makes navigating a breeze. Spin the wheel clockwise or counter-clockwise to move through menu options or, for example, browse your photos from the main screen.
At the core of the redesigned home screen is an inverted L design. Five menu choices line the left side of the display; pressing down on the five-way navigation button lets you quickly cycle through the menu choices available there: MyFavesSM, Notifications, Inboxes, Calendar T-Zones, Media Player, Photo Viewer, and Settings. At right appears whatever submenu options are available to you for a given menu choice; spin the jog-wheel or press the wheel right or left to cycle through those submenu options.
This approach puts your most common activities right at your fingertips in an intuitive yet graphical way. For example, Notifications takes you to your new text messages, instant messages, voice mail, missed calls, and e-mail; Inboxes takes you to your text messages, picture messages, voice notes, and e-mail; the Photo Viewer lets you use the jog wheel to scroll through photos; and the Settings screen jumps you to the Windows Mobile Comm Manager, to battery and memory management, as well as shortcuts to changing your ringtone, wallpaper, and ring profile. The menu design, coupled with the location and precise operation of the jog wheel, made navigating the Smartphone seem smart.