Choose the Right Backup for Your Business
Like real estate, storage has some key attributes that are easy to sum up: backup, backup, and backup. Sure, storage options vary in speed, price, security, and convenience, but nothing is more important than their ability to safeguard vital data. The potential costs of media failure far exceed the financial outlay for a RAID configuration or for offline backup. Here are four strategies for achieving adequate storage capacity and the redundancy needed to keep your data safe.
Direct-Attached Hard Drives
Direct-attached drives--the most common type of add-on storage--come in a single- or multiple-drive enclosure that typically hooks up to your PC via a USB 2.0, FireWire, or eSATA connection (eSATA is the latest and fastest of these types, but you're likely to need an adapter to connect it to your computer). If you just want the storage drive to back up the internal disk inside the PC it's attached to, a single drive works fine. The economical 500GB Apricorn EZ Bus Desktop SATA ($175) topped our performance tests and features both eSATA and USB 2.0 ports.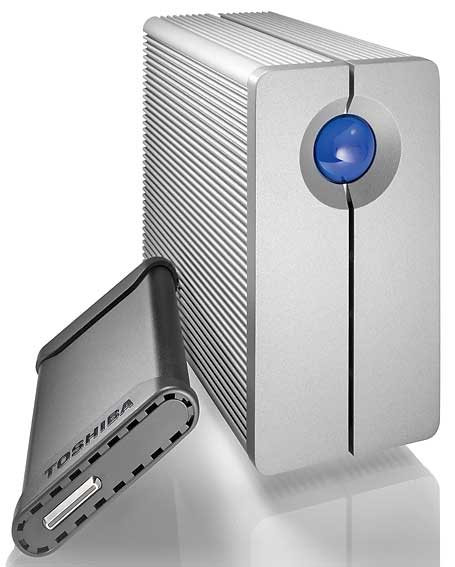 If you're expanding core storage, rather than just backing it up (on a server, for example), consider investing in a multidrive RAID system with built-in redundancy. This will protect you from drive meltdowns, though you should also have an off-site or Internet backup plan to guard against disasters like fires and floods. Look for RAID 1 or RAID 5 support; either arrangement will let you replace a failed drive without losing data. Wiebetech's 1-terabyte SilverSATA II SR ($856) and LaCie's 2TB 2Big Dual ($889) are two-drive models with RAID 1; LaCie's 2TB to 4TB Biggest Quadra is a RAID 5 tower with four drives ($1160 to $2300). All of these models sport hot-swappable drives (which allow you to switch out a drive without shutting down) and both eSATA and USB 2.0 ports.
Network-Attached Storage
For most small businesses, a NAS drive is the best option for central file storage and backup. NAS drives also provide Web and FTP access to your files, and act as print servers. After initial setup, NAS drives require little administration (a boon for small businesses without IT staffs), and they can be secured with encryption and passwords. For top performance, choose models with gigabit ethernet connections, and make sure you have gigabit routers and switches in your office. Backups can be bandwidth intensive.
Two excellent NAS products designed for small businesses are the Iomega StorCenter Pro 150d ($800 for 1TB, $1100 for 2TB, or $1700 for 3TB) and the Netgear ReadyNAS NV+. Both of these devices are hot-swappable, and they offer RAID 1 and 5 support, gigabit ethernet, Web-based administration, and software for backing up local drives.
Portable Storage
Portable USB hard disks and flash drives are great for travel, for moving large files around the office, and for laptop backup. They can be a serious security risk if lost or stolen, however, so it's imperative to use encryption software on any drive that might leave the office. The Lexar JumpDrive Lightning and the SanDisk Cruzer series are popular flash drives with strong encryption software. Add-on software like Migo's Digital Vault ($30) will secure any USB hard disk or flash drive.
Examples of portable drives that you can power through your USB port include Maxtor's OneTouch III Mini, Toshiba's Portable External Drive, and Western Digital's Passport. Prices are typically $100 to $200 for 100GB to 250GB drives. Note, however, that the disks in these compact cases tend to be 5400-rpm laptop drives, which are considerably slower than the 7200-rpm drives used in desktop PCs.
Online Storage
If your goal is to give employees easy access to shared files from anywhere in the world, or to support off-site backup of critical files, online storage services can make a lot of sense. Obviously, they're far slower to use than local disks, especially on the upload side, which makes them a poor choice for storing huge files. But used selectively to complement your regular, offline full-drive backups, online storage can be quite valuable.
ElephantDrive.com offers an economical service for businesses (1TB of storage for $350 a year), including selective or automatic backups, encryption, file sharing, Web browser access, and multiple user accounts. For individual computers, Carbonite.com's automatic, continuous backup service costs $50 per year, with unlimited storage. The downside is that you have to run the software continuously, with no option to do one-time or selective backups.
Businesses should also consider the forthcoming WindowsLive Workspace, a free Web-based document-sharing service from Microsoft. It won't let you upload anything except document files, so it does not constitute a complete backup option; but for the simple task of sharing files, it's priced right.
Shop Tech Products at Amazon