Look, Ma! No Hands!
Do-It-Yourself Bluetooth: Scosche's plug-into-your-car-lighter Bluetooth product is a clever approach to a problem a lot of folks are going to have very soon: In many states, it's becoming illegal to hold your cell phone for calls. I just hate wearing Bluetooth headsets for hands-free driving--they make me feel tethered to the darn phone. With this product, calls play through your car speakers, and a built-in microphone will pick up your responses. Very neat. --Ramon G. McLeod
Hands-Free Music, E-Mail, and Smileys: I went to a demo of Microsoft's Sync as a skeptic, and came away a believer. I want my next car to play Dark Side of the Moon when I tell it to--and read the smiley faces on my e-mail (even if it does sound pretty weird in a computer-generated voice). --Yardena Arar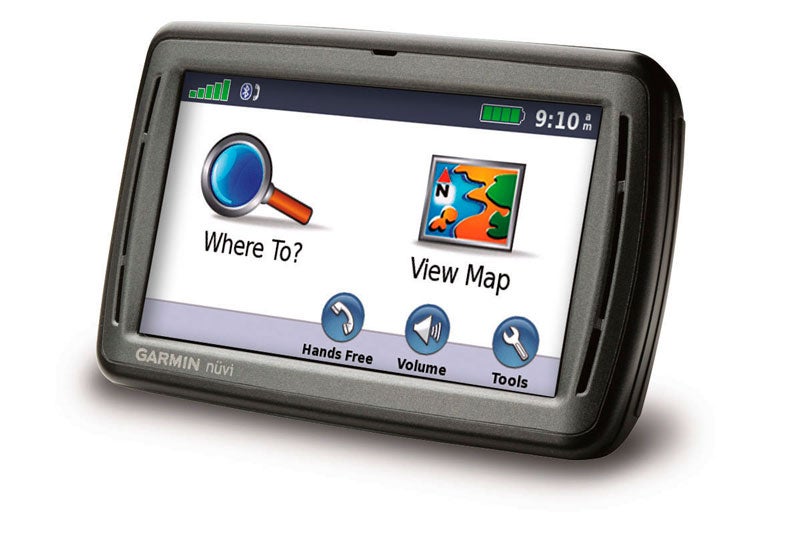 Drive, He Said: At this point most people are used to being told what to do by their in-car GPS navigation systems. But with Garmin's Nuvi 880 GPS, you get to do the talking. Built-in voice recognition lets you, umm, navigate the Nuvi 880's screen selections without lifting your fingers from the wheel. Simply say "find nearest Starbucks," and it will direct you to the quickest caffeine fix. Due out in the second quarter, the Nuvi 880 will retail for $1000--more than most GPS systems. But at least it will give you something to talk about. --Dan Tynan
Genius, or Useless?
Armed and Dangerous:Samsung's 2263DX monitor is a slick-looking 22-inch LCD with a second 7-inch display attached to an articulating arm on the back of the monitor, which you can place above or to either side of the big screen. Why? Dunno. Maybe so you can use the big screen to get your computing done, and the little screen for...writing really short e-mail? Watching YouTube? Pretending you own a UMPC? It's a goofy idea, and if it catches on, I'll eat my video card. --Dan Tynan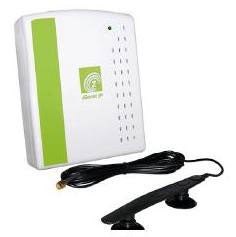 Cell Phone Juicer: Even when I walk outside my house, I can't get a good cell phone signal, and that's been the case with different providers. So I'm interested in the $170 ZBoost zPersonal, which supposedly makes the problem go away by repeating and boosting the signal. The gizmo is about the size of a cable modem. You'll need to put it near a window and plug it into a power source. If you stay within 4 feet of the device, your cell phone's signal will get a kick in the pants. --Steve Bass
Clever Surge Protection: First there were Monster's portable power strips. This year, Targus introduced a portable, four-outlet surge protector. Finally, a way to handle the problem of having only one power outlet in your hotel room. --Melissa J. Perenson
Shaken, Not Stirred: Samsung UbiSync isn't a product, but a technology that lets you attach up to six screens to a single PC and control them all with a single keyboard and mouse. Impressive? Yes. Practical? Only if you're planning to become a Bond supervillain. But who isn't? --Dan Tynan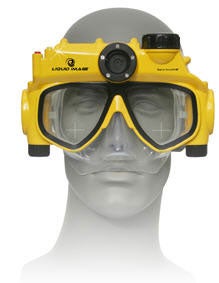 Snorkel and Shoot: Forget about waterproof digital cameras. The Underwater Digital Camera Mask lets you snorkel at up to 30 meters and grab 5-megapixel images at the same time. The mask, powered by two AAA batteries, has a lens right above the tempered-glass eyepieces (they double as a viewfinder embedded with crosshairs). --Steve Bass
Home Theater in a Laptop: Acer showed me the next generation of its mammoth, semitransportable notebook. This one is particularly focused on entertainment and features a 5.1 speaker system built right into the case. I didn't hear 'em, so I don't know if they transcend the tinny quality of most laptop sound systems--but that's still a lotta speakers. --Harry McCracken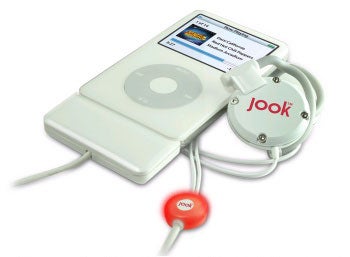 Out of Our Pods:iPod listening has always been a decidedly nonsocial thing. Razor's new Jook connects to your iPod or Zune and broadcasts your iPod jams to other Jook users nearby, or vice versa. Jook might make the iPod era a little more sociable. --Mark Sullivan
The Anti-Clock-Radio Speaker: When it has a name like The ButtKicker, you know a sound system came to play. Guitammer's vibrating subwoofer installs under your couch or easy chair and turns it into a bass-fueled rumble seat. The company had some comfy chairs set up with ButtKickers installed under them, and I got to watch a few minutes of Transformers while feeling like I was sitting on the San Andreas Fault. Just be forewarned: You may feel an urge to sprint to the nearest restroom after a particularly big rumble, and the ButtKicker probably won't lend much excitement to romantic comedies. --Tim Moynihan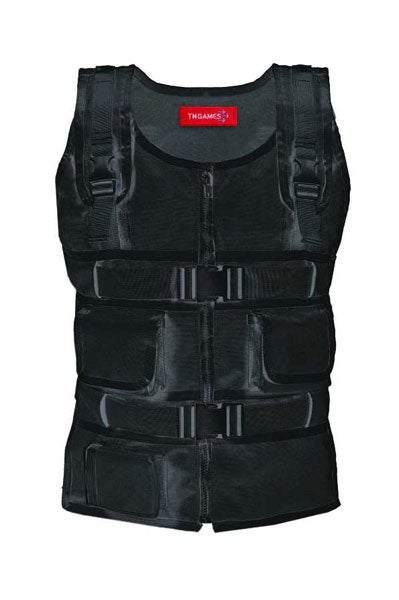 Just Shoot Me: TN Gaming's 3rd Space gaming vest and helmet use little compressed air chambers to give you a tactile jolt in the chest, stomach, back, or head when you are shot or punched in a video game. It's an interesting concept, but to me the feeling seemed disconnected from the action of the game. Distracting, even. --Mark Sullivan
Video Specs: My personal award for "most hyped product" probably goes to MyVu, a pair of glasses that connects to your iPod and lets you watch a virtual video screen floating in front of your eyes. I tried it at the demo station located right outside the Las Vegas Convention Center's South Hall, and was intrigued even though I had to jam it on over my own eyeglasses. --Harry McCracken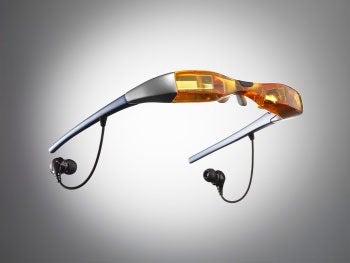 Not So Spectacular: The idea of wearable video monitors has been little more than a novelty for a long time, and judging by MyVu's uncomfortable and too-small Crystal 701 3D glasses, the idea still isn't ready for prime time. Maybe next year. --Mark Sullivan
I'll Never Be in Pictures: I'm impressed by the technology Motorola packs into its upcoming Z10 camcorder phone, which not only captures 30-frames-per-second video but also gives you tools to edit the footage into a mini-movie. But I'm not sure I want to spend that much time on my handset--or fritter away the battery life to become the next Steven Soderbergh. --Yardena Arar
Podcast With Your iPod: Belkin's Podcast Studio ($100, available in June) is a sleeve for your iPod with internal microphones, inputs for external microphones, and lots of controls for tweaking the sound you're recording. If you want to podcast on the go, this looks like a convenient and inexpensive way to do so. --Edward N. Albro
A Cold Idea: LG Appliances combined a refrigerator with a PC five years ago, and it was a bomb. So why in the world is Whirlpool trying to follow a similar path? Hanging a laptop off the front of an icebox won't work. The company might have better luck with people using its new Centralpark system to hang a digital photo frame on the fridge, but the laptop part of the concept is just silly. --Ramon G. McLeod
Products for Paranoid Parents: Zoombak pitched its GPS and cellular-based car locator ($300 plus $10 a month for the first six months and $15 a month thereafter) as a way for parents to make sure teens aren't driving where they shouldn't be. And eAgency's Radar cell phone technology (available at mymobilewatchdog.com) forwards a copy of every text message and photo sent or received, as well as voice-call logs. Are kids really that untrustworthy nowadays? --Yardena Arar
GeoPics From Your GPS: The Mio C720t ($599, available now) is a full-featured GPS navigation system that also includes a digital camera. Take a picture, and it tags the image with the exact geographic coordinates. If you upload the shots to a service such as Picasa, you can then show exactly where you took the shot on Google Earth. You can see the C720t in action in our video. I'm not certain how often I'd pop my navigation system out to take pics, but it's a neat idea. --Edward N. Albro