SLIDESHOW
A Journey Through 25 Years of PC World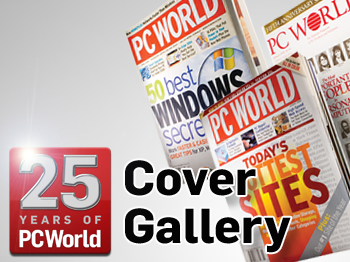 Highlights From 25 Years of PC World
Here's a sampling of embarrassing predictions and still-common tech complaints spanning 25 years of PC World print issues.
August 1991
"Uneven geographical coverage, crowded communications channels, and the low quality of most networks plague customers trying to make the cellular leap."
--We point out the drawbacks of the still-new cellular phone; 17 years later, such kinks are long gone...or are they?
April 2002
"Maybe your browser should have a McDonald's-like sign that reads 'Over 24 Billion Served.' That's the number of ad impressions--ads loaded into Web browsers--generated in just one week."
--By 2002, we found Web ads annoying enough to run a how-to article on nuking them--including those on our own site.
August 2000
"You heard it here first: eBay is the Web's best site. No other site is quite as innovative, fun, useful, and addictive."
--In 2000, for the first and last time, we were bold enough to declare that our favorite Web site was the best site, period.
January 1995
"Copy protection approaches include encryption schemes that render a program unusable until the owner registers, and formatting techniques that make it difficult to copy the original floppies."
--In 1995 we reported on the tactics some software vendors had adopted to stop piracy, including shipping self-destructing disks.
December 1995
"Viruses do exist. There were more than 6900 at last count, and experts say that three to five new ones are created every day."
--A 1995 antivirus software review had to make the case that viruses are a genuine problem. In 2007, more than 5.5 million malware samples, including variants, were in the wild. (Source: Secure Computing)
March 1991
"These five screamers are among the fastest--and the costliest--systems you can buy. We pick the best of the lot and answer the obvious question: Who needs this much power?"
--We reviewed four blazing 486 PCs, starting at $8300, and decided that they were simply too fast for most people.
May 1992
"Not a month goes by that we don't get letters asking whether to leave PCs on all the time or turn them off at night...if there were a definitive answer one way or the other, we're convinced we would have uncovered it by now."
--The Help Screen Q&A column avoided taking a stance on a dilemma that comes up even now.
May 1987
"When you walk into an office in 1998, the PC will sense your presence, switch itself on, and promptly deliver your overnight e-mail, sorted in order of importance."
--Our 1987 special report on the future of technology confidently predicted a scenario that's still fantasy as of early 2008.
January 1988
"Personal computing has changed dramatically since PC World was launched five years ago... We have much more powerful processors and 286 and 386 chips. We've conquered the 640K [memory] barrier. We have 100MB drives."
--PC World Founder David Bunnell, in our first issue of 1988, impressed by how much history had been made a mere half-decade since our debut.
July 1984
"Will the computer ever succeed as a concert musician? Or is it capable only of blooping and bleeping in accompaniment to the video games it runs?"
--We ponder the future of digital music in 1984--back when 'music library' still meant a stack of vinyl LPs on a shelf.
(See our other 25th Anniversary articles.)
Next Up: Check out these related slideshows
Today's Best Tech Deals
Picked by PCWorld's Editors