Online Finance Services Show Where Your Money Goes
Virtual Budgeting
In2M's Mvelopes Personal is significantly more expensive--$8 a month for a two-year prepaid subscription. But it's both a more robust, Flash-based service that includes electronic bill payments (up to 15 a month, an extra-cost item at many banks) and a Web-based system to help you create and stick with a budget.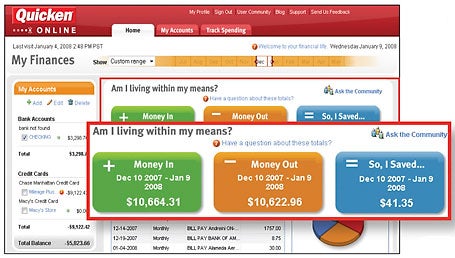 You develop a budget by creating virtual envelopes for all anticipated expenses (for large once-a-year items such as vacations, Mvelopes calculates how much you'll need to save each month), and then allocate your income to the envelopes, prioritizing those for required expenses (such as the mortgage and groceries). The service then compares your actual outlays based on transactions it retrieves from 14,000-plus institutions, far more than either Mint or Quicken Online support.
A mobile applet lets you view the Mvelopes you choose (for example, travel-related ones such as dining out) on a browser-equipped phone or device. Like Quicken Online, Mvelopes lacks tools for managing investments, but it's more of a true personal finance manager than Mint or Quicken Online.
Choose Mvelopes if you're willing to put in some time and effort on its budgeting tools and can make use of its bill-pay service; try the free Mint.com if you just want a better handle on your finances and are willing to look at offers from services that compete with ones you use now. As for Quicken Online, its access-from-anywhere capability and reminders are nice, but I think its fees would be better spent on the company's much more complete desktop application.
Mint.com | Mint Software
A good way to get a better handle on your finances.
Free
Mvelopes Personal | In2M
A robust, capable service that includes budgeting and bill-pay.
$8 to $14 a month
Quicken Online | Intuit
Most users will be just as happy with the free Mint.com service.
$3 a month
Shop Tech Products at Amazon