Simpler Project-Managing Apps Get the Job Done
At a Glance
Celoxis Technologies Celoxis

Clarizen
Though Microsoft Project is a capable project management program, not everyone needs its power. If you want help managing a business project but using Project feels like swinging a sledgehammer to swat a fly, try a less ponderous alternative.
Web-based project management services are fairly easy to set up. You don't have to install software on your PC; and since all project information is stored online, any team member with Internet access, a Web browser, and an e-mail account can participate, even remotely.
Most Web-based project management services allow you to establish milestones (by assigning tasks to one or more team members and specifying a completion date) so you can track progress against major deadlines. Participants receive progress alerts and details via e-mail, or by logging in to the Web-based management account.
Project management services offer varying amounts of server space for storing project-related data and files. Project reporting capabilities range from simple-text reports to full-featured graphical Gantt charts.
Celoxis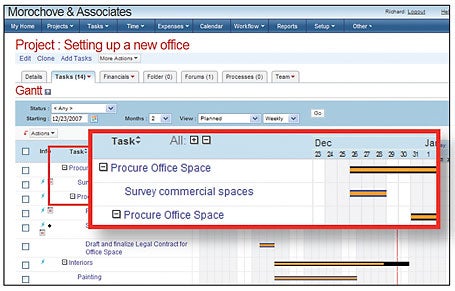 Celoxis supports an assortment Of reporting capabilities, including Gantt charts (which depict project progress) and export of data to an Excel spreadsheet in order to generate custom reports. You can allow only basic access.
The service isn't too difficult to master. It even provides a basic template to help you manage your first project.
Celoxis also tracks time and expenses associated with the project, a useful feature for internal accounting or for billing a client. You can allow clients or other outsiders to log in and check on project progress, too.
Celoxis is available both as a hosted service and as packaged software that you can install on a server inside your network. The hosted version provides 20MB of storage per user and costs $15 per month per user. A 30-day free-trial edition is available as well.
Clarizen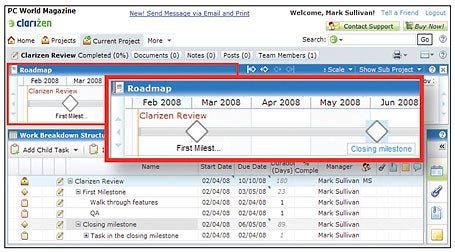 Clarizen lacks a start-up template for users new to project management, but it offers a lot to tempt experienced project managers.
You can create a new project from scratch, import an existing Microsoft Project file, or use a Project or Clarizen template that your organization created previously. You can't export a Clarizen project back to Project, however.
With Clarizen you can divide project milestones into submilestones and tasks into subtasks, and you can have important alerts repeatedly e-mailed daily. Team members can add notes or discuss the project; send e-mail messages regarding the project as a whole, a milestone, or a task to the entire team or to one or more individuals; and find project information online.
Reporting features are excellent, too, allowing you to gauge the percentage completion of key project tasks, for example. Clarizen costs $50 per month per user for an unlimited number of projects. Prepaid 6- or 12-month subscriptions qualify for discounts.
SpotOn
SpotOn uses a dashboard to give an overview of your projects and status. A calendar view highlights days containing milestones.
You can view your responsibilities in 'My ToDos'. The 'Messages' screen displays project-related notes; the service e-mails any message marked 'critical' to all team members. A 'People' screen lets you keep tabs on your team members.
When adding team members, you decide the level of access to grant them. You can allow view-only basic access or give permission to create to-dos, add milestones, or enjoy unlimited account-management privileges.
You won't find highly detailed reporting tools or fancy Gantt charts in SpotOn; this entry-level project manager is suitable for smaller teams and for less-detailed, short-term projects.
In the beta service I tested, a free plan supported one project, with to-dos and milestones. Paid plans, which include storage space and don't limit the number of users, start at $10 a month for ten or fewer active projects up to $145 a month for an unlimited number. All paid accounts offer a 30-day free trial.
For more information on Web-enabled business productivity tools, check out "Comparing Collaborative Web Services."
At a Glance
Celoxis Technologies Celoxis

Clarizen
Shop Tech Products at Amazon