Asus has thrown the gauntlet down. OLED displays are regarded as the best display technology you can own. But 120Hz OLEDs? And 120Hz OLEDs with 3D capabilities? At CES, Asus announced new Vivobooks and Zenbooks with radical new displays that promise to be simply gorgeous.
Will Asus combine all three capabilities in one laptop? No, two. The Asus ProArt StudioBook 16 3D OLED (H7604 3D OLED), which will integrate a 16-inch "3.2K" 120Hz 3D OLED display as well as a host of other features. But it will also appear in the Asus Vivobook Pro 16X 3D OLED, a much more affordable and mainstream option.
In fact, virtually all of the laptops Asus will ship in 2023 will include an OLED display of some sort.
OLED technology is typically found on high-end TVs for dramatically improved visual quality. Budget TVs (and laptops) use an LED backlight, which lights up the entirety of the display, even when the display is supposed to be "black," either during night scenes or just displaying a black background. OLEDs manage light at a per-pixel level, so when a pixel is supposed to be rendering a pitch-black scene, it can simply turn off entirely. That might not be that important during office work, but for creatives and for entertainment purposes, it matters.
The new 3D effects are enabled by a microscopic layer of lenticular lenses that are combined with an eye-tracking webcam mounted inside the laptop, Asus executives explained. 3D scenes are composed on the fly and matched to your position in front of the laptop.
"Thanks to OLED displays, extremely low pixel transition times, and massive contrast, crosstalk between the left and the right eye image are reduced to minimum resulting in a surprisingly lifelike precise high contrast, color accurate, high refresh rate, 3D volumetric representation of any 3D objects," said Sascha Krohn, the director of technical marketing for Asus, in a briefing with reporters. "The benefits of being able to instantly visualize 3D objects are helpful in a variety of scenarios from 3D content creation mechanical engineering, movies, games, and combining multiple 3d assets in what many now call the metaverse."
"It's a bit like putting on a VR or AR headset but without putting on anything," Krohn added.
Asus is also adding a second-generation antimicrobial display to some of its laptops. The new Antimicrobial Guard Plus goes a bit further than the first-generation silver-ion coating Asus applied to a few of its 2022 laptops, which helped inhibit the growth of bacteria. The new coating is ISO 21702 and ISO 22196 tested, which inhibits the growth of flu, viruses, and bacteria. Asus tested the new coating against COVID, e.Coli, and staphylococcus (the source of staph infections).
Certain laptops will also ship with what Asus calls a Plasma Ceramization Coating (P.E.O.), which essentially adds a matte coating to what would normally be a shiny-smooth aluminum exterior.
Asus isn't revealing exactly when these new laptops will ship, or what their prices will be. But we do know some of their features, at least.
Asus Zenbook Pro 16X OLED (UX7602):
CES will mark the launch of (currently unannounced) new Nvidia mobile GPUs and new Intel mobile Core chips, and the new Asus Zenbook Pro 16X OLED will feature both. Most of Acer's Zenbook lineup for 2023 will actually be 14-inch laptops, but the Zenbook Pro 16X will include the massive 3.2K 120Hz (16-inch, 16:10) HDR OLED display with 500 nits of light output. An adaptive RGB color sensor will tailor the display to the output that the laptop "sees".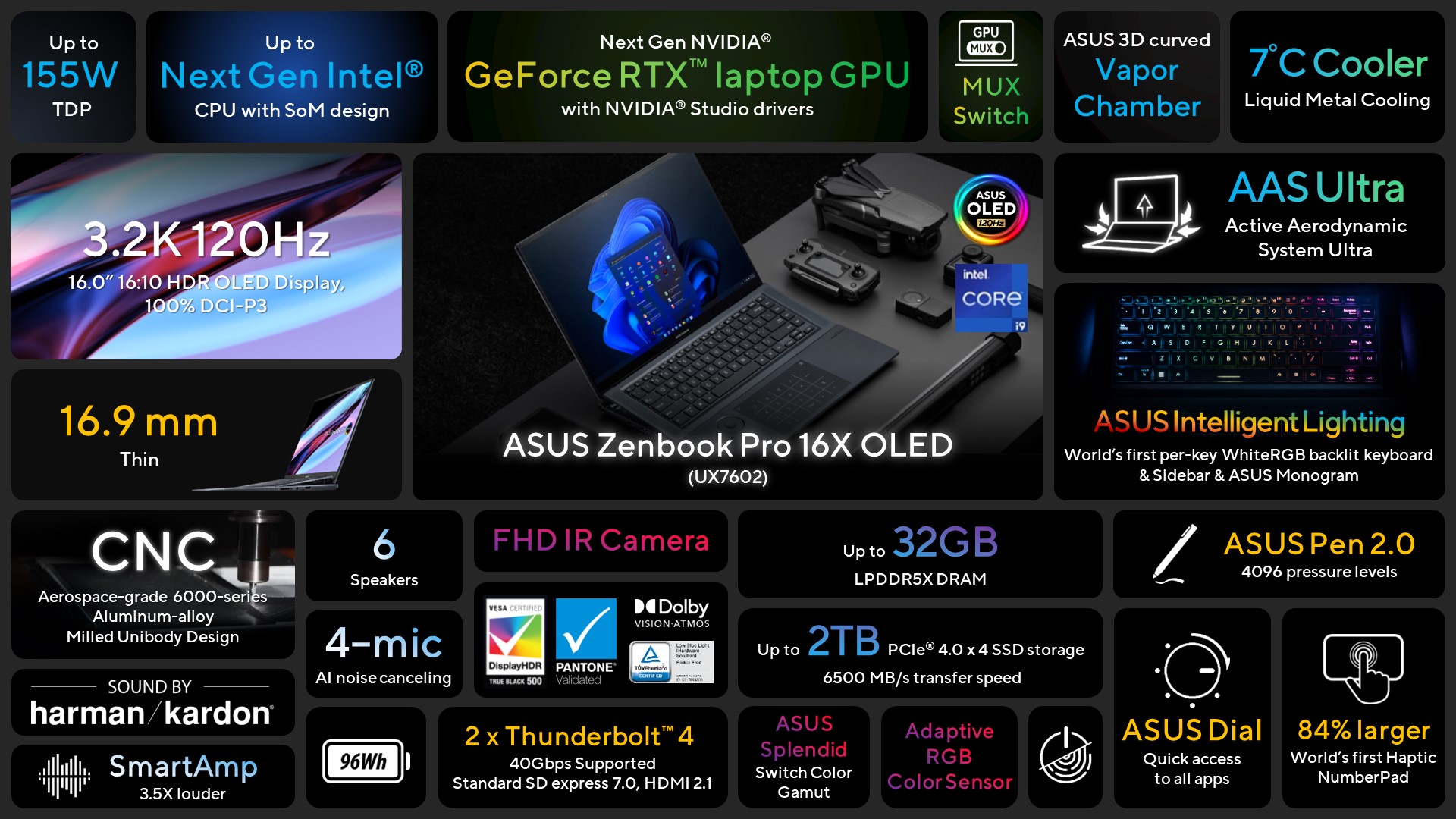 The entire chassis will be built around a CNC milled unibody design, just 16.9mm thin. Inside will be up to 32GB of LPDDR5X DRAM, up to a whopping 2TB of PCI 4.0 SSD storage (across four ports), and a 96Wh battery. You'll see four Thunderbolt 4 ports, a full HD IR camera, and the Asus haptic number pad that's now 84 percent larger, Asus said. The keyboard will use per-key RGB lighting. A pen will also be available, with up to 4,096 levels of pressure sensitivity.
According to Krohn, Asus worked closely with Intel to create a custom "Supernova" CPU package that houses the CPU and the associated LPDDR5 DRAM on the same interposer, optimizing the power and ground connections to the motherboard and allowing Asus to push performance to 155W within the chassis.
The Asus 14-inch Zenbook lineup will also include the Zenbook Pro 14 Duo OLED (UX8402), an updated version of the Duo 15 OLED UX582, an Editors' Choice-award winning laptop, with the latest CPU and GPU hardware. It will also include the Zenbook Pro 14 OLED (UX6404) and the ZenBook 14X OLED (UX3404). The latter's viewing space has improved over the prior generation (14.5-inch vs 14-inch), and includes a 120Hz OLED panel and a new RTX 3050 GPU option.
The Asus Zenbook Pro 16X OLED (UX7602BZ) will be available in the second quarter for an undisclosed price.
Asus Vivobook Pro 16X (K6604):
The new Vivobook, however, does it one better. Building on the VivoBook Pro 16X OLED that PCWorld reviewed earlier this year, the new Vivobook Pro 16X includes the option of either a 3.2K (3,200 x 2,000) 3D OLED display at 120Hz or a simpler (and presumably cheaper) 2.5K 165Hz panel instead. Both offer 100 percent DCI-P3 color gamut coverage. Asus is boasting 88.6 percent screen-to-body ratio along with a chassis that's 21.9mm thick and weighs a somewhat chunky 4.2 pounds. The keyboard will be coated with the Antimicrobial Guard Plus coating, which will be ergonomically designed.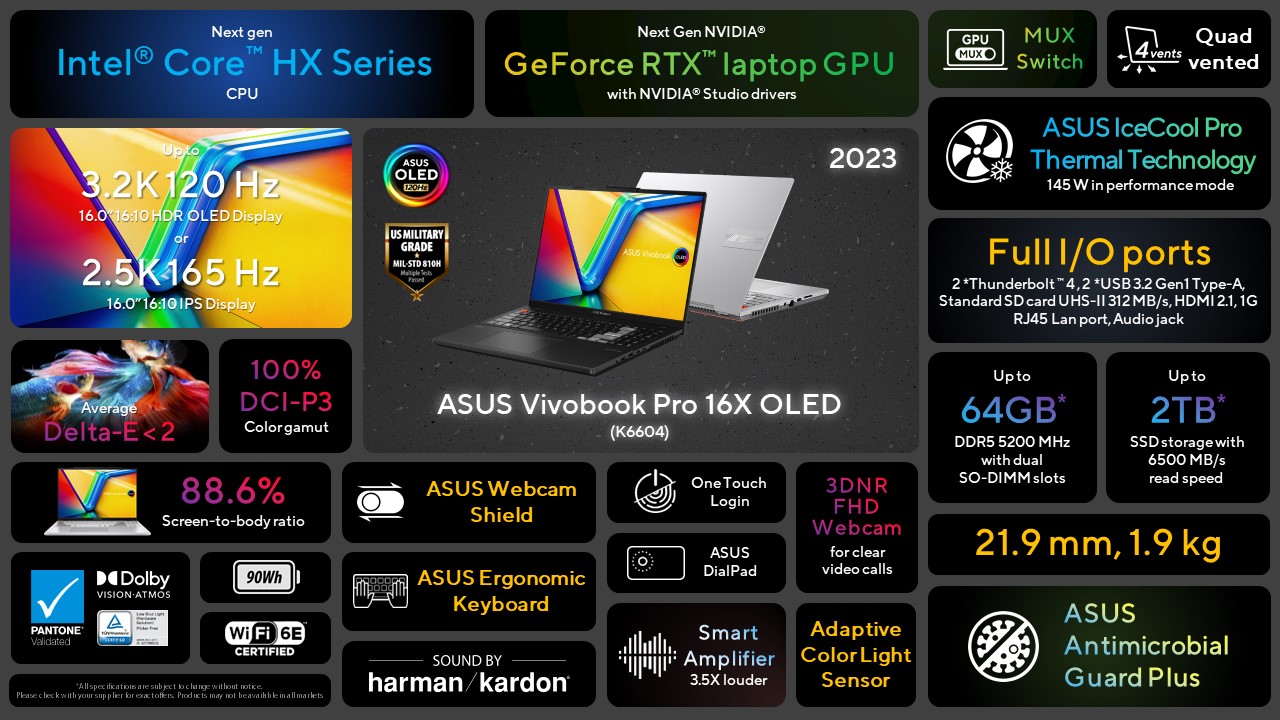 Asus isn't disclosing the CPU inside of the new Vivobook Pro 16X, but it will presumably be Intel's next-gen mobile chip, along with the next-gen Nvidia mobile GPU. Asus will build in its IceCoolPro thermal-management technology, presumably adding to the weight along the 90Wh battery. Up to 64GB DDR5 and 2TB of SSD storage will be included.
The 3D webcam will be rated at 1080p quality. This laptop will also include the Asus Dialpad, with a dial that will control the volume by default. Asus also says that the laptop includes a smart amplifier, which will be 3.5 times louder than usual.
The Asus Vivobook Pro 16X 3D OLED (K6604) will be available in the second quarter, Asus said.
Asus ProArt Studiobook 16 3D OLED:
The third flagship laptop from Asus will likely carry a premium price, as well. Again, the focus is on the display: a 16-inch 3.2K (3,200x 2,000)120Hz OLED panel with 3D capabilities and a 100-percent DCI-P3 color coverage. Here, Asus will use the ultra-high-end Core-HX platform from Intel, presumably its upcoming mobile processor, along with the latest Nvidia RTX hardware. Asus claims that the laptop can be driven with up to 150W of power, helped by "liquid metal" cooling and a quad-vent exhaust system. There's a 90Wh battery inside.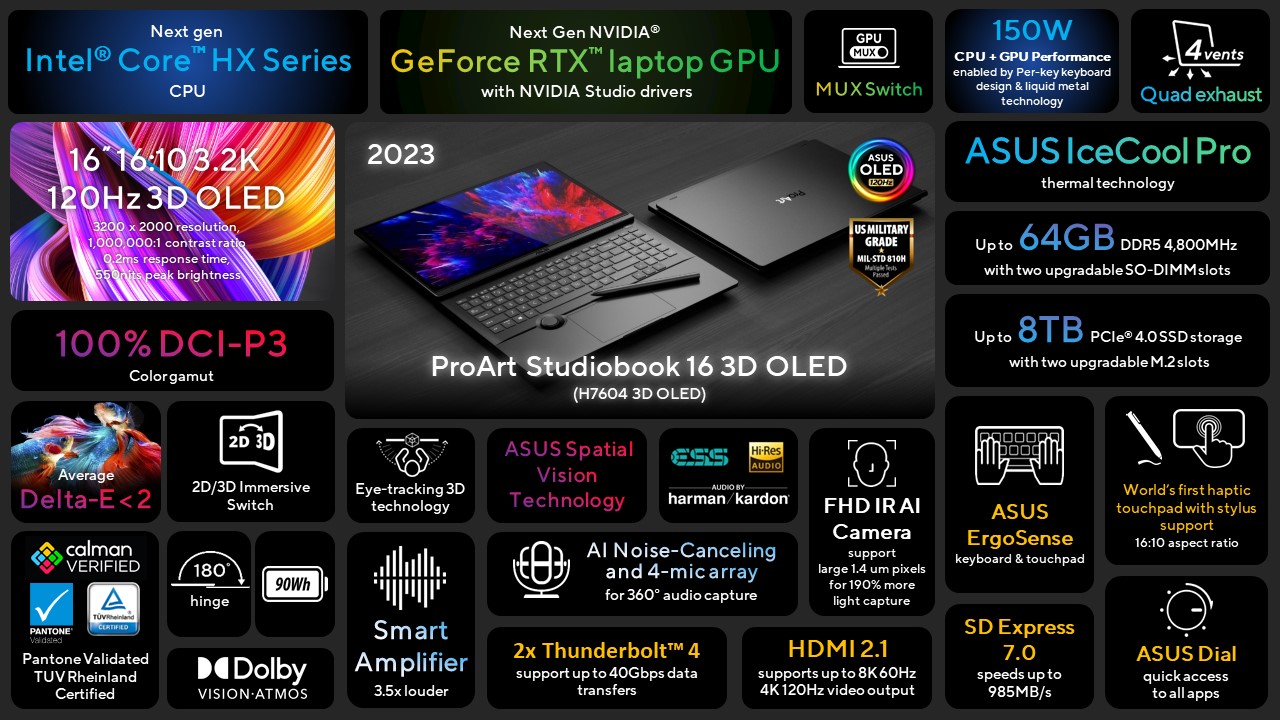 Here, the ports will shine: in addition to the pair of Thunderbolt 4 ports, Asus is claiming to be one of the first to offer SD Express 7.0 card support with 985MB/s speeds. HDMI 2.1 ports also appear.
There's more: Asus claims that the touchpad will be the first haptic touchpad, and offer stylus support for drawing. The Asus Dial can be either used to control volume or paired with the Asus ProArt Creator Hub utility as a launcher for popular apps.
The Asus ProArt Studiobook 16 3D OLED (H7604) will ship in the second quarter at an undisclosed price.