First Look: Lenovo ThinkPad X300
Today's Best Tech Deals
Picked by PCWorld's Editors
Top Deals On Great Products
Picked by Techconnect's Editors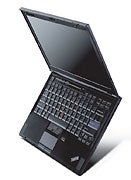 Lenovo's buttoned-up Thinkpad X300 ultraportable notebook computer may not have the MacBook Air's superslim Spartan style, but after firing up the X300, it's hard to not love this laptop. From rock-solid construction to piled-in perks, this biz-centric beast provides just about everything that matters to the modern road warrior.
The Air and X300 do have some similarities. They both have crisp 13.3-inch displays (although the X300 has a higher resolution--1440-by-900 pixels vs. 1280-by-800), and both offer 64GB solid state drives (An SSD comes standard with Lenovo's machine, but tacks about $1,000 onto the Air's price tag; if you equip them similarly, the notebooks cost about the same).
Whether you're afraid of dropping your laptop at the airport or accidentally spilling some coffee on the case, the X300 is built like--and resembles--a black box recorder. The keyboard is spill resistant, and the textured carbon- and glass-fiber exterior is supposed to protect the innards; it feels good to the touch, too.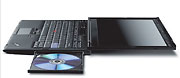 Now, technically, the X300 is a little chunky side for a true ultralight-a little over an inch thick and 3.4 pounds (4 pounds with AC adapter) as opposed to the Air's 3-pound heft. Then again, you can pop a disc in the ThinkPad's paper-thin, three-ounce DVD drive and actually watch movies as opposed to trying to stuff an external drive in with the Air in that manila envelope. (You CAN remove the drive, which leaves you with a machine weighing just 3.1 pounds)
The X300 has a decent amount of power for an ultralight notebook--in fact, it scored surprisingly well against other ultralights. With a 1.2GHz Core 2 Duo L7100 processor and 2GB of RAM, it scored a 64, outpacing the MacBook Air by a healthy 7 points in WorldBench 6 Beta 2 tests. On the other hand, the X300's performance is exactly average compared to the broad field of ultraportables we've tested. It posted an average score in our battery life tests too, lasting 4 hours and 22 minutes on a charge.
Another thumb in Apple's eye is the X300's many features. Here you have a notebook not much thicker than Air but, not only does it manage to slot in a DVD drive, it also has three USB 2.0 ports, a VGA-out port for an external display, a webcam, headphone and microphone jacks, and an ethernet port. The Air has a webcam, but it has only one USB port, and you have to use an optional adapter to connect via ethernet.
Speaking of options, the X300 is probably the only ultraportable PC that gives you both a touchpoint and a trackpad. Obviously it boils down to personal preference, but at least you can choose. As is often the case with ThinkPads, the keyboard feels great. There's enough tactile feedback on the full-sized keys to allow quick, accurate typing.
To make life even easier is the one shortcut key to rule them all--the ThinkVantage button. Most notebooks have some sort of shortcut to helpful utilities or a "For Dummies..." version of the control panel. However, this is by far the most helpful, complete, and concise collection of them. You can use the button to access a backup utility, to set security protocols, or to find a wireless data connection, and if your computer won't boot, the button will make the computer boot a small non-Windows OS from a hidden hard drive partition, after which you can diagnose problems and even download drivers, if necessary.
And when you do start searching for wireless connectivity options, you are fully covered with the X300. Among the highlights, this notebook has built-in support for 802.11a/b/g/n, Wireless WAN, Wireless USB, Bluetooth, and the "gee-whiz" feature of the month: GPS (an army of travelling salesmen are cheering somewhere with that addition).
I have one minor concern: The hidden OS and drive image for bringing it back to factory defaults reside on the notebook's hard drive. The X300's meager 64GB solid-state drive will probably fill up quick, and between Windows, your applications, and the hidden image, you're left with precious little room for your files.
But otherwise, while it does cost a fair amount, Lenovo proves that you can cram everything you need into a tiny package.
Shop Tech Products at Amazon