Test Results: Does SP1 Fix Vista?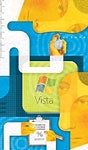 When it comes to Vista, the fix is in. It's just not the fix many mainstream users are looking for.
Last fall, Microsoft announced that Vista Service Pack 1 would improve the operating system's performance. The company claimed that SP1 would rev up Vista in the areas of file copying (see "Microsoft Details Plans for Vista SP1--Beta 'In a Few Weeks'"), waking from sleep or hibernation, and adding or extracting files from compressed folders (see "Closer Look: Beta Windows Vista Service Pack 1").
Microsoft also anticipated that SP1 would strengthen system reliability, broaden support for new hardware and emerging standards, and introduce improvements for IT administrators. We didn't attempt to gauge the validity of those claims following Microsoft's mid-March release of Vista SP1 (see "Windows Vista SP1 Available Now--Do You Need It?"). Instead we tested systems configured with and without Vista SP1 to see whether the promised performance gains would materialize.
What We Tested and Why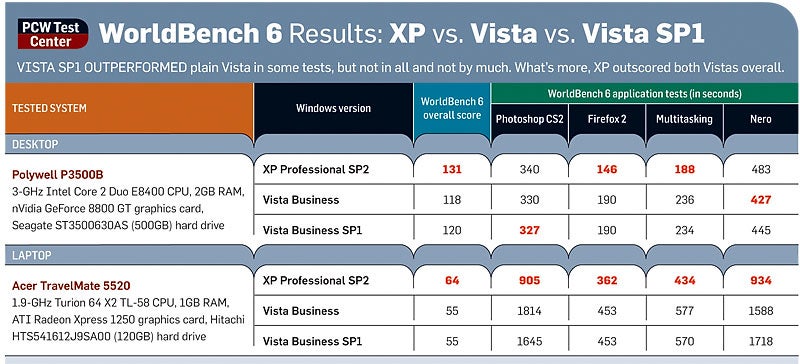 We measured SP1's speed using our 32-bit WorldBench 6 test suite. We compared the overall performance of Vista Business with SP1 to that of Vista Business without SP1 and to that of Windows XP Professional with SP2.
Our test results indicate that where SP1 outperformed Vista, the margin of improvement was slim. What's more, we found little evidence that SP1 handled file copying better; amazingly, in many cases, pre-SP1 Vista was speedier.
Vista SP1 didn't wake from hibernation on our test desktop much faster than pre-SP1 Vista did, either--and on our laptop, it was slower to wake. SP1 did beat Vista at compressing files, but by a tiny margin. Its only clear win over old Vista was in decompressing files--and even there, it was slower than XP.
Many readers (see "PCWorld.com Users Say: Save Windows XP!") have taken Vista to task for using too many system resources on its Aero environment, for trying to appeal to both business users and consumers without fully serving either group, for problems with unavailable or limited drivers, and for general bugginess.
Unfortunately, we couldn't evaluate SP1's impact on each of those shortcomings individually, so we used our WorldBench 6 benchmark tests to gauge how well XP, Vista, and Vista SP1 performed a standard set of tasks. We found that Windows XP still outperforms Vista--with SP1 or without--by a wide margin. SP1 finished second in many cases and third in others.
Given those results--and in view of the bug fixes SP1 delivers--current Vista users should take the free service-pack upgrade. But if you still use XP, you may want to stick with it for now.
Shop Tech Products at Amazon