Magellan Maestro 4250 and V7 Nav740 GPS Devices Deliver More Than Just Maps
At a Glance
Magellan Maestro 4250 GPS(Vehicle, 4.3

V7 Nav740 GPS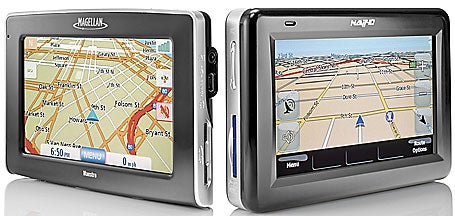 Great GPS systems have two things in common: accuracy and simplicity. You want to be able to enter your destination quickly and easily, and you want your GPS device to deliver clear and precise turn-by-turn directions to get you there. Two new models that I took on the road do both, but they also add features beyond simple navigation.
The $400 Magellan Maestro 4250 and the $300 V7 Nav740 have much in common: slim, compact cases; bright, 4.3-inch color touch screens; detailed road maps for the United States; listings and locations for millions of services such as gas, lodgings, and (most crucial of all) coffee fill-up stations; and user interfaces that were fast and generally easy to use.
If you need to get from here to there, both will show you the way nicely, though the Nav740 consistently displayed my destination as being two to three blocks away from where it actually was. It mapped the routes nicely up to that point, however. V7 confirmed that the unit I tested was a production model, and said that such errors had not cropped up with its other review units.
The problem may have been due to my location in the mountains; another PC World reviewer tested the product in an urban setting, and he didn't experience the same glitch. On the other hand, the Maestro 4250 guided me flawlessly door-to-door, regardless of my topographical surroundings.
Other than that major glitch with the Nav740, I had just one quibble with the navigation capabilities of the two units: During lengthy trips, neither will let you add a pit stop for gas and coffee unless you first cancel (and later reenter) the original destination. Other portable GPS devices support that handy capability.
Additional Features
Beyond simple navigation, the Maestro and the Nav740 go in different directions. The Maestro lets you issue voice commands, though I found the feature a bit disappointing. You can tell the unit to find the nearest gas or food; scroll though the results verbally; and command the Maestro to change course to your new destination. However, I couldn't find a way to use voice commands for basic controls, such as changing the map format or zooming in or out.
Another useful Maestro feature is real-time traffic alerts, through a subscription to a traffic service (when you buy the device, you get three months' free service); it's capable of rerouting you around blockages. The Maestro can act as a Bluetooth-attached, hands-free device for your cell phone. My LG phone worked just fine.
V7's Nav740 supports real-time traffic reporting, too, but both the FM antenna and the subscription cost extra. The Nav740 has several other notable features: It can alert you if you are speeding and warn you when you are approaching a traffic-camera-monitored intersection. It also has a rudimentary ability to run video clips, display photos, and play tunes but it poses no multimedia threat to an iPod. If you struggle to calculate tips, you'll appreciate the Nav740's built-in calculator. And finally, though it's an odd addition, I have to confess that I really like the device's weights-and-measures conversion mode.
Buying a lesser-known brand like the V7 can be a support and service gamble, but the Nav740 seems like a heck of a deal--as long as the navigation glitch was specific to my review unit alone. Nevertheless, coming from Magellan, a long-time player in the GPS game, the Maestro is the safer (albeit more expensive) bet.
Magellan Maestro 4250 GPS Device
A bit pricey, but finely designed and well equipped.
$400
Current prices
(if available)
V7 Nav740 GPS Device
Bargain-priced unit includes plenty of features.
$300
Current prices
(if available)
At a Glance
Magellan Maestro 4250 GPS(Vehicle, 4.3

V7 Nav740 GPS
Shop Tech Products at Amazon