AMD announced three affordable new 65W desktop Ryzen processors at CES 2023, continuing to bundle them with a stock cooler to save buyers money.
The Ryzen 9 7900 will join the Ryzen 7 7700 and the Ryzen 5 7600, AMD said, as the new entrants to the Ryzen 7000 family. AMD announced the premium Ryzen 7000 family last August, with the 7600X, 7700X, 7900X, and the 7950X, designed for gaming and other high-performance applications. Those chips ranged from $299 to $699, justified by the massive performance that the Ryzen 7950X offered.
AMD's new chips are designed for tighter budgets, with pricing ranging from $229 to $429 instead. Not only is the company offering a processor with less expensive alternatives, but the new Ryzens are outperforming the Ryzen 5xxx generation by a substantive amount, both in terms of content creation as well as gaming.
Here are the details of the new processors. All are rated for 65W, use the AM5 platform, and are overclockable. They also use AMD's Zen 4 architecture and are fabricated on a 5nm process technology.
AMD Ryzen 9 7900: 12 cores / 24 threads, up to 5.4GHz turbo, $429
AMD Ryzen 7 7700: 8 cores / 16 threads, up to 5.3GHz turbo, $329
AMD Ryzen 5 7600: 6 cores / 12 threads, up to 5.1GHz turbo, $229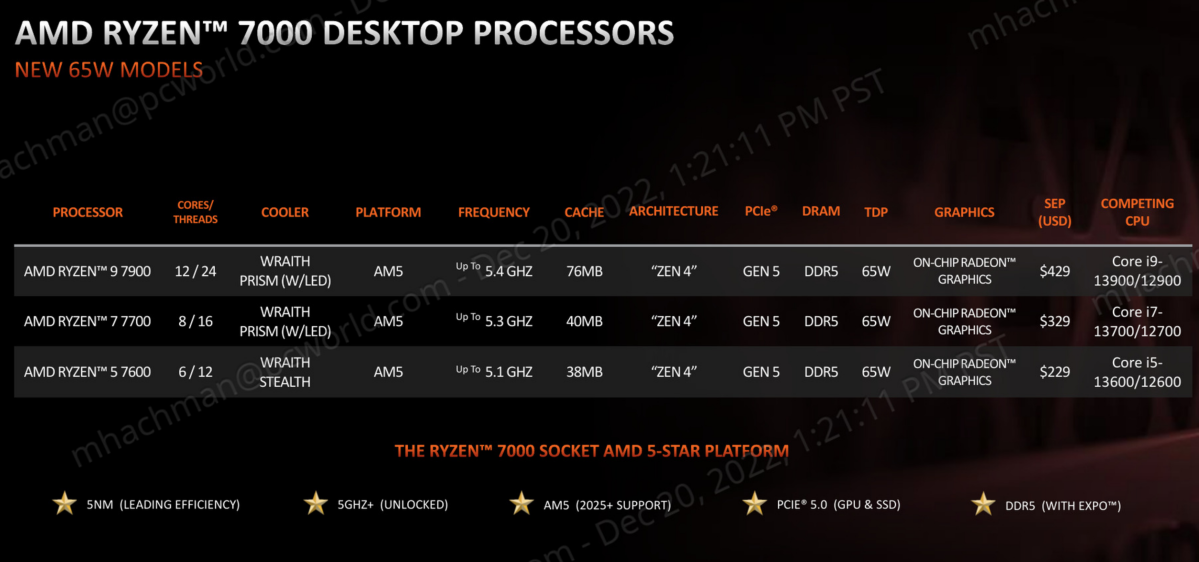 AMD
AMD is touting considerable performance advantages over the previous generation, but it's also making a notable comparison against Intel's 13th-generation Core chip as well. AMD claims that its new Ryzen 5 7600 offers equal or better performance than the Core i5-13600K, but at roughly half the power—65W vs 125W.
It's not clear whether AMD's performance estimates are using its in-box stock coolers, but we can assume so.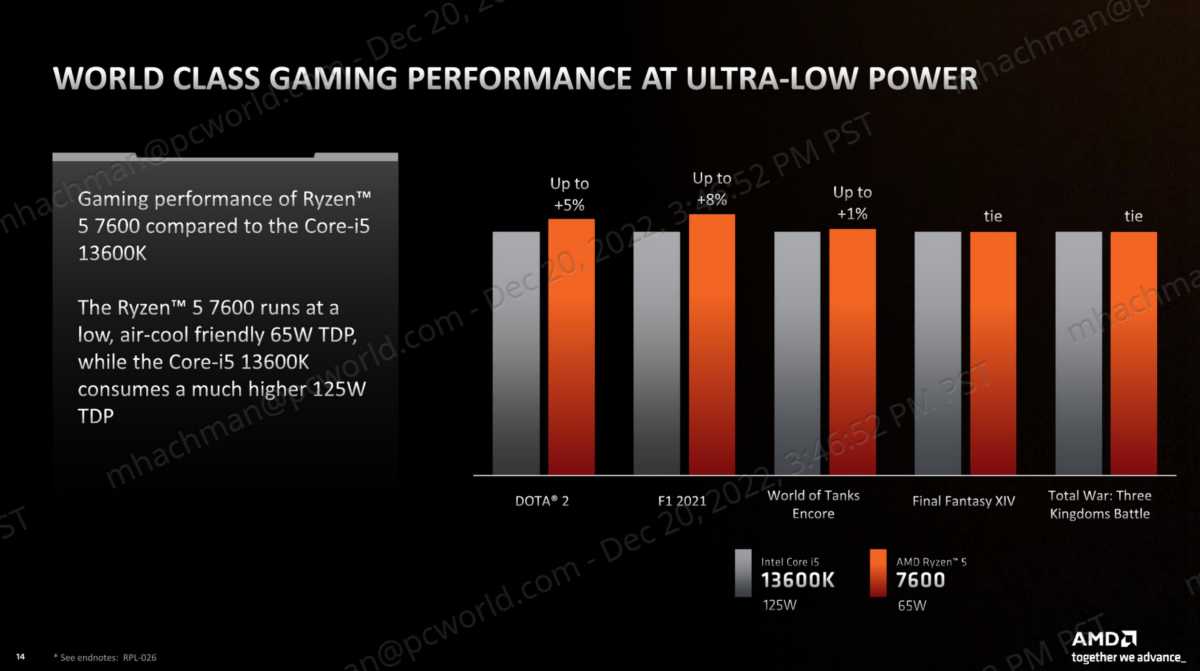 Check out how AMD claims that its new Ryzen 7000 desktop processors compare against its earlier chips in the slides below. While AMD is obviously selecting some of its most advantageous performance benchmarks as points of comparison, these results still show off strong generation-over-generation gains.
Remember, if these results aren't strong enough for you, AMD also announced its latest Ryzen 7000 processors with V-Cache, which will increase performance even further.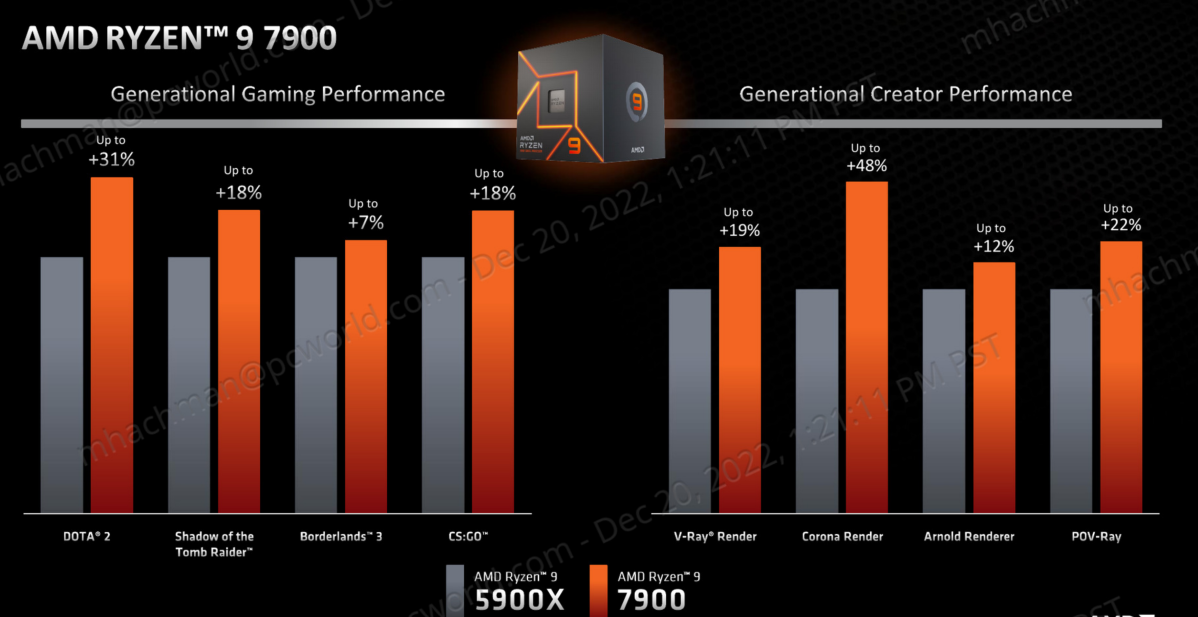 AMD
AMD's midrange Ryzen 7 7700 is typically a top choice for value, along with the Ryzen 5 series.
It's unclear, however, how prices will be affected over time. Recent reports have suggested demand for desktops remains strong and has increased, while laptop demand has plunged. That could keep the price of the Ryzen 7 7000 from falling too far, too fast.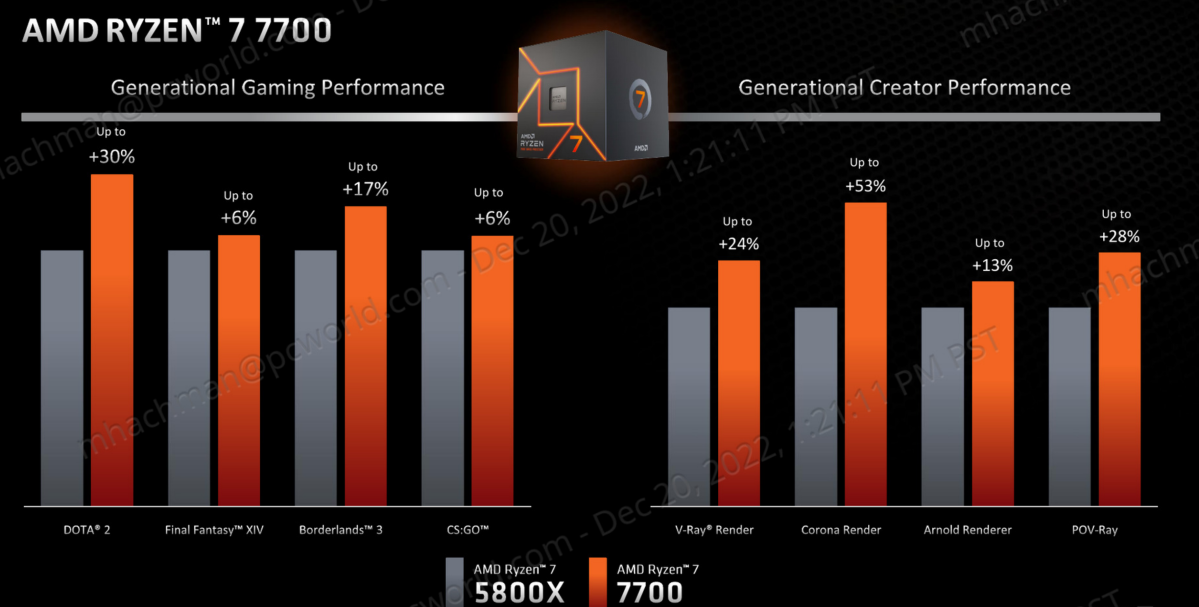 AMD
The gaming benchmarks AMD published for the Ryzen 5 7600 suggest that the chip will perform strongest in CPU-bound games. But content creation seems to take advantage of the new chip's capabilities.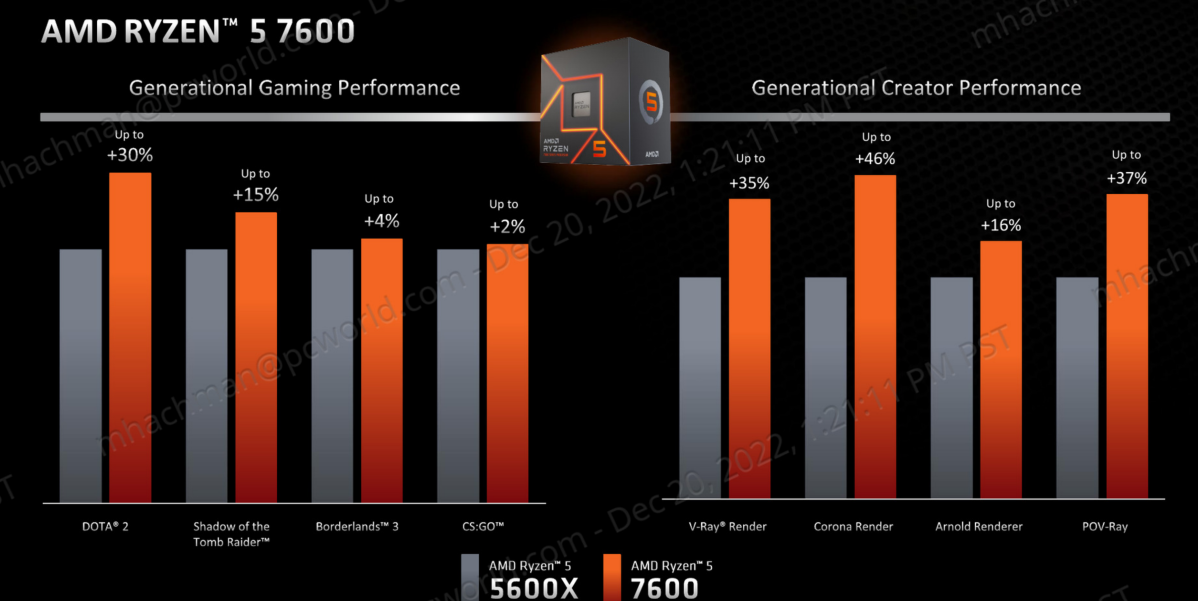 AMD
Read about all of AMD's announcements from CES 2023: