Lenovo's new YogaBook 9i isn't the first time we've seen someone try to cram two screens into a laptop, with the second where the keyboard usually sits. But it might be the most earnest yet, and the most likely to actually succeed as a niche form factor. Chalk it up to the brand positioning—right at the top of Lenovo's most stylish consumer line—and a considerate design that allows the laptop to perform to its strengths.
The most eye-catching and radical feature of the YogaBook 9i is its ability to stand on its own as a dual-screen setup, with both 13-inch OLED screens visible in landscape mode, the detachable keyboard sitting beneath it, and an origami-style stand propping it up. The sight is a bit bizarre, but anyone who's grown reliant on a dual-monitor workstation will instantly see the advantage. While this isn't likely to be a popular choice for, say, working on a cross-country flight, it means you can leave the portable USB monitor behind for dual-screen productivity in your hotel room.
Similar to the folding screen on the ThinkPad X1 Fold, the laptop's keyboard can rest on the bottom screen, with the remainder of the panel devoted to either touchpad or widget display. You can also use it in any of the normal 2-in-1 configurations, presenting a slideshow or video on the opposite screen, or with both screens vertical and side-by-side, either held like a book or propped up on the included stand. There are a lot of options, all supported by an included stylus and a series of multi-finger gestures for managing the screens and windows.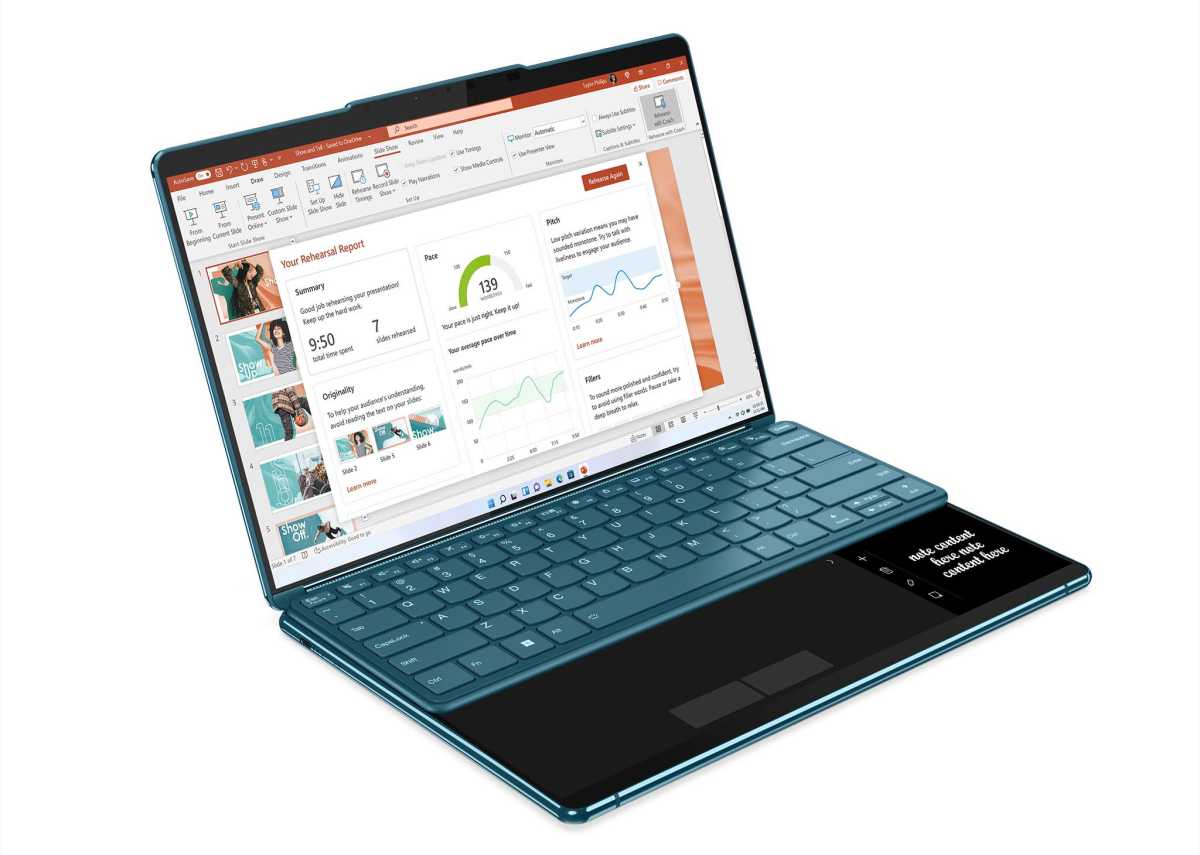 Lenovo
Underneath the appealing "Tidal Teal" colorway (reminds me of my old Game Boy Color!), the laptop offers an Intel Core i7-U15 processor with integrated Iris X graphics, 16GB of memory, and either 512GB or 1TB of SSD Gen-4 storage. Lenovo's usual camera setup, with an IR sensor for Windows Hello and a shutter for privacy, are included. Lenovo claims up to 10 hours of video playback on both screens with the brightness at 150 nits, or 14 hours if you use just one screen, with a more typical 7 hours of life in a standard workload. Ports are triple USB type-C, with no variation.
The YogaBook 9i (or Yoga Book 9i, Lenovo uses both names in its press materials) will launch in June, starting at a hefty $2,099. That's pricey, even for a top-of-the-line Yoga, but its double OLED screens do give it added value.
Editor's note: This article originally published on January 5, but was updated to include our hands-on video.