At a glance
Expert's Rating
Pros
Ultra-fast 1440p gaming, solid 4K gaming
Excellent ray tracing performance tops AMD's best GPUs
Superb Nvidia software features like DLSS 3, Broadcast, Reflex, CUDA, Shadowplay, and more
DLSS 3 Frame Gen makes even demanding games buttery smooth
Frigid, quiet cooler and dual HDMI ports on custom Asus Tuf model tested
Cons
Painfully overpriced by hundreds of dollars
Stagnant performance-per-dollar versus 3080, huge price increase vs. 3070 Ti
Nerfed memory bus width unacceptably impacts 4K gaming on an $800 GPU
Charging $800 for a GPU pitched towards 1440p gaming in 2023 is nuts
Did I mention its terrible price?
Our Verdict
Nvidia's GeForce RTX 4070 Ti is a ferociously capable graphics card for 1440p gaming, but Nvidia cut down the memory system in a way that reduces 4K performance and overpriced the GPU by hundreds of dollars. It offers stagnant value at best and atrocious value at worst depending on how you look at it. We can't recommend the 4070 Ti unless Nvidia slashes the cost significantly.
Price When Reviewed
$799 MSRP | $849 (specific model tested)
Best Prices Today: GeForce RTX 4070 Ti
This review will be short and sweet. Nvidia's new $799 GeForce RTX 4070 Ti is a technically hobbled, drastically overpriced graphics card that costs $100 more than the higher-tier RTX 3080 did last generation. In exchange for that 14 percent higher price tag, you usually get 14 percent higher performance at 4K resolution, and around 20 percent at 1440p.
Depending on how you look at it, the GeForce RTX 4070 Ti offers stagnant-at-best value at similar prices to last generation, or a painfully steep mark-up over last-gen's already overpriced RTX 3070 Ti. It's a beastly card that can topple the previous RTX 3090 Ti flagship in many games, especially at 1440p resolution or when DLSS 3 swings into action, but at this chest-clutching price, we simply can't recommend it. In fact, we recommend avoiding it outright unless there are mammoth price reductions.
GeForce RTX 4070 Ti: Specs, features, and design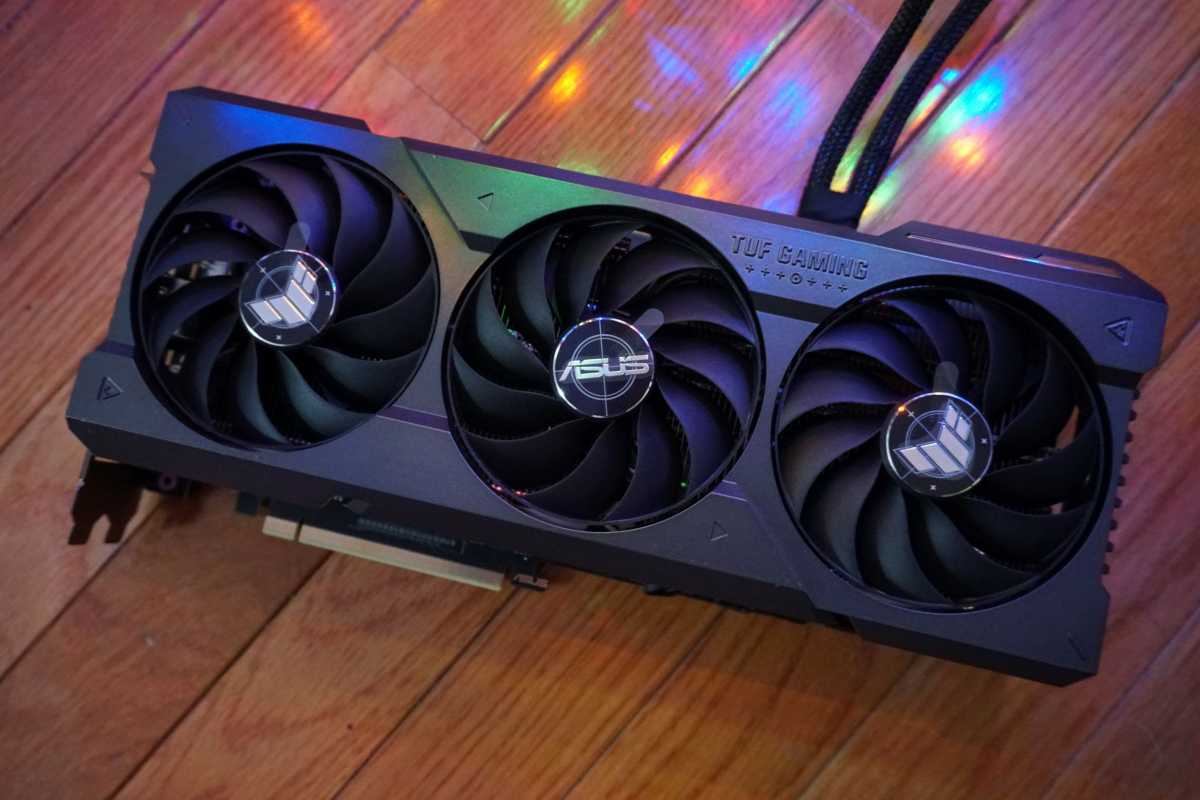 Brad Chacos/IDG
The specs for the GeForce RTX 4070 Ti shouldn't surprise anyone, since it's the "unlaunched" $899 RTX 4080 12GB with a new name. Gamers (and us) called shenanigans on Nvidia initially giving this scaled-down GPU the same 4080 branding as the much more powerful 16GB RTX 4080, and shortly before AMD revealed its Radeon RX 7900-series graphics cards—which would've made this GPU look silly at the same $899 price as the 7900 XT—Nvidia canceled its original launch plans. It's back with a lower price tag that's still unreasonably, uncomfortably high for what's being offered.
Here's a recap of the RTX 4070 Ti's core specs:
Graphics Processing Clusters: 5
Texture Processing Clusters: 30
Streaming Multiprocessors: 60
CUDA Cores: 7680
Tensor Cores: 240 (4th Gen)
RT Cores: 60 (3rd Gen)
Texture Units: 240
ROPs: 80
Boost Clock: 2610 MHz
Memory Clock: 10500 MHz
Memory Data Rate: 21 Gbps
L2 Cache Size: 49152 KB
Total Video Memory: 12GB GDDR6X
Memory Interface: 192-bit
Total Memory Bandwidth: 504 GB/sec
Texture Rate: 626 Gigatexels/sec
Connectors: 3 x DisplayPort, 1 x HDMI
Max Display Resolution: 4K at 240Hz or 8K at 60Hz with DSC
Power Connectors: 2x PCIe 8-pin cables OR 300w or greater PCIe Gen 5 cable (adapter included in box)
Minimum Power Supply: 700 Watts
Power: 12W Idle, 20W AV1 Video Playback, 226W Average Gaming Power (AGP), 285 W Total Graphics Power (TGP)
Maximum GPU Temperature: 90° C
PCI Express Interface: Gen 4
Yes, the 4070 Ti's core count and memory capacity are drastically reduced versus the 4080—Nvidia made the right call (eventually) with its name change. But now that the name won't sow confusion amongst would-be buyers, the more concerning tweak revolves around the 4070 Ti's memory bus.
Wider bus lanes let you move data more effectively. Think of it like rush hour; a four-lane highway can keep traffic moving much faster than a single-lane dirt road. Bus width is an important factor for overall memory bandwidth, especially at higher resolutions where textures and ray tracing can gobble up memory fast.
The GeForce RTX 4070 Ti packs a pipsqueak 192-bit memory bus. By contrast, the RTX 3080—which, again, was a higher-tier card that cost $100 less than the 4070 Ti—wielded a 320-bit bus, which is typical for a high-end GPU. Even the already-pandemic-overpriced $600 RTX 3070 Ti had a 256-bit bus. You had to go all the way down to the $330 RTX 3060 to find an Nvidia GPU with a 192-bit bus last generation.
The new 4070 Ti offers 504GB/s of total memory bandwidth; the 3080 hit 760GB/s and the 3070 Ti offered 608GB/s, while the 3060 and its far slower GDDR6 non-X memory hit an appropriate 360GB/s.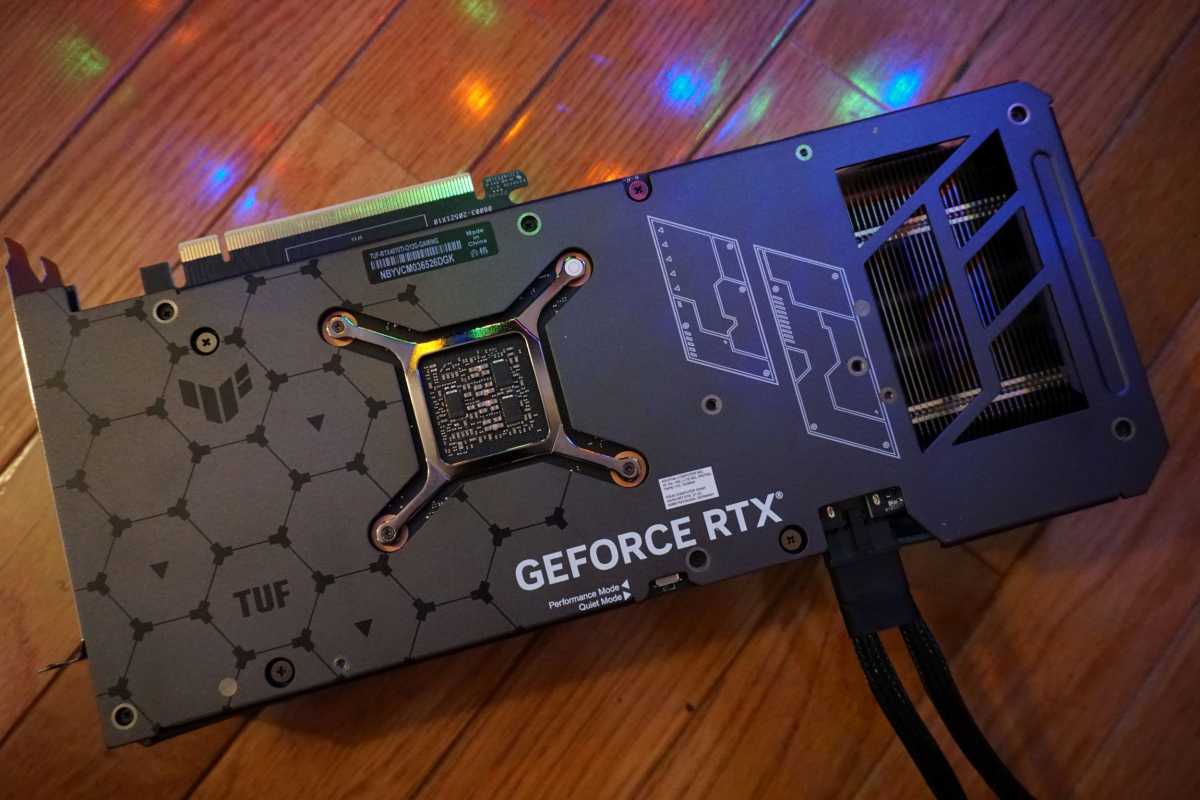 Brad Chacos/IDG
It matters. Compared to the RTX 3080, the 4070 Ti's uplift in 4K gaming is measurably slower than its 1440p uplift. You can still play 4K games with everything cranked and still hit 60 frames per second without issue most of the time, but intentionally hobbling the 4K performance of a freaking $799 graphics card leaves a sour taste in the mouth. The 4070 Ti is tangibly slower than all other new-gen GPUs and the RTX 3080 in Counter-Strike: Global Offensive at 4K and 1440p resolutions, and I wouldn't be surprised if the neutered bus width factors into that. It would be more acceptable if this GPU costs hundreds of dollars less.
Fortunately, the RTX 4070 Ti is much more efficient than the 3080 was, rated for 285 watts of total graphics power compared to the 3080's 320W. It's faster, too. Nvidia's new Ada Lovelace GPU architecture impresses there.
The custom Asus Tuf 4070 Ti we're reviewing today—Nvidia isn't launching a Founders Edition version of this GPU—still uses the new 16-pin 12VHPWR connector, however, with an adapter included in the box. (Make sure you plug it in snugly.) It's also a huge 3.25-slot graphics card despite the lower power draw. Asus otherwise did a fine job with Tuf, which features a striking industrial design, a dual-BIOS switch (we test at default), and not one, but two HDMI 2.0b connectors to go along with three DisplayPorts. Finding dual HDMI ports on a GPU is rare these days, and Asus only charges a $50 premium for this version of the Tuf—though, again, the RTX 4070 Ti is wildly overpriced to begin with.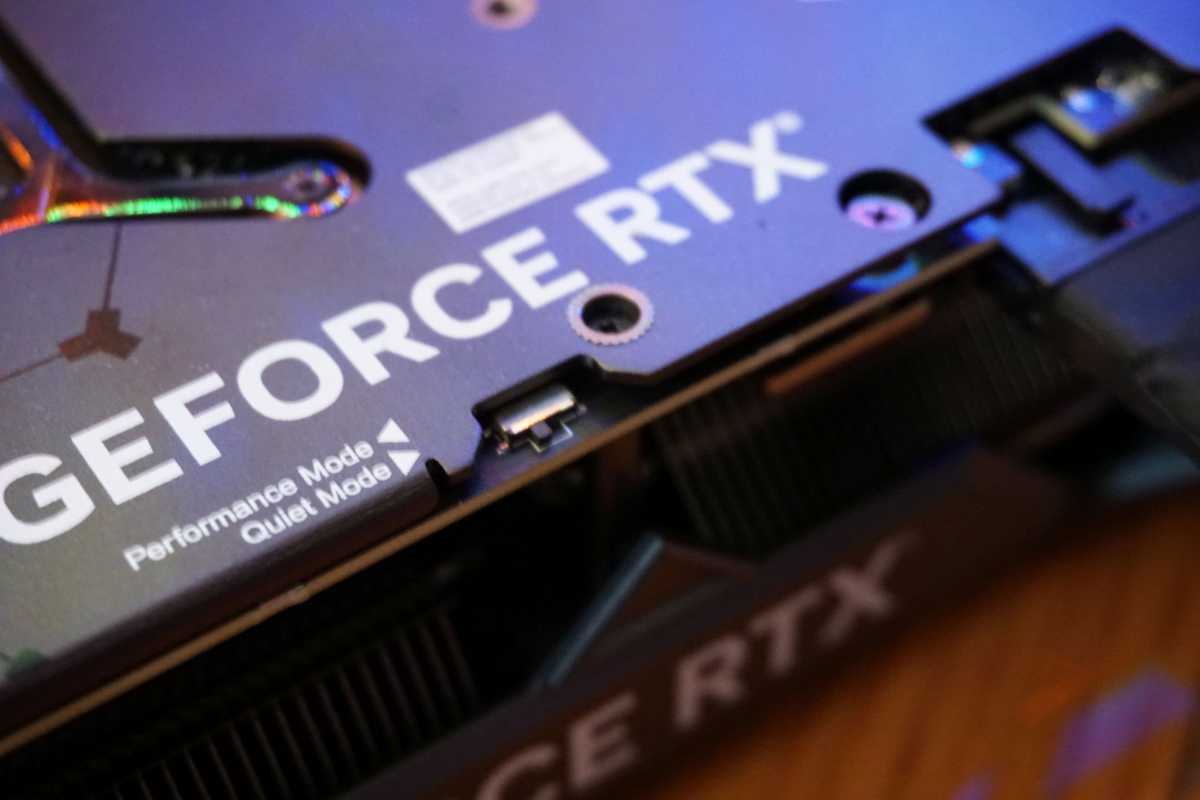 Brad Chacos/IDG
Nvidia maintains its lead in terms of offering well-rounded features and capabilities that AMD simply can't match. The Radeon RX 7900 duo is tangibly faster than the 4070 Ti in terms of raw rasterization (read: traditional gaming) performance, but Nvidia's GPU holds a massive ray tracing performance advantage, bolstered by AI-powered DLSS and DLSS Frame Generation technologies. They're fiercely impressive. Generally speaking, Nvidia also thwomps AMD in CUDA support for machine learning tasks (duh), overall content creation prowess, and with other life-enhancing features like Nvidia Broadcast, Reflex, and Shadowplay. If you do more with your GPU than simply play games, or if you consider peak ray tracing performance a priority, target an Nvidia GPU.
Let's get to the games.
Our test system
We test graphics cards on an AMD Ryzen 5900X PC used exclusively for benchmarking GPUs. We now test with PCIe Resizable BAR (also known as Smart Access Memory on Ryzen systems) active, as most modern gaming PCs released in the last four years support the performance-boosting feature, either natively or via a motherboard firmware update. Nvidia also recommends turning on the optional "Hardware-accelerated GPU scheduling" option in Windows to let the RTX 40-series stretch its legs to the fullest, so we've made that tweak as well. Most of the hardware was provided by the manufacturers, but we purchased the storage ourselves.
AMD Ryzen 5900X, stock settings
AMD Wraith Max cooler
MSI Godlike X570 motherboard
32GB G.Skill Trident Z Neo DDR4 3800 memory, XMP active
Corsair HX1500i power supply (and optional $20 12VHPWR 600 cable for Nvidia GPUs)
We're comparing Nvidia's $799 GeForce RTX 4070 Ti against all the modern GPUs released by both Nvidia and AMD thus far, as well as last generation's RTX 3080, 3080 Ti, and 3090 and Radeon RX 6900 XT. Time constraints prevented us from benchmarking the $600 GeForce RX 3070 Ti, the 4070 Ti's ostensible predecessor, but given this new card's jacked-up price point the RTX 3080 is a more honest comparison anyway.
The only rtx 40-series GPU worth buying at these prices
GeForce RTX 4090 Founders Edition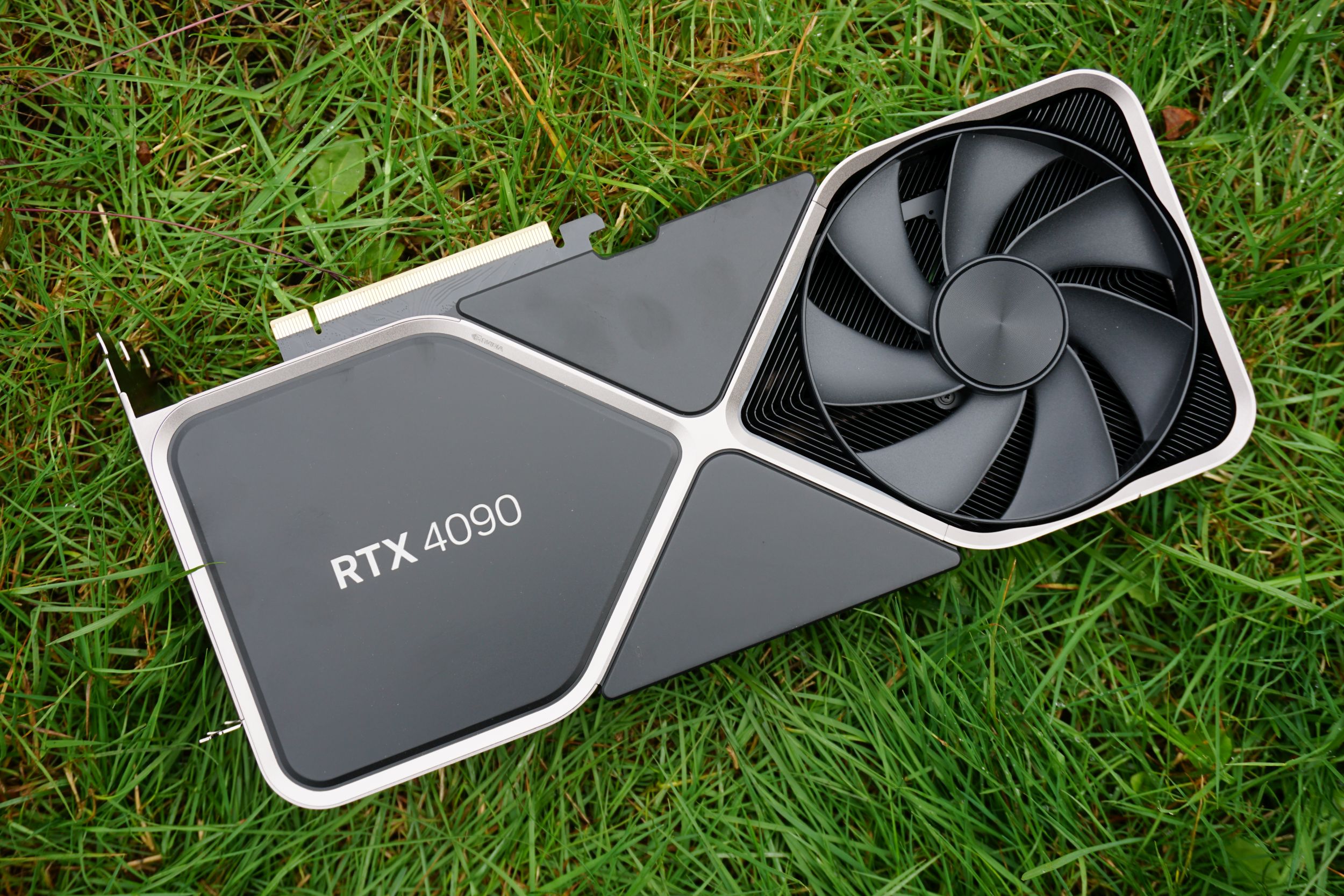 Price When Reviewed:
$1,599
In addition to turning on PCIe Resizable BAR by default, we've also moved to a new set of games in our testing suite for this new generation. We test a variety of games spanning various engines, genres, vendor sponsorships (Nvidia, AMD, and Intel), and graphics APIs (DirectX 9, 11, DX12, and Vulkan), to try to represent a full range of performance potential. Each game is tested using its in-game benchmark, sanity checked by Nvidia's FrameView tool, at the highest possible graphics presets unless otherwise noted, with VSync, frame rate caps, real-time ray tracing or DLSS effects, and FreeSync/G-Sync disabled, along with any other vendor-specific technologies like FidelityFX tools or Nvidia Reflex. We've also enabled temporal anti-aliasing (TAA) to push these cards to their limits.
We run each benchmark at least three times and list the average result for each test. Outside of esports, we've limited our benchmarks to 4K and 1440p resolutions, as those are the natural fits for these juggernaut GPUs (despite the 4070 Ti's paltry bus width).
We're going to show these benchmarks without individual game commentary. In general, pay attention to how much faster the 4070 Ti is compared to the $100 cheaper 3080, and how the 4070 Ti gains more speed on the 3080 at 1440p than 4K. Also note how the similarly overpriced $899 Radeon RX 7900 XT outperforms the $799 4070 Ti by a significant amount across the board. We didn't have time to fully benchmark the 4070 Ti's ray tracing prowess, but included a chart showing Cyberpunk 2077 running with RT enabled (with DLSS and FSR both on, and off) to confirm that, yep, Nvidia's GPU architecture continues to blow AMD's ray tracing performance out of the water. It isn't even close.
Gaming performance benchmarks
Brad Chacos/IDG
Brad Chacos/IDG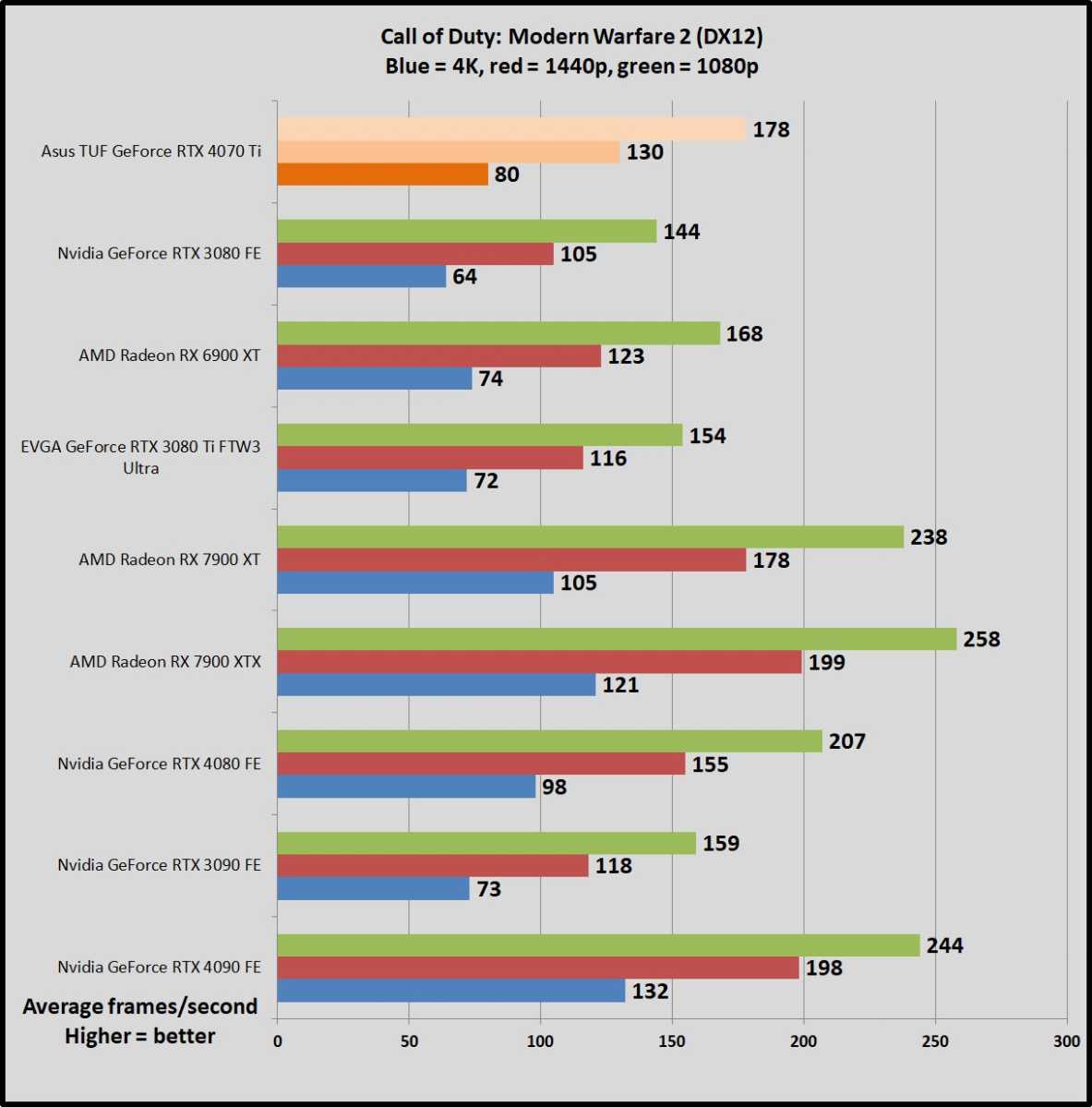 Brad Chacos/IDG
Brad Chacos/IDG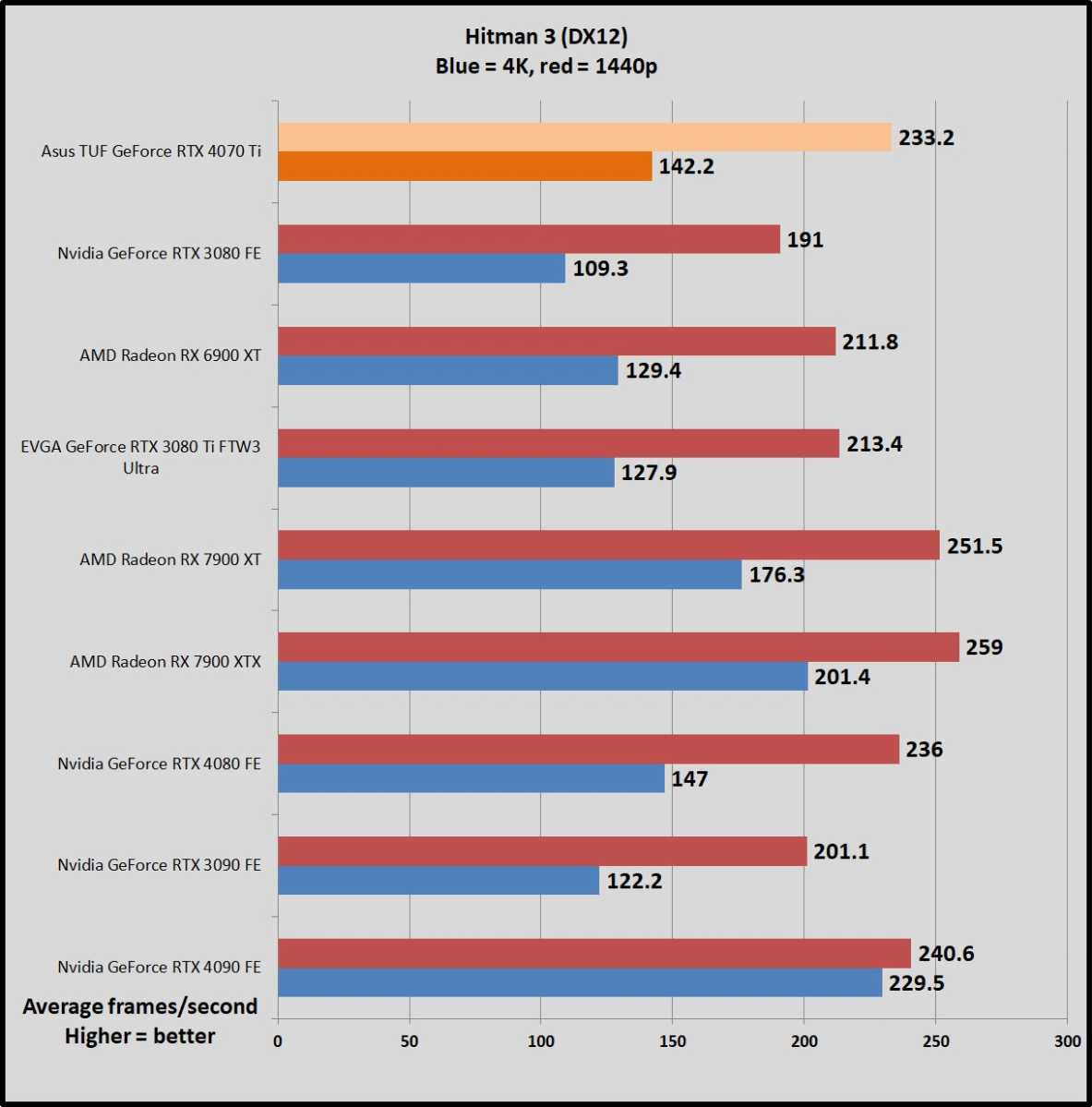 Brad Chacos/IDG
Brad Chacos/IDG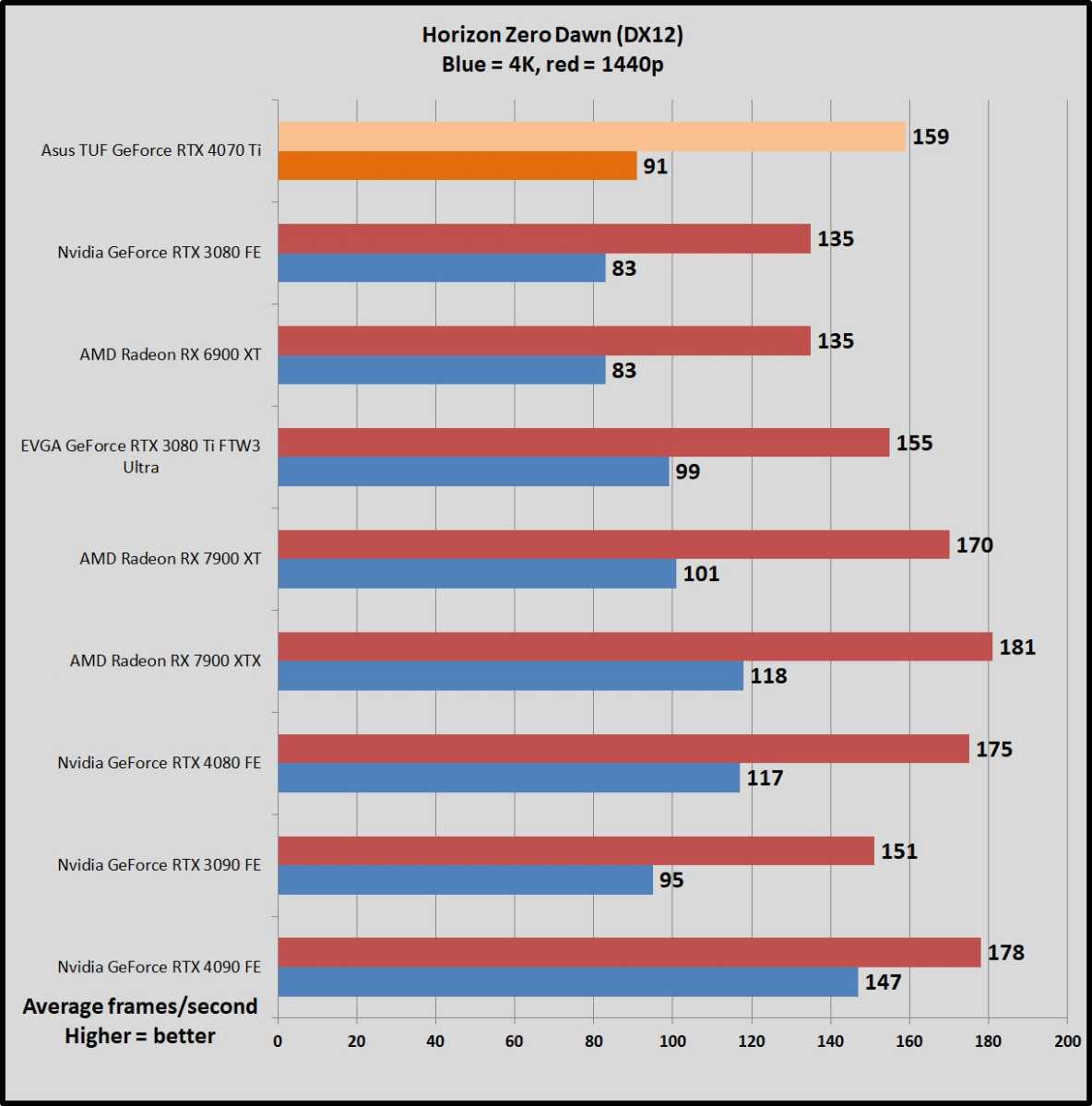 Brad Chacos/IDG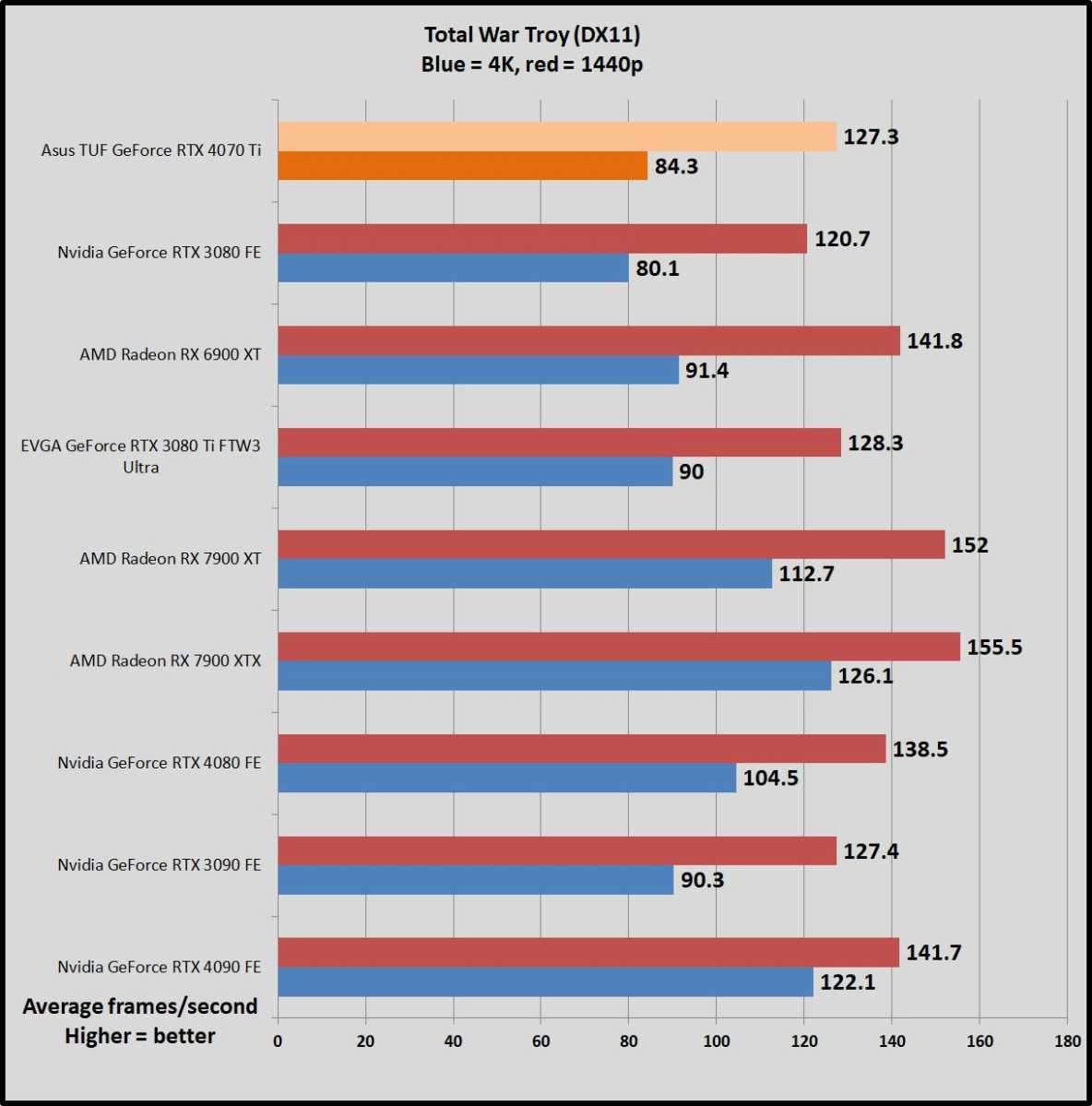 Brad Chacos/IDG
Brad Chacos/IDG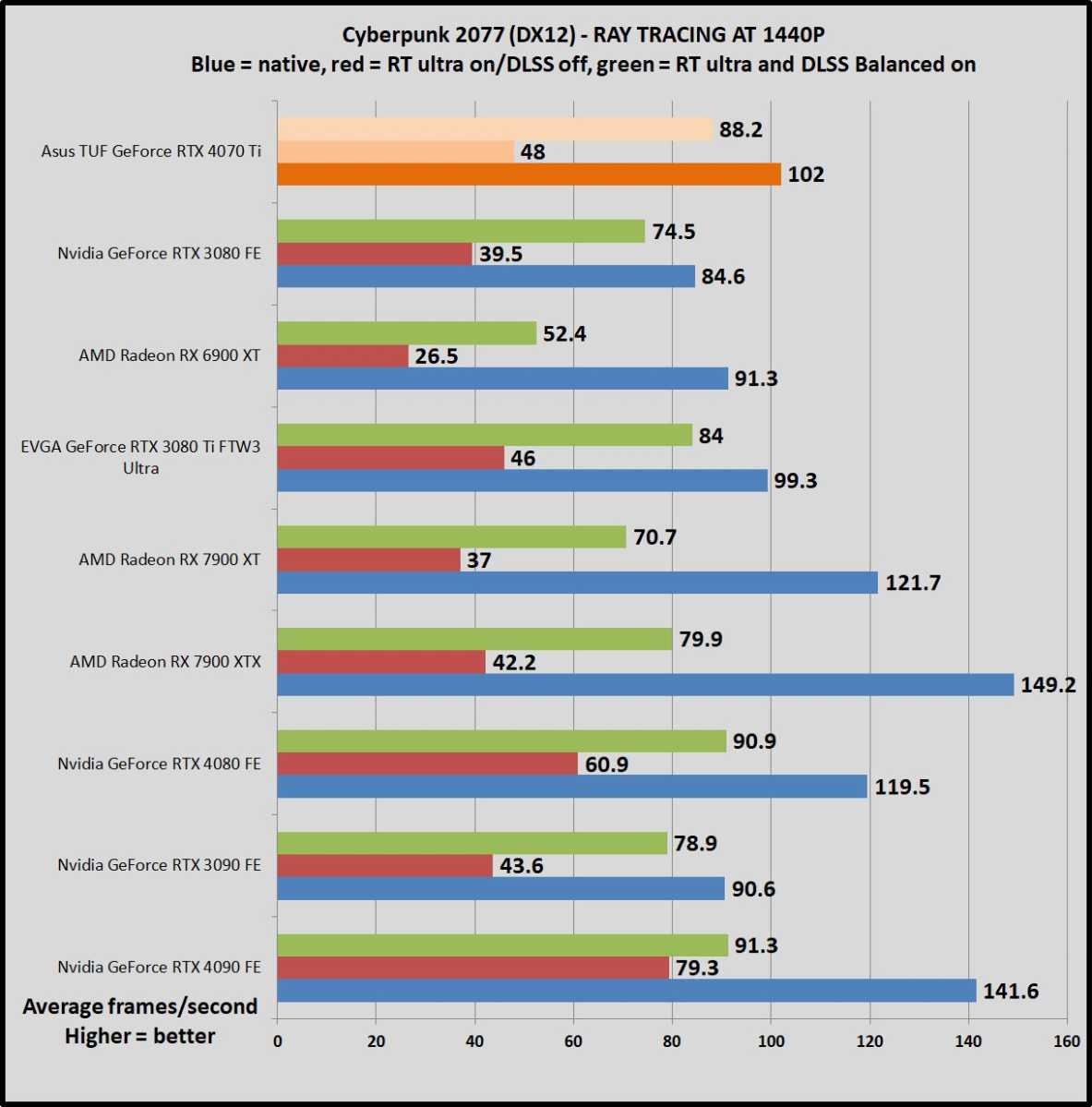 Brad Chacos/IDG
GeForce RTX 4070 Ti: Power and thermals
We test power draw by looping the F1 22 benchmark at 4K for about 20 minutes after we've benchmarked everything else (to warm up the GPU) and noting the highest reading on our Watts Up Pro meter, which measures the power consumption of our entire test system. The initial part of the race, where all competing cars are onscreen simultaneously, tends to be the most demanding portion.
This isn't a worst-case test; this is a GPU-bound game running at a GPU-bound resolution to gauge performance when the graphics card is sweating hard. If you're playing a game that also hammers the CPU, you could see higher overall system power draws. Consider yourself warned.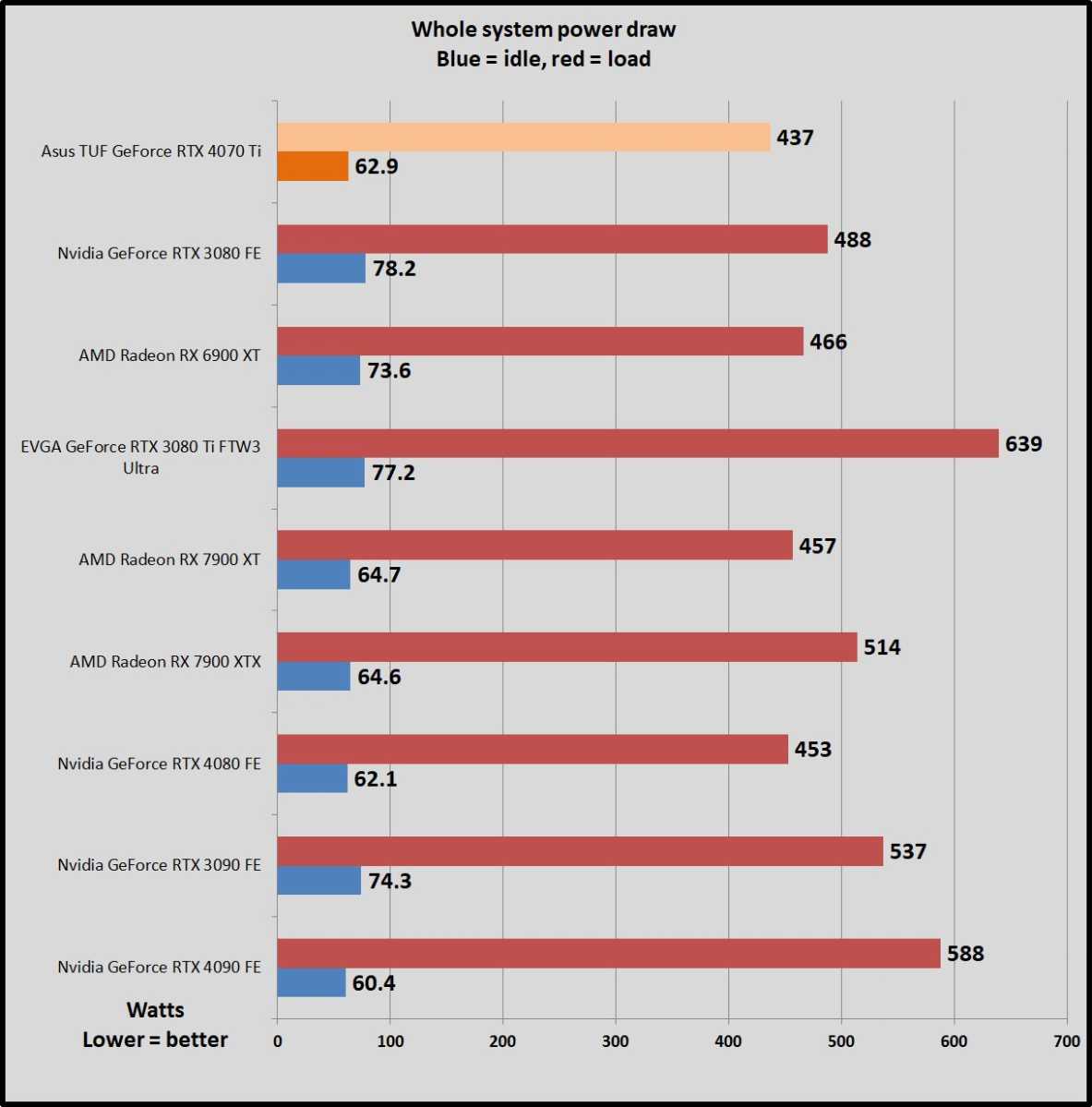 Brad Chacos/IDG
Despite being faster than the RTX 3080, the 4070 Ti consumes far less power both when idle and under load. Even if Nvidia isn't moving the needle in terms of value with the 4070 Ti, its efficiency is no doubt improving.
We test thermals by leaving GPU-Z open during the F1 22 power draw test, noting the highest maximum temperature at the end.
Brad Chacos/IDG
The custom Asus Tuf cooling design delivers absolutely frigid temperatures under full load. Overclockers could have a field day with this particular model. You hear some fan noise to achieve those impressive temperatures, but it isn't overly loud or annoying. I have no complaints about the Asus Tuf's overall thermal design.
Should you buy the GeForce RTX 4070 Ti?
Please don't. It's a beast of a card that shows what Nvidia's stellar hardware and software engineers are capable of—but not that this eye-watering price.
In a vacuum, the $799 GeForce RTX 4070 Ti's rasterization performance underwhelms compared to the $899 Radeon RX 7900 XT except in ray tracing performance, but Nvidia's abundant software and feature offerings—Studio drivers, DLSS and Frame Generation, Broadcast, Reflex, CUDA, et cetera—can make that gap easier to swallow if you use your GPU for more than just gaming. In reality, the RTX 4070 Ti—like the RTX 4080 and Radeon 7900 XT before it—carry price tags that make their value stagnant at best and borderline insulting at worst.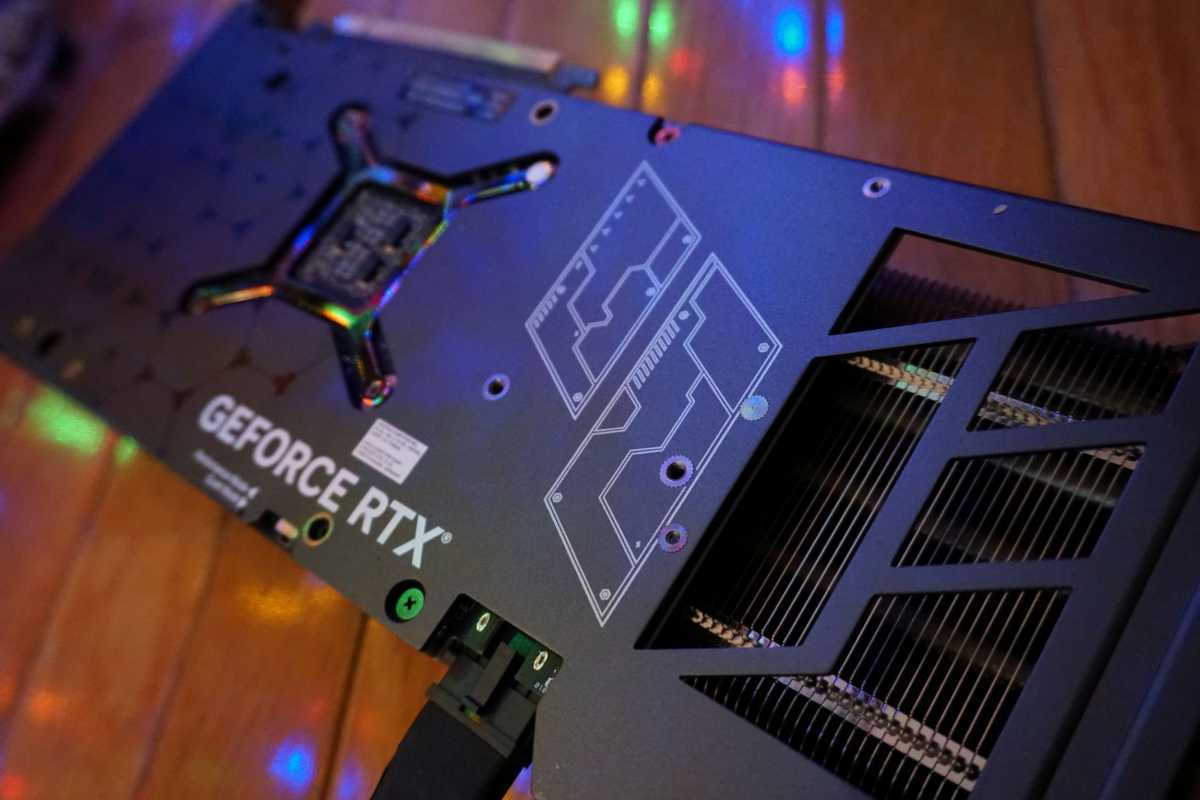 Brad Chacos/IDG
At $799, the GeForce RTX 4070 Ti costs $100 more than last generation's stunning RTX 3080—and it's a lower-tier GPU. It's $200 more than the already-overpriced RTX 3070 Ti was. In exchange for that 14 percent price hike over the 3080, you usually get a stagnant 14 percent more performance than the 3080 at 4K, or roughly 20 percent faster speeds at 1440p. Nvidia cut the 4070 Ti's memory bus back to RTX 3060 levels which slows it down at 4K. That's flat-out unacceptable in a $799 graphics card.
Gamers are in a bad place. Nvidia and AMD's flagships, the GeForce RTX 4090 and Radeon RX 7900 XTX, offer stunning performance gains over their predecessors for similar prices. But everything under those carry downright painful MSRPs compared to prior generations. Nvidia and AMD must still think we're in the midst of a pandemic with roaring cryptocurrency value. We're not. Miners were the ones buying graphics cards for painful, outrageous prices, not gamers. These graphics card costs are ludicrous.
Nvidia's RTX 4080 costs $500 more than the 3080 did. Gross. Rather than seizing the moment, AMD priced its feature-lacking Radeon RX 7900 XT at $899, when spec-wise it probably should've been called the Radeon RX 7800 XT and priced a couple hundred dollars lower. But AMD's thirst for 7900 XT profit margins also allowed Nvidia to reintroduce the "unlaunched" disastrous RTX 4080 12GB with a new name and a price tag just $100 less than before. It's still extremely unappealing. You shouldn't have to pay $800 dollars for what's being actively marketed as a 1440p graphics card in 2023, especially with its 4K performance being hobbled by the subpar memory bus.
Bah. It's like WOPR said in WarGames: "A strange game. The only winning move is not to play."
Part of the reason why Nvidia and AMD are keeping prices so high is to move their stockpiled last-gen GPUs now that cryptocurrency has crashed, at carefully managed high prices. Nvidia in particular keeps trying to show the RTX 40-series as expensive options on top of the 30-series lineup, rather than the generational replacement it truly is—a worryingly anti-consumer business decision. Buy a used graphics card instead if you aren't going all-in on a 4090 or a 7900 XTX. You can find similarly performing GPUs like the Radeon RX 6800 XT and 6900 XT or the RX 3080 for hundreds of dollars less than Nvidia and AMD are charging for these wildly overpriced new offerings. We have tips to help you avoid buying a used lemon.
And I'm saying that despite being a guy who typically recommends that you avoid used graphics cards.
Because paying $800 for a hobbled, drastically overpriced 1440p-focused graphics card in 2023 ain't it. The launch of this new generation largely mirrors the RTX 20-series launch, where stagnant gen-on-gen value led to terrible sales and the introduction of an RTX 20 Super series shortly after to help kickstart matters…though that launch coincided with the release of AMD's excellent, sanely priced Radeon RX 5000-series. This generation, AMD seems content to ride the coattails of Nvidia's excessive pricing. Flagship GPUs shouldn't offer the best price-per-dollar value, and the rest of your stack shouldn't deliver performance that scales almost linearly with the pricing of last-gen models.
Discrete graphics cards sales just hit a 20-year low. Unless something drastic changes, like a modern introduction of Super series equivalents, releases like the GeForce RTX 4070 Ti and 4080 will likely only exacerbate the pain.
Not just pass, but hard pass. If you must buy a next-gen GPU around this price point, the Radeon RX 7900 XT is also atrociously priced but it's noticeably faster and comes with 20GB of memory, 8GB more than the 4070 Ti. If you need Nvidia features and must buy a 4070 Ti, I highly recommend the Asus Tuf model.
But we're in the midst of a strange game. Please don't buy either. Not at these prices.
Best Prices Today: GeForce RTX 4070 Ti